Why Real Madrid may ditch Eden Hazard in favour of Marco Asensio
Recent reports emerging from Spain suggest that Real Madrid could turn their back on signing Chelsea playmaker, Eden Hazard. Spanish news outlet Diario Gol, disclosed last week that Los Blancos' resolve is partly due to the emergence of the youngster, Marco Asensio.
A massive clearout is expected to take place at the Bernabeu in the summer as part of Florentino Perez's third-term presidency bid. Superstars such as James Rodriguez, Gareth Bale, Isco, and Pepe could be affected by this rigorous exercise. While the likes of Hazard, David de Gea and Kylian Mbappe could just be heading in the opposite direction.
Hazard has consistently been linked with a move to Madrid
Nonetheless, it appears one youngster have earned his place in the squad irrespective of who becomes the club's next supremo; Marco Asensio. The 21-year-old's impact has been so massive that Perez and head coach, Zinedine Zidane, are locked in a transfer scuffle over the signing of Hazard. Indeed, their battle is justified. While Asensio might possess the requisite skill to become a top player in the future, it is the Frenchman's head that will eventually roll should he fail to hit the ground running immediately and Real ultimately failing to clinch any silverware next term.
Perhaps, Perez is indebted to Asensio's parents,
who had sworn that their son
will one day play for Los Blancos. The 70-year-old Civil Engineer-cum-administrator told the media on the day of Asensio's presentation in August 2016:
"Your parents met me 12 years ago in Mallorca and they told me: 'President, this is my son Marco and one day he will play for Real Madrid'"
.
But Asensio, named after Dutch legend Marco Van Basten, on his own part, has earned his place through hard work, persistence, and consistency. Though the ex-Mallorca star has had to succumb to a bit-part role, he has simply been phenomenal each time he's been called upon. Evidently is the fact that he grabbed a goal on all his competitive debut for the club.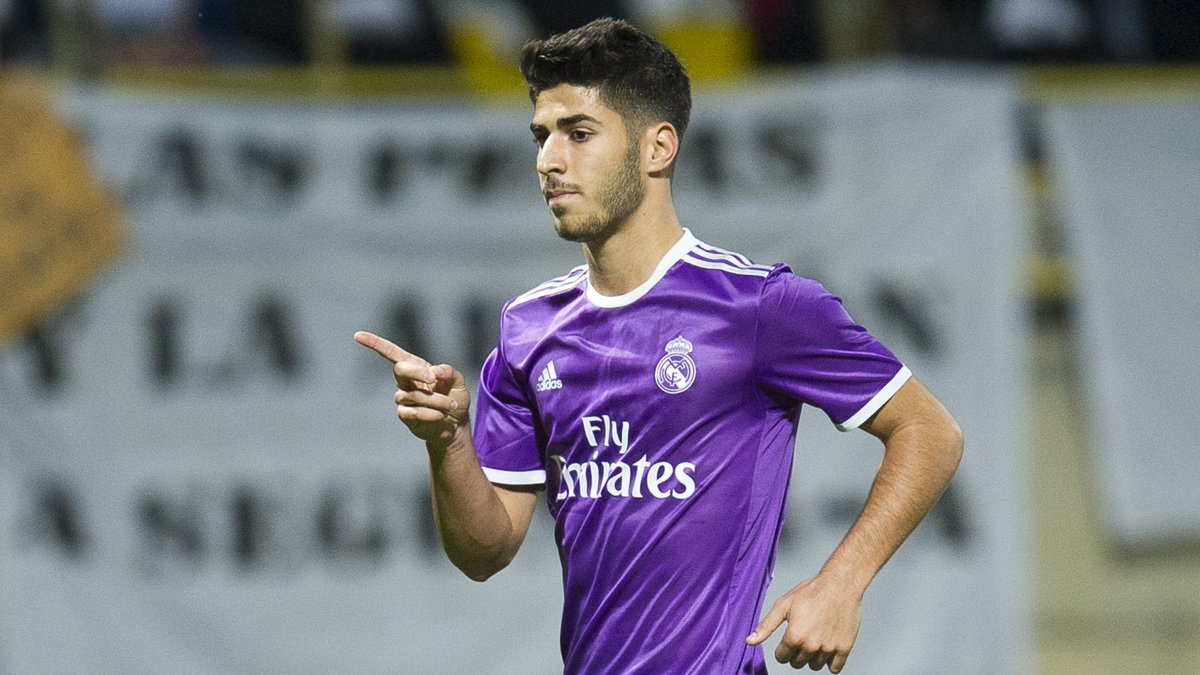 Marco Asensio has scored for Real Madrid on his:
Competitive debut ✔
La Liga debut ✔
#UCL debut ✔
Copa del Rey debut ✔
https://t.co/LqQF4RUeUp
Without any doubt, Hazard is by far a superior player to the two-time capped Spanish international. However, there are still some key areas Perez might just be considering aside pledging to his parents. Here are five.


1 - No transfer fee required


One plot probably playing out inside Perez's head is the prospect of not paying a dime, yet getting almost the same quality from within. Real Madrid will definitely earn some millions from the sale of either of James, Bale or Isco but they will have to fork out almost twice that amount to land Hazard. Meanwhile, Asensio who joined from Mallorca in 2014 cost the club around £4m which is a bargain compared to the Belgian.


2 - He is younger


Another edge Asensio holds over the Chelsea playmaker is age. At 21, the Spaniard still have loads of productive years ahead of him, compared to his Belgian counterpart who is five years older. In five years time Hazard must have passed his prime whereas Asensio will be hitting his peak. He not the 26-year-old could just be the ideal heir to Cristiano Ronaldo's crown.


3 - Why lose your country's brightest prospect?


There ain't too many Spanish youngsters playing at the highest level at the moment. But Asensio, described by former Spain coach, Vicente Del Bosque, as "the biggest talent" in his country, is one of the lucky few. Consequently, Liverpool and a handful of top clubs have reportedly shown interest in the midfielder who won the coveted Golden Player award at the 2015 European Championship. And yet Real turned them down with a view of offering him more playing time.


4 - Superior goal return


Now, this is one aspect that might interest many. For all we know, Hazard has notched more goals than Asensio with 21 against his paltry nine across all competitions this season. On top of that, the Belgian has amassed nine assists, six ahead of Asensio. But startlingly, the Spaniard flaunts a better goal/assist per minute ratio. Asensio has been directly involved in a goal in every 109 minutes while it has taken Hazard almost three more minutes to do so.


5 - The Ronaldo factor


There are reports that Ronaldo, not even Asensio might be the major stumbling block to Hazard's move to Spain. Diario Gol claimed sometime in April that the Portuguese superstar doesn't want to share the spotlight with the 26-year-old or any other player. With Asensio, however, there isn't any possibility of such happening with the youngster willing to play second fiddle, in the process understudying the 32-year-old. He showed this in the Champions League semi-final first leg clash with Bayern Munich where his inch-perfect cross for Ronaldo gave Madrid the winning goal.