12 Days of Football 2019/20: Liverpool and Manchester City
On the first day of football,
the FA gave to me
Liverpool and Man City
Welcome to this year's edition of the 12 Days of Football on It's Round and It's White. Over the holiday fixtures, our writers will look back on the 2019 calendar year and ahead to the season's end in a series of 12 articles covering different issues and leagues in European football. Zaid Pathan starts us off with a look at the unexpected but clear shift in power this campaign from Manchester City to Liverpool. Enjoy.
When Pep Guardiola promised a revolution only to finish his first season in charge at Manchester City with a third-place finish and without lifting any silverware for the first time in his managerial career, many ridiculed his tiki-taka philosophy, claiming it could not work in England.
Perhaps the criticism he faced was valid. Even the Catalan himself deemed his first season at the Etihad Stadium a failure. That happens when you set your standards high.
So, how do you make your critics eat their words? Winning trophies the next season helps. Guardiola went one step further and shattered records.
The 2017-18 season will forever be cherished by Cityzens. It not only proved Guardiola's proficiency; it ushered City into Europe's most elite clubs. Many still argue the Catalan was only able to do it through the financial freedom he was provided. Obviously, money was a factor but funding alone never guarantees success. You must spend it wisely.
Guardiola deserves the credit for the work he has put in after an unsuccessful debut campaign. Few realised the Catalan was just laying the groundwork for the monumental side he intended to revolutionise and dominate the Premier League for years to come. Jurgen Klopp did and he was planning his own all-conquering side.
The German lacked the financial resources his Catalan rival could draw upon. His project would naturally take longer. When he watched Guardiola claim a domestic double in his second campaign as well as a century in both points and goals, he realised he had a problem.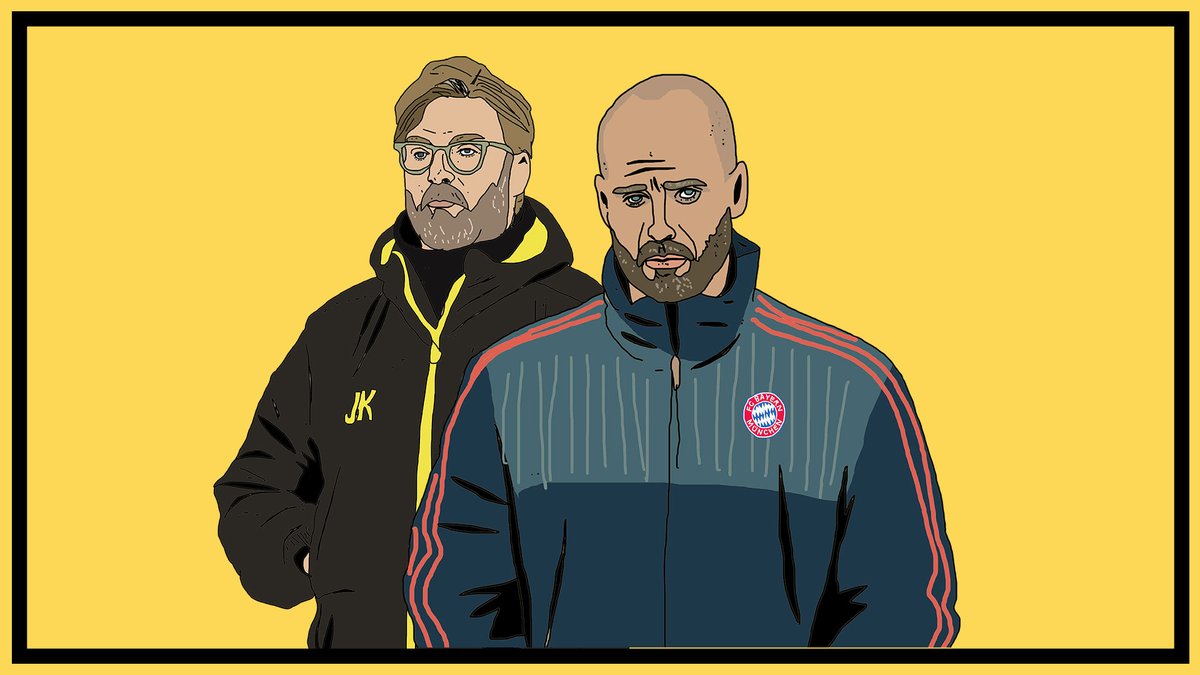 Guardiola and Klopp's understanding of the each other's strengths began in the Bundesliga in 2013/14; and its effects are still being played out today in the Premier League.
Guardiola v Klopp: Possession v Space:
https://t.co/PGf59zY6YZ
#WhiteboardFootball
https://t.co/r934eTEcxn
As he trampled all over the Premier and Football Leagues on the way to the league, EFL and FA Cup trophies, Pep routinely praised those opponents who tried to play on the front foot against City while lamenting those who parked the bus. Arsene Wenger, in his final season at Arsenal, found himself patronised more than others following two 3-0 setbacks in four days, one in the EFL Cup final, the other in the league.
Klopp wasn't duped. He understood that when everyone played the same game, the team with the best management and most money would always win. That was Guardiola's politic. If anyone was to surpass the Etihad outfit, a shrewd counterstrategy was needed. City dismantled sides that tried to absorb pressure as easily as those who tried to match his possession game.
The trick, the German decided, was not to let the Sky Blues play. Press them high up the pitch and hit them quickly on the counter. An attack force including Mo Salah, Roberto Firmino, Sadio Mane and Gini Wijnaldum were ideal for the strategy. So much so that it irked Guardiola, as the public learned in City's Amazon documentary.
They scare me. They are dangerous, I mean it.
Of course, pressing high leaves acres of space behind. To carry out that risky strategy, a manager required a strong backline. Klopp did not have one. When he finally acquired Virgil van Dijk in January 2018, he hoped the problem was solved. Unfortunately, one man does not a defence make.
In domestic and Champions League matches against the champions-elect, Klopp found success with his strategy. Over the course of a full schedule, the insufficient rear-guard was too often exposed, however. After Loris Karius' nightmare in the Champions League final versus Real Madrid, Klopp knew he needed an upgrade.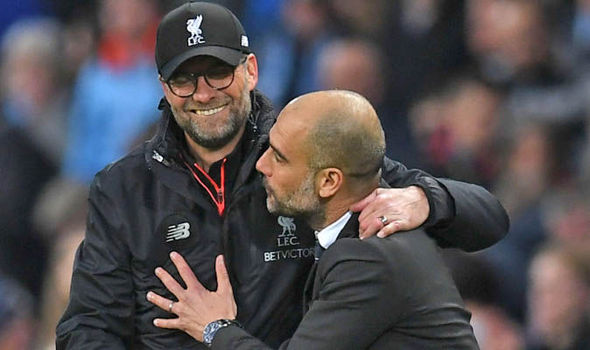 BREAKING: Jurgen Klopp signs a new contract at #
LFC
until 2024.
Five more years of Guardiola vs Klopp would be nice if Pep follows suit and signs an extension!
https://t.co/TS24BfjrXF
That summer, Liverpool owners Fenway Sports Group pushed all-in financially to purchase Alisson Becker to replace Karius and Fabinho for the departing d-mid Emre Can. Klopp also reinforced his attack, acquiring Xherdan Shaqiri on the cheap from Stoke and recalling on-loan Belgian Divock Origi. Even so, he relied less on his front four and more on the solidified defence behind them. The balanced approach delivered far more consistency despite a slide early in the New Year that allowed City to gain an advantage they never relinquished on the way to an unprecedented domestic treble.
Whereas Klopp adjusted to meet a stiff challenge, Guardiola remained obstinate. As a result, Mauricio Pochettino and Tottenham stole a page from Liverpool. They pressed their way to the Champions League final, defeating City in the quarterfinals along the way. VAR proved a good friend, allowing a Spurs goal that caromed in off Fernando Llorente's arm, determining the Spaniard knew little about it and had no intent. City fans can't be too happy the rule has now been changed to eliminate intent as a criterion for offensive handballs that lead to goals. In addition, the system caught Sergio Aguero offside when he created the goal that might have put City into the semifinal.
Liverpool then dismantled Tottenham in the Champions League final to trump City's domestic success by winning yet another European Cup, the trophy the Mancs, their manager and oil-rich owner crave most.
This season, City continue to have no answer for teams who press them and isolate their rearguard. They even fell to relegation-bound Norwich City. Guardiola's Van Dijk, Aymeric Laporte, is out with a long-term injury and the Catalan neglected to sign cover even though former captain Vincent Kompany left the club for Anderlecht in the close season. Consequently, they languish 14 points behind their nemeses two matches before the halfway point in the campaign. Arsene Wenger's Invincibles record looks in danger of not only being matched but left miles behind, on the roadside, its bonnet up, the radiator hissing steam in protest. A sixth European Cup might have soothed the Reds souls but their thirst for the league title isn't quenched.
The race isn't won yet but Klopp's Liverpool don't look poised for a fall while Guardiola appears to have no Plan B to bring City back into contention. Will the Catalan ever learn that for every revolution, there is a counterrevolution?