2018 World Cup: The stage is set for Marco Reus
The fact that a player like Marco Reus never playing in the World Cup is nothing but absurd. He is arguably one of the most unluckiest footballers of the 21st century. Recently turned 29, injuries have been the bane for Reus' consistency. Just before the 2014 WC, he twisted his angle going in for a challenge which resulted in Reus limping off the field full of regrets giving away the flight ticket to Shkodran Mustafi. Whilst everyone were partying with their medals around their neck, Reus must have been throwing himself a pity party.
Unfortunately, another injury took him out of the 2016 UEFA Euros due to groin issues. Soon he was being compared to the likes of Gareth Bale and Daniel Sturridge. He used to spend more time with a thermometer in his mouth than having the ball at his feet. Various 'career could have been' opinions were imposed on him. He has missed over 80 games for both club and country in the past two years. The world was awaiting a much anticipated return of the golden boy.
But, once he was fit and fine, he would be the best player on the pitch. This kept him in the talks. Performances since his return in the month of February has been gorgeous. The blonde-haired forward has scored seven goals in 11 matches after his return helping Dortmund secure a Champions League spot for the next season. A brace against Bayer Leverksuen in a 4-0 victory, an assist versus Werder Bremen and the winner against Borrussia Gladbach are few to name. With him, Dortmund have looked different. With him and Michy Batshuayi as striker-partners flirted with every defender and made them fall on their knees. He is an integral part of Dortmund's jigsaw in the final third, when he is fit. Reus' pace and ingenuity in the left flank helps him fire in the goals for the team.
He's so able, he makes it look so easy and playful. His timing is spot-on, even his passing. He's clinical. He's making a really good impression, and he'll play against Austria. Marco's like a rocket!
Even die Mannschaft boss Jogi Low has fallen in love again.
In the European qualifiers, Marco netted five goals and created four in just 6 games. Those figures are insane. Long missiles and beautiful volleys were his forte.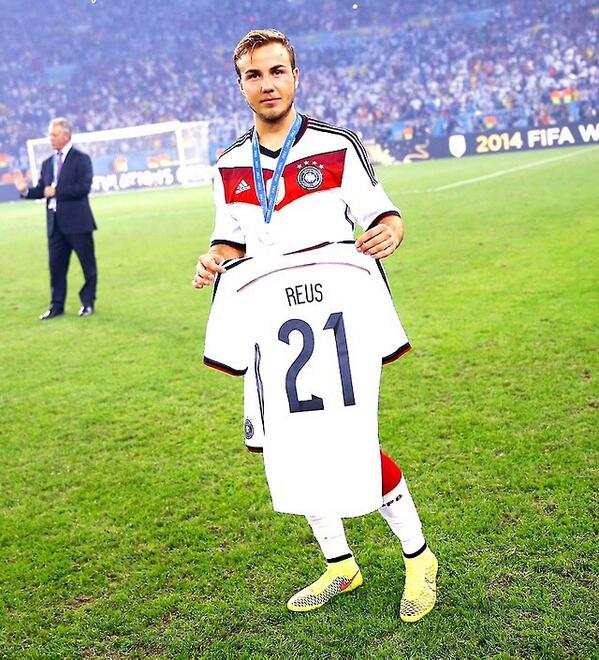 Congratulation to the whole Team! Your Dream has Come true! And Thanks to my bro for your gesture:) Believe ✌️
http://t.co/Cgb6xeDq8T
After Leroy Sane was dropped for Julian Brandt this week, the task became easier. It would have been hard for Reus to match Sane's insane statistics of 10 goals and 15 assists in the Premier League. That said, Julian Draxler will be hoping for a chance to start.
But Low knows Reus to be a thrilling wing wizard who can still cast shadows in the World Cup. Besides, he deserves the chance to show the planet what it's been missing.
The FIFA 17 poster-boy is fully focused on this tournament. Every manager loves such determined players. With Reus, Low also gets versatility. He stepped smoothly into the number nine role when Batshuayi took a late-season knock.
Marco made his return after two years during the recent tuneup against Austria. He played a decent cameo for Die Mannschaft although they lost 2-1. Fingers crossed, we may finally see Marco Reus on the world stage.