2019/20 Manchester City Premier League preview
Can Pep Guardiola achieve even more with Manchester City?
That Pep Guardiola has created a monster in Manchester is no longer news. What remains unknown is how much more the team can accomplish. After spending over £300million in two seasons to rebuild the ageing City squad, the Catalan-born made only one signing last term. Riyad Mahrez joined from Leicester City for £60million. The Citizens got even stronger. A clean sweep of domestic silverware makes them the pace-setters.
The unprecedented success whets the appetite for even more. Yet, it will be difficult to repeat such remarkable success on the home front. For one, other teams are gearing up to mount a stronger challenge. Then, there's the issue of fatigue. The players are human after all. There's a limit to how far the body can be pushed to perform at such a high level. Sooner or later, City will slow down.
Manchester United once exhibited near-total dominance of English football. The Red Devils won seven out of 10 league titles in the Premier League's first decade. Today they are struggling to find their rhythm. Change is the only constant.
Also, the added distraction of chasing that elusive Champions League trophy could be all it takes to sidetrack Guardiola's side. For now, though, things are looking positive. After adding the Community Shield to the trophy cabinet, they look unstoppable. Apparently, it's due to the fact the players now understand themselves better having caught the winning bug from their manager.
Much has been said about City's squad depth and how that has helped achieve success so far. What many ignore is Guardiola simply knows how to buy what he needs to get the job done. He is adept at getting the best from his team. The gaffer also knows how to improvise when there is a need.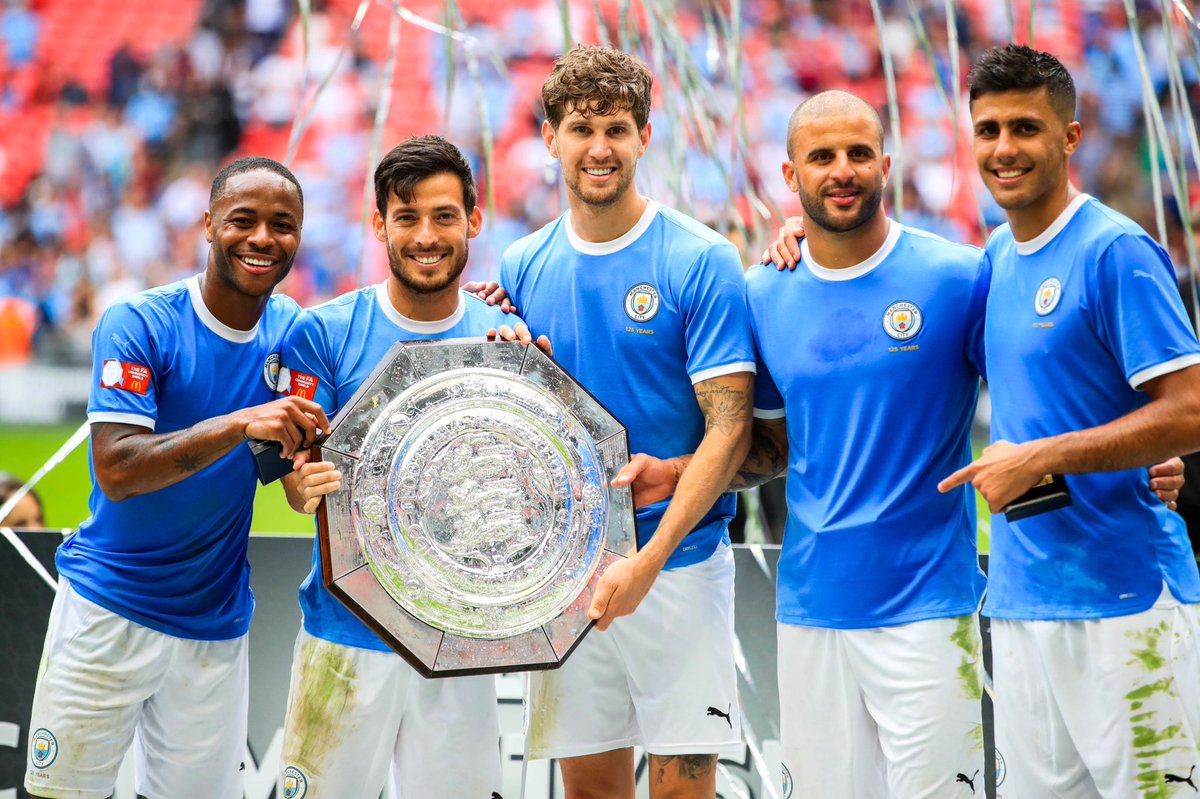 Despite being without his first-choice left-back, Benjamin Mendy, for the better part of the last two campaigns, Guardiola came up with a solution. Two midfielders, Fabian Delph and Oleksandr Zinchenko were drafted into the position and coached to perform.
Also, only five of Guardiola's key signings featured regularly last term. Those were goalkeeper Ederson, defenders Aymeric Laporte and Kyle Walker, midfielder Ilkay Gundogan as well as forward Bernardo Silva. The rest were players he inherited. The point is, his success cannot be watered down to just a matter of spending money.
Vincent Kompany, one of those long-serving players, proved instrumental to City's accomplishments last season. Captain and leader both on and off the pitch, the Belgian left at the season's end to rejoin Anderlecht as player/manager. Guardiola has decided to enter the season without an additional centre-back. There has been a major defensive reinforcement, though. Joao Cancelo signed from Juventus, for £26million plus Danilo. It's an excellent piece of business owing to the Portuguese's versatility.
One position the former Barcelona boss has made sure to provide cover in is defensive midfield. At 34, Fernandinho is no longer the player he was. The Brazilian has also become prone to injury. Finding a backup that will eventually replace him had become a necessity. Therefore, Rodrigo Hernandez has been added from Atletico Madrid.
So far, the young Spaniard is proving capable of filling in and playing the manager's style. Having marked his first competitive game with a trophy, he must be thrilled to have made the move. His real tests await, though.
Deadline day has sprung one surprise for the City faithful. A loan move for Derby County goalkeeper Scott Carson has been completed. He'll be third-choice behind Ederson and Claudio Bravo.
The Citizens begin their title defence against West Ham United on Saturday. Despite the fact a new central defender hasn't been added, the squad is no doubt good enough to produce another successful season.
However, last season's Champions League finalists, Liverpool and Tottenham Hotspur, along with big-spending Manchester United and Arsenal are all determined to prevent City from retaining their Premier League crown. Potentially another danger, Chelsea have a freshness about them under Frank Lampard.
All that means Guardiola has his work cut out to win his third straight title.