5 budding stars making their Premier League case
Pre-season traditionally is a time to develop match fitness and work on tactics ahead of the new campaign. It's also a chance for new signings to bed in and academy players to press their case. A few do enough to stick with the first team.
The Premier League is increasingly competitive but it is also increasingly younger. Whether they are flashing attacking skills or demonstrating strength and resolve in defence, here's a look at five players intent on making their mark in the top flight.
Tahith Chong
The Dutch youngster is turning heads with lively performances rather than his massive afro during Manchester United's Asian tour. Chong's only played a few halves but made use of every single minute. his trickery has defenders on their heels.
He can operate across the pitch in the final third which might lead Ole Gunnar Solskjaer to use him off the bench this season. The 19-year-old's whirly technique on the ball bamboozles markers. He toyed with Marcelo Bielsa's Leeds side in Perth, Australia. His pace and close control recall Ryan Giggs.
With Anthony Martial and Alexis Sanchez struggling to bring that spark down the wing, the teenager may get a long, hard look from Solskjaer.
Morgan Gibbs-White
While he did feature sporadically for Wolves last season, Gibbs-White's matured into a deadly midfielder with his work for the U23s. The 19-year-old's decision making and final delivery going forward improved exponentially. He has a newfound authority on the pitch.
The youngster scored his first goal for Wolves as they thrashed Newcastle in the Premier League Asia Trophy in Nanking, China. He also gave Manchester City headaches in the mini-tournament's final. A natural attacking-midfielder, the teen also operated as a centre-forward alongside Diogo Jota. His clever work down the middle seems to have impressed Nuno Espirito Santo.
Is he the third-prong in attack who can supplement Jota and Raul Jimenez? His quick, incisive passing suggests it's a possibility.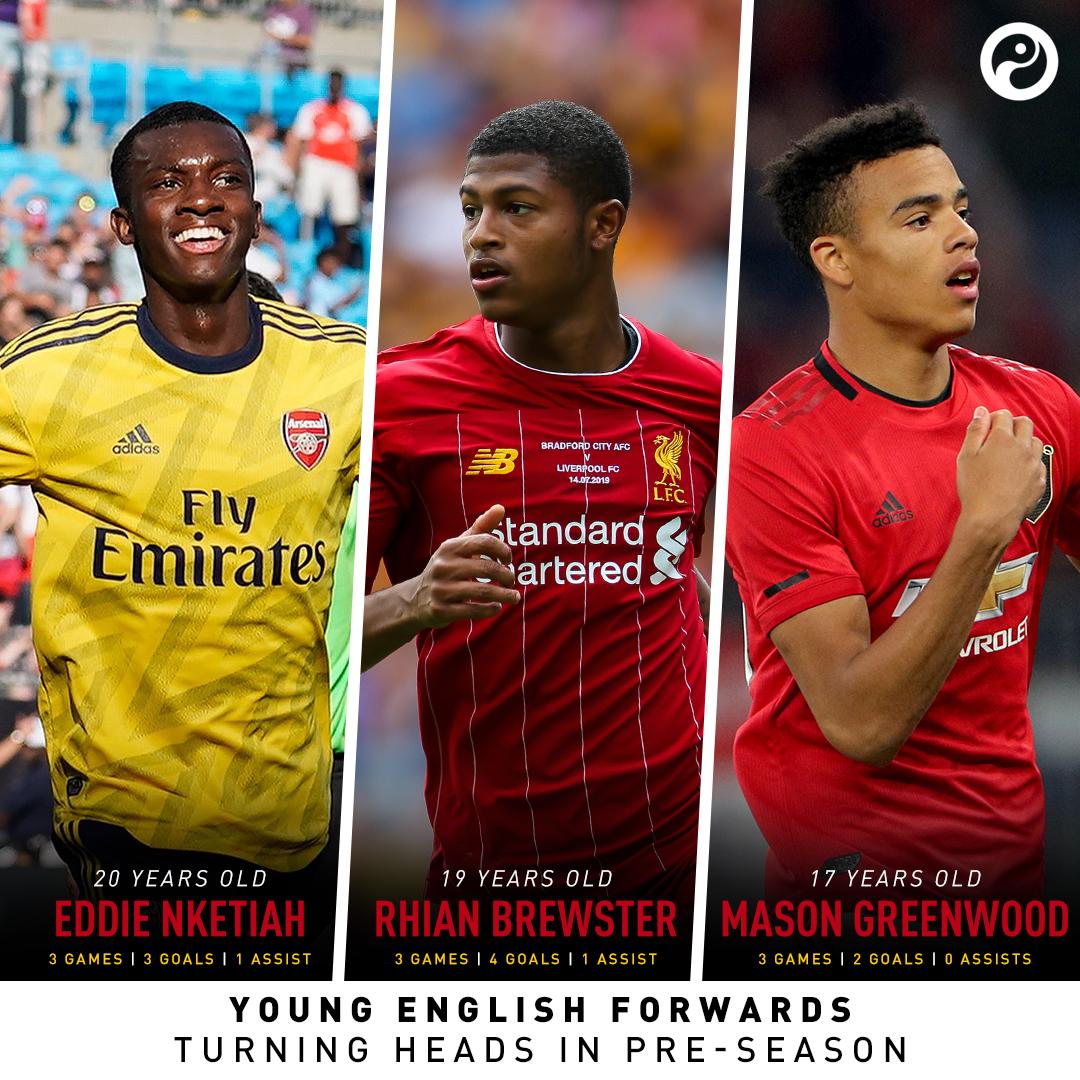 Eddie Nketiah: ⚽️⚽️⚽️🅰️
Rhian Brewster: ⚽️⚽️⚽️⚽️🅰️
Mason Greenwood: ⚽️⚽️
Young players making an impression in pre-season.
https://t.co/zp025qvNyc
Eddie Nketiah
Arsenal's pre-season has been marred with controversy thanks to Laurent Koscielny. The Frenchman refused to appear for training camp after not being granted a transfer. Regardless, Unai Emery hasn't allowed the conflict to affect his squad's morale. The competition for places in the squad is fierce, even where it seems none exist.
Eddie Nketiah dominates the final third for the Gunners this preseason, not Alexander Lacazette or Pierre-Emerick Aubameyang. The 20-year-old netted three goals, including a winner against Bayern Munich and a brace against Fiorentina in the United States. With Lacazette and Auba absent, the youngster is taking advantage.
Emery isn't going to bench either of his clinical finishers but he may find room for Nketiah in the side, to come off the bench and rotate into EFL Cup matches.
Rhian Brewster
Still recovering from their Champions League euphoria, Liverpool are yet to make a signing this summer. Mo Salah and Sadio Mane's AFCON duties made them unavailable for the pre-season tour, allowing Jurgen Klopp to look at his emergency options.
With two defeats in as many matches in America, the German can't be inspired by what he's seen overall. Rhian Brewster, on the other hand, has piqued his interest. The 19-year-old is showing a ruthless streak in front of the opponent's goal. With unpredictable movement and perfect anticipation, he's bagged four goals despite the Reds' woes.
With Divock Origi and Brewster in the squad, don't expect Liverpool to do any business at centre-forward.
Mason Greenwood
The latest breakthrough from the Manchester United academy, Mason Greenwood is becoming Ole Gunnar Solskjaer's darling. The 17-year-old is making a strong argument that he's more than the flavour of the month on United's Asian tour.
With goals against Leeds and Inter, he's shown confidence on the ball, fearlessness in taking on defenders and a scoring instinct that the Norwegian can appreciate better than most.
Solskjaer's tipped him as a possible starter in the season-opener against Chelsea. If he takes that opportunity, he may see even more action over the course of the season. With his work coming off the right flank, United may have found the next Robin van Persie.