Sanchez, Ozil unable to hide from expectations
Once they used to rule over the Premier League with an iron fist. Now Mesut Ozil and Alexis Sanchez are stuck inside their own nightmares. After fading apart, their journey's have lead to a gloomy road.
It wasn't too long ago when they operated as Arsenal's darlings. Sanchez scored the goals, while Ozil weaved magic. They worked together to win multiple FA Cups for an under-fire Arsene Wenger. Life was pretty good. Then, the Chilean caught greed's scent. Like a hungry wolf, he went scampering towards a glittering Manchester United.
Like a warrior aiming to fulfil the prophecy, he took upon the "cursed" number seven mantle of the Red Devils, aiming to find them long-lost glory. Ozil was caught in a different dilemma. At a point where tensions grew between him and his own nation, the majestic playmaker goaded Arsenal towards making him their highest player. He settled into the perfect London life, with fame, money, skill all by his side.
However, they ended up being tempted by false pretences. What had seemed like a dream soon turned into an ugly nightmare. For the Chilean, a dream quickly turned sour. Not everything is easy as playing the piano or breathing in the empty Old Trafford air. The same stadium started turning on him months into his new journey.
Upon arrival, Sanchez claimed he wanted to "win it all" with the Red Devils. His contributions, however, have done little to make it a reality. While there is substance to him claiming to be a United fan as a kid, his dreamy fandom is in tatters. Since arriving in January 2018, he's only scored five goals and assisted six in all competitions. For a marquee United #7, he's been another failure.
Ozil possesses a different philosophy. Yet, after Arsene Wenger's departure, his performance levels also declined. Despite being made among Premier League's top-earning players directly after Sanchez's departure(an assertive statement from Arsenal), he's struggled to turn things up a gear. Amidst the bitter battle with the DFB, he failed to step up when Unai Emery raised the bar at Arsenal.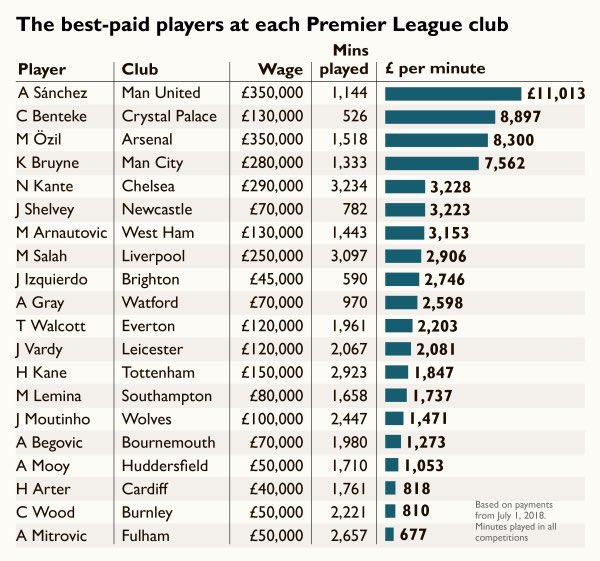 Based on earnings per minute, Kevin De Bruyne is the best-paid player at Manchester City and is the 4th highest earner in the Premier League behind Alexis Sanchez, Mesut Ozil and N'golo Kante.
[@TimesSport]
https://t.co/ska78dVB9j
The difference between the two is Alexis went to United to quench his thirst for trophies, while Ozil stayed to deliver them success under a new era. However, their contract drama has linked them together even after drifting apart. Upon becoming the most financially decorated players in their teams, expectations from the attacking wizards took up giant notches.
It would be unfair to expect them to provide daily like the Ronaldos and Messi's. However when they're earning how much they are, who can blame the fans from expecting more? Alexis despair with United fans is worsening with every month. Initially, he received time to settle in at United. However, even under Ole Gunnar Solskjaer's revolution, he's been the consistent underperformer.
The Chilean invites criticism with a style which makes it seem like he's on edge. Rather than playing freely, he tries to take too much responsibility only to end up fluffing time and again. Instead of being the ruthless goalscorer United hoped for, he tries being their creative link. This only results in mounting frustration.
Ozil, on the other hand, was never quite the consistent goal-getter like Sanchez at Arsenal. He never quite hit peak consistency, but after the new contract, his inadequate nature's come into the spotlight. Being under pressure to assist goals or glitter up Arsenal's game more often, he's lost his place at Emery's robust Arsenal. The French manager's been unimpressed with his lack of hard-working ability and little creative productivity as compared to Aaron Ramsey or Henrikh Mkhitaryan.
Expectations towards being one's team prime goal-scorer, while one's creative magician is holding both back. Both their employers want them to move on. However, their massive wages make it impossible to find proper suitors in Europe. They wouldn't want to move elsewhere. The situation is in an uncomfortable impasse.
Heading into their swansong, the former attacking masters need to relieve some pressure and play like there's nothing to lose. If they keep succumbing to their overwhelming expectations, their past brilliance can soon become an afterthought