Are Barcelona, PSG destabilising transfer market with tug-of-war?
Barcelona's personal battle with PSG is having an adverse effect on the transfer market.
Football rivalries often derive from unforeseen circumstances. Take Barcelona's cold war with Paris Saint-Germain. They weren't rivals until their sensational Champions League tie two seasons ago. La Remontada humiliated PSG's owners, however, as surrendering a four-goal advantage should. So they triggered the release clause on Neymar Junior for €222 million. An appropriate figure to deliver the message that two can play that game.
In turn, Barcelona tried to use arcane La Liga rules to refuse the payment. When that didn't work, club president Josep Maria Bartomeu tried to outdo his counterpart at the Parc des Princes, Nasser al-Khelaifi, in the transfer market. Bartomeu took the Neymar money and a bit more to sign Philippe Coutinho [€140 million] and Ousmane Dembele [€124 million].
PSG upped the ante by signing Kylian Mbappe [€140 million] on one-year layaway.
Financial Fair Play muted the salvos between the two afterwards but for every signing Al-Khelaifi made, Bartomeu seemed to make two in the same ballpark. Worse, it's had a ripple effect on the market. Agents were only too happy to compare their player's value to the new figures.
Because player values spiked across the board, smaller clubs had two choices. Sell their suddenly more valuable want-away stars or pay through the nose for talent. In most cases, it was both.
Liverpool signed Virgil van Dijk [£75 million], Alisson Becker [£62.5 million], Naby Keita [£60 million agreed one year prior] and Fabinho [£45 million] to gear up for their title push.
On the other side of Stanley Park, Everton turned Romelu Lukaku [£76 million] and Ross Barkley [£15 million] into Gylfi Sigurdsson [£44.5 million], Jordan Pickford [£25.7 million] and Michael Keane [£25.6 million] but didn't stop there. The Toffees also signed Davey Klaassen [£24 million], Theo Walcott [£20 million] and Cenk Tosun [£20 million] as they tried to overcome a poor start under Ronald Koeman through Sam Allardyce's defensive tactics. When Marco Silva took over this season, Klaassen was sold at half-price to Werder Bremen while Richarlison [£35 million], Yerry Mina [£27 million] and Lucas Digne [£18 million] were bought. Kurt Zouma and Andre Gomez arrived on loan for a combined £9 million, Bernardo on a free transfer. Inconsistent performance, including a shock exit from the FA Cup at Millwall's hands now heap pressure on the Portuguese manager.
Last year, newly-promoted Huddersfield broke their transfer record three times and spectacularly survived. This year, they didn't invest further. Injuries have driven them to the bottom of the Premier League table. In Ligue 1, Monaco is little better off after 'capitalising' on the transfer boom to sell off too many of their young stars. Money makes the world go around but doesn't guarantee where you get off the ride.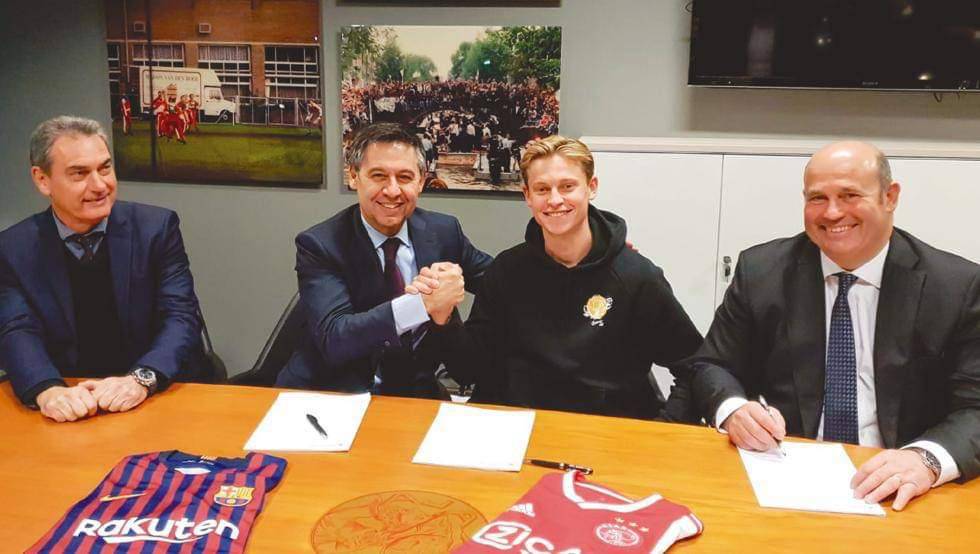 📰 [MD] | One of the main arguments to persuade De Jong by Barcelona was reminding him that PSG is a "golden jail" where once you sign you have no way out until you run out your contract as seen with Rabiot, Verratti and others. 💉
https://t.co/RInIoc8j4n
The Barca-PSG inflation battle isn't ending anytime soon. The Cules' scored a major victory over the French side by romancing Dutch sensation Frenkie De Jong for €75 million. Rebuffed PSG is close to signing their second option, Leandro Paredes from Zenit. St Petersburg, for €45 million. These are astounding numbers for young, unproven players. It's only been five years since Gareth Bale broke the €100 million barrier when moving from Tottenham Hotspur to Real Madrid.
The blame game can be played by multiple bodies when it comes to discussing who "ruined" the transfer market. Real Madrid's "Galacticos" mentality started it even though the model was enacted before transfer windows began in 2003. Top clubs have always been willing to pay for players. The recent explosion coincides with extraordinary fees paid for broadcasting rights. Everyone wants a piece of the pie. Which should tell you it's the same culprit it's always been. Greed, pure and simple.