Inexperience at the back risking BVB's title run
Will defensive issues derail Dortmund's Bundesliga dreams?
2019 hasn't turned out as the fortuitous year Borussia Dortmund thought it would be. Heading into the Bundesliga winter break with a six-point gap over second-placed Bayern Munich, confidence was oozing off the Dortmund camp. However, a month or so after the season resumed, the league leaders now nervously look over Bayern with a reduced deficit of only 3 points.
While Der BVB's campaign after the winter started auspiciously, winning back-to-back games against RB Leipzig and Hannover, things started to crumble afterwards. Incidentally, their struggles have formed and escalated in February. The cursed month started with a draw against Eintracht Frankfurt, after which they were eliminated from the DFB Pokal with a surprising home loss to Werder Bremen.
It almost feels like something's tipped their perfectly shaped house to cards to fall down. Dortmund's come very close to winning this month but been denied every time. Even after they took a 3-0 lead over Hoffenheim at home, Julen Nagelsmann's men somehow mounted a come-back to extraordinarily draw 3-3. However, the worst of the lot was the dismal 3-0 loss to Tottenham Hotspur at Wembley.
Spurs deconstructed their entire system, pointing out the flaws in their defensive shape. While Dortmund retained a decent defensive shape up until the winter break, luck has run out on that front. With inexperience defenders crumbling at the slightest bit of pressure, Dortmund can't defend to save their lives. Injuries aren't helping their case one bit. Dortmund have a pretty thinly tied squad. Not many solutions are there to fill the gaps left by injured stars. Their defensive work in recent games has been the core of their slump.
In their disastrous draw against Hoffenheim, poor defending undid all the good work. Two goals were headers, with the equaliser itself being a clever set-piece which worked due to Der BVB's inability to simply clear it. Playing Julian Weigl isn't working, as he's not built enough to be a strong defender, proved in his nightmare against Hoffenheim. Similarly, Spurs aerial prowess, mobility caused them issues at Wembley.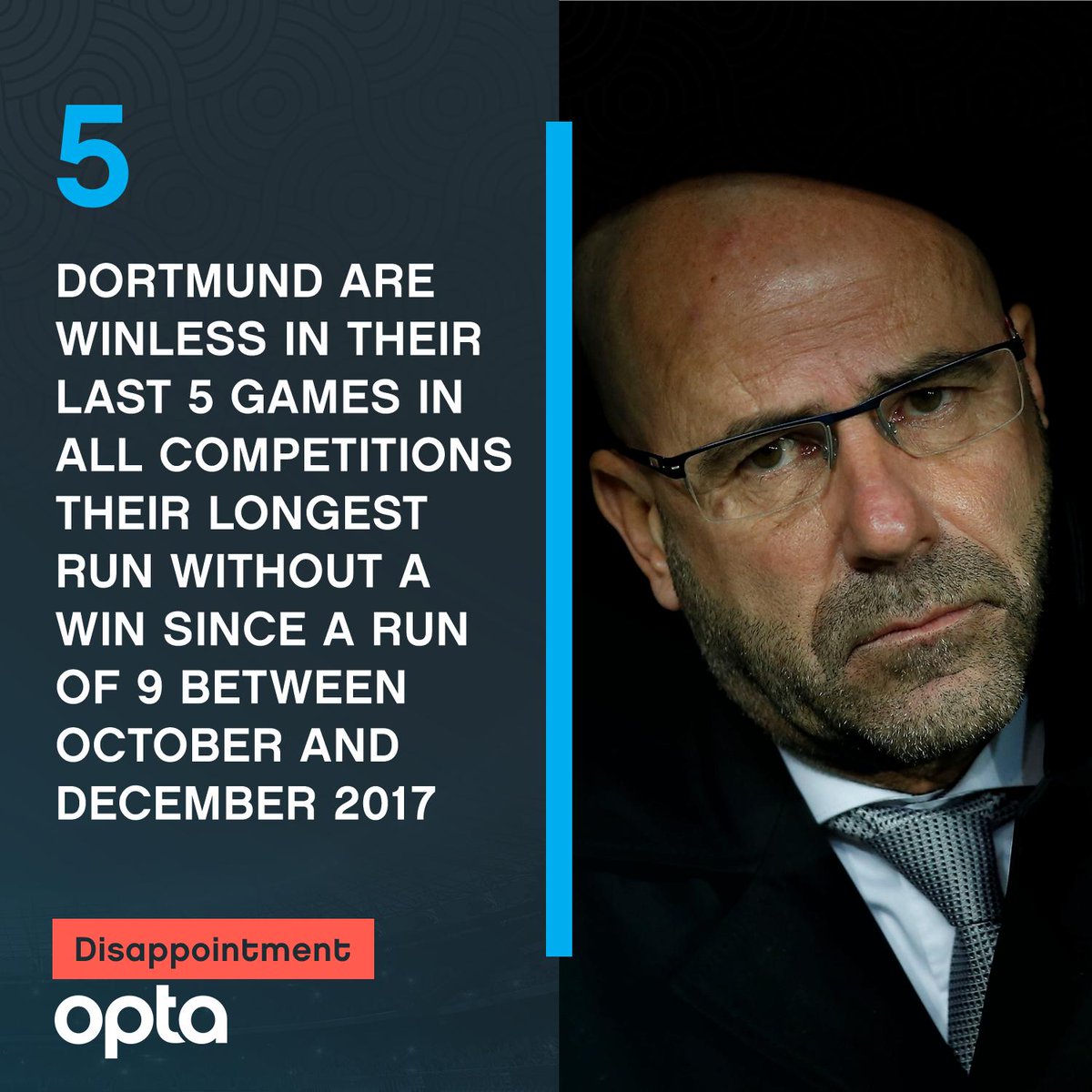 5⃣- Borussia #
Dortmund
are winless in their last 5 games in all competitions their longest run without a win since a run of 9 between October and December 2017 under manager Peter Bosz. Disappointment. #
FCNBVB
https://t.co/IFBNbeop8U
Jan Vertonghen, of all people, caused issues with his high-pressing, unpredictable movement and crossing ability, capitalising on their vulnerability defending through the right. He assisted Son's goal through a looping cross, before striding past many defenders to score his own goal. Llorente's third came through another set-piece, effectively ending the Champions League tie.
However, it's the relative new boys who are causing issues for their defensive work. Abdou Diallo's can't use size to his advantage, struggling with positional sense, marking and movement throughout. Achraf Hakimi's a revelation going forward, but unable to keep danger from moving in through his side.
The experienced Omar Toprak's error-prone nature means he's unable to be a defensive leader, while young Dan Axel-Zagadou's inexperience was in the Wembley nightmare. If many thought their 3-3 draw against Hoffenheim to be a one-off, the Spurs match proved otherwise.
Ironically, when they can defend, they can't attack as exemplified in their 0-0 loss against bottom dwellers Nurnberg in what was arguably their worst performance this season. To their attackers' defence, focusing too much on keeping a clean-sheet probably took a toll on their priorities going forward. Lucien Favre's stuck in a precarious position and his side's demons are quickly catching up.
The experienced manager needs lady luck to work in his favour for key players to return from injuries. Top scorers Marco Reus and Paco Alcacer are both out, with the lack of stability from Manuel Akanji also being felt. While they're a young squad, Dortmund's experienced figures in Reus, Mario Gotze, Lukasz Piszczek need stepping up.
They know what it takes to win the Bundesliga and need to guide the youngsters into getting past this dark phase to start enjoying themselves as they did before the winter break. With Dortmund facing a hungry Bayer Leverkusen side, chasing a Champions League spot and rejuvenated under a firing Leon Bailey and Kai Havertz connection, it'll take some doing to get back to winning ways.
Bayern drew level before kick-off. Der BVB needs to wake up from their slumber or all their majestic moments will go to waste. The saying "you can't win anything with kids" will be synonymous with their downfall.