Fabio Quagliarella's resurgence proves age is only a number
There's a surprise front-runner in the Serie A Golden Boot race this season. While Cristiano Ronaldo is predictably running away at the top, the other striker whose making the headlines is Sampdoria's Fabio Quagliarella. Currently the most prolific goal-scorer in the league, he's blowing away his young peers by easily outscoring them.
Following his highest goal-scoring season with La Doria last time out, which he finished with 19 goals, Quagliarella seems set to beat his own record this time around. He's scored 12 goals in 18 Serie A appearances this term, but what's so special is he's scored in the last nine consecutive games he's started in. David Trezeguet was the last player to do so with Juventus in 2005. At 35 years of age, Mr Dreamgoal's turning back the clock by producing some brilliant memories.
However, his campaign didn't really start with such a blistering goalscoring pace. Quagliarella had only scored two goals from the first nine matches, amidst a few assists as well. It was in the 2-3 loss away to AC Milan where his fortunes were turned. Since then, the wily Italian's taken no prisoners, having slotted past just about everyone who's stood in his path.
While he might not be held in the same regard as the Francisco Totti's or Alessandro Del Piero's of the world, Quagliarella's natural talent isn't far off from the Italian legends. One can argue he wasn't as ambitious as the others, yet his impressive talent for scoring goals made him a legend among Italian football fans.
His scoring ability is being proved time and again in Serie A. His first of the season was an unreal one, where he slotted in coolly with his backheel to prove a goalscorer at the height of his powers. While Quagliarella endured a goal-scoring drought following it, he picked up form in around Halloween.
After netting one at the San Siro, he's scored past both Lazio as well as Juventus away from home. He caused the defending champions all sorts of trouble with his movement while blasting a thunderous penalty to equalise the game at that point. Under his majestic goal-scoring run, Sampdoria has won four games out of nine, whilst drawing two. They've clawed into 7th place, only three behind fourth-placed Lazio. An impossible Champions League dream suddenly seemed possible.
Mr Hitman is having an absolute blast in haunting teams with his clinical nature. He's almost like Jaime Vardy during Leicester's fairy-tale season, only he's much older than Vardy was back then. The fact that he scored another outrageous back-heel goal in an away win to Bologna proved a man brimming with confidence.
However, his form is also partly due to how much support he's gained from team-mates. In his return to La Stamp, he's become a leader in attack. Once touted as a "mercenary" akin to Zlatan Ibrahimovic, he finally seems settled at 35 years! Considering his blistering run and love for the club, it could be set he'll retire in Genoa.
The Italian's attained valuable help from team-mates to support his impressive goal-scoring run. Be it the impeccable crosses from the wide-men or his fellow attackers creating spaces for him, Quagliarella's job's been made easier by his compatriots. Gaston Ramirez, who's found new-life at La Doria, has created many opportunities for him through the middle. Gianluca Caprari, his fellow-man in the attack, has been the perfect shadow striker to take away all the attention in the final third to create room for the experienced Italian.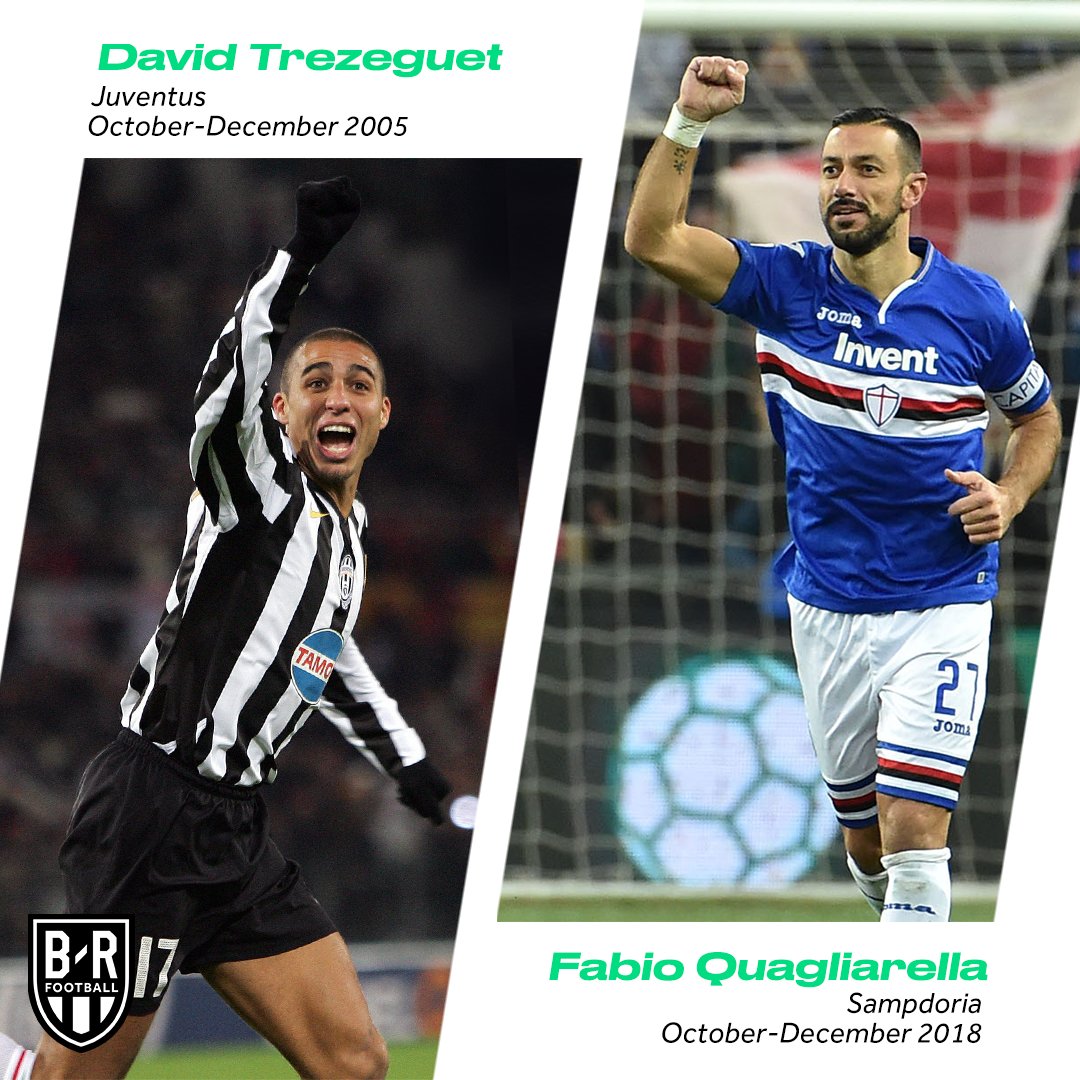 Fabio Quagliarella is the first player to score in NINE straight Serie A appearances since David Trezeguet.
He's 35.
https://t.co/PRwfxznFr9
The set-piece routines' also worked in his favour. The in-form Italian's scored from flicks, dinks, headers. All have come from exclusively inside the penalty area, proving his predatorial instincts in front of goal. Ever since joining Sampdoria, the Italian has turned a new leaf. If the 19-goal season proved anything last time, it's he's finally playing without pressure. In his mid-30s, he's enjoying football more than he's done for a decade, something which is showing in his game.
Serie A might be dangerously close to being turned into Cristiano Ronaldo show. However, Fabio Quagliarella, with his Italian swagger, is giving stiff competition to the Portuguese. With 12 goals, he's only two behind Ronaldo and one behind free-firing Krzysztof Piatek. He's already overwhelmed expectations, having outscored the likes of Mauro Icardi, Ciro Immobile, and Gonzalo Higuain this season. Yet, with the official consecutive goal-scoring record standing at 11 games, Quagliarella's ambitions won't let him stop until he breaks every possible record this season.