Ruthless Joachim Low restructuring Germany at big names' expense?
Is banishing Bayern stars a statement of intent from the German gaffer?
Joachim Low is ushering in a new era for German Football. After recent disappointments, he's adamant at developing the future stars to take Germany forward. However, for new blood to make way, the old must be sacrificed.
Bayern stars Thomas Muller, Mats Hummels and Jerome Boateng have been formally informed they'll never be picked on the national level again. The manager's sent a statement of intent. Warning shots have been blown for those on the wrong side of the 20s and moving into their 30s. The German coach's holding no prisoners, even for those who gave him his greatest triumph in 2014.
There's also rumours Manuel Neuer might be next to this brutal clear-out. Mesut Ozil's already left in bitter terms. The core everyone became accustomed to seeing don German colours are withering away. While nobody can doubt the quality talent coming out of the Bundesliga, the fact the German hierarchy took the risk to discard such elite-level talents is telling of their future ambitions.
However, this isn't the first time Low's decided to look beyond experienced players. Ever since becoming Die Mannschaft's manager, he's exchanged brimming, young talents for the ageing ones. When he picked the second youngest squad of FIFA World Cup 2010, the German made it clear he'd always prefer young talents by leaving out some key experienced candidates.
Michael Ballack was never picked after failing to make the World Cup 2010. Falling out with striker Kevin Kuryani following leaving him unselected resulted in him retiring. Jogi's never been shy of taking risks which could haunt him. Luckily, his risks tend to pay off. With Germany falling to the lowest lows following the UEFA Nations League relegation, time to rebuild is upon him.
Options are aplenty for him to replace these experienced candidates. In defence, the Bayern duo's replacements are set in Matthias Ginter, Niklas Sule and Jonathan Tah. Sule's a dominant figure for Bayern Munich, using his tower presence to overpower strikers.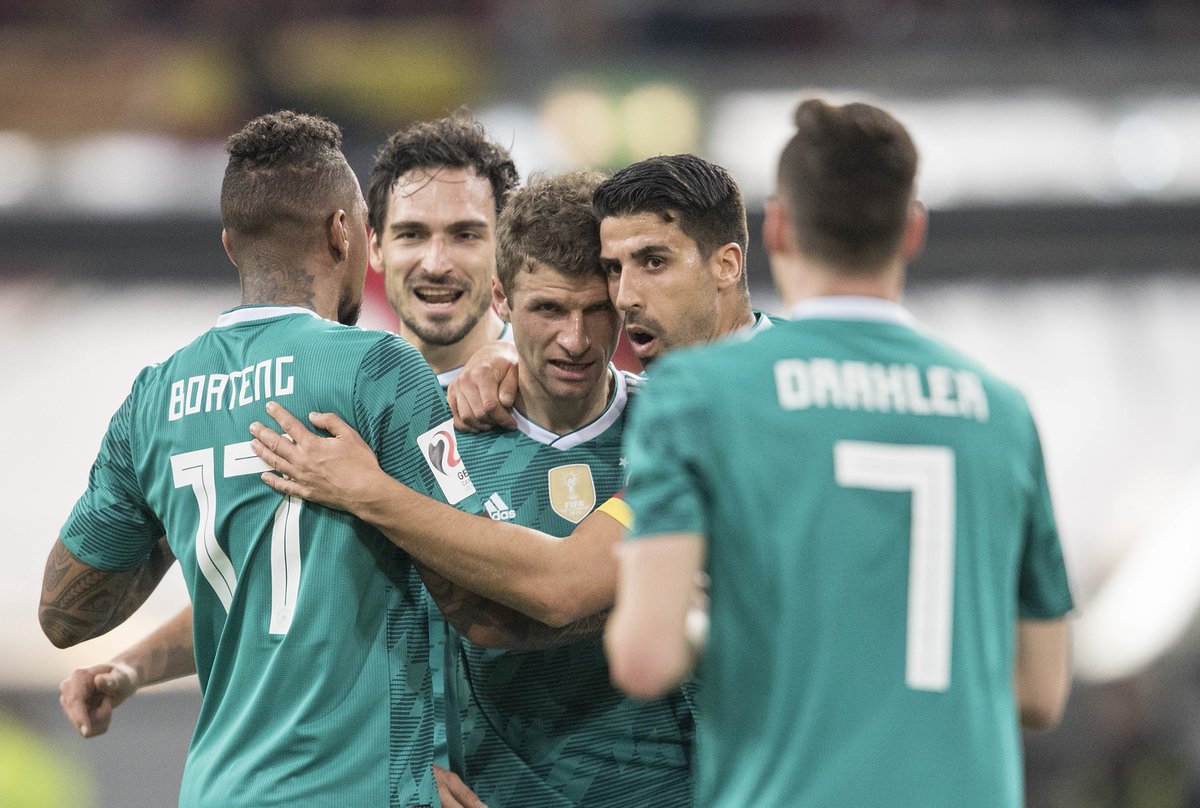 😰🇩🇪 Joachim Low on this year's Germany squad...
"2019 is the year of the new start for the German national football team. Jerome Boateng, Mats Hummels and Thomas Muller will no longer be in the squad of the national team."
Sounds like the end of an era!
#DieMannschaft
https://t.co/r2GoOkPRjy
Ginter's been more assertive like Hummels, making proper tackles, showcasing commendable intelligence, while also helping his side keep seven clean-sheets in nineteen appearances. Tah's also remained a strong figure for Bayer Leverkusen, catching everyone's attention with his composed defending. Not only could these strong defenders compliment Antonio Rudiger in the middle, but can push him out at the same time.
It'll be a tricky task for Low to find an appropriate replacement for a foxy scorer like Thomas Muller. However, with a change in the system, he can mould one of the many talents at his disposal into the next Muller. Serge Gnaby's already outscoring Muller in the Bundesliga. Having scored seven goals, it's been a prolific season for the skilfull, incisive youngster.
Kai Havertz is also a player primed for big things in German Football. The 19-year-old's made inroads for Bayer Leverkusen this season, scoring ten goals, while also assisting three so far! A ruthless goal-scorer as well as an exciting figure on the ball, Havertz has all the credentials to be Jogi's next superstar.
Apart from the usual suspects, Julian Brandt, Mark Uth, Luca Waldschmidt have all been impressive enough to break into the national team. With Neuer's future in doubt, it's high time Mats Andre Ter-Stegen's heroics at Barcelona is rewarded with a permanent spot in between the posts as well.
That being said, doors might be opening for new national team players, but they can close just as quickly. Complacency isn't tolerated anymore. Low's indicated that whoever underperforms, regardless of his reputation, is risking being replaced with someone better. The newcomers need to perform at the highest level to avoid the manager's wrath.
Following the World Cup humiliation, it looked unlikely the German coach would stay on with the team. However, rather than taking an obvious way out, DFB and Joachim Low are working towards constructing a brighter future for Die Mannschaft. In this new era, only the best survive.