Joao Cancelo proving to be Juventus' best long-term signing in years
The summer transfer window was an absolute whirlwind for Juventus. They made their biggest coup ever in signing Cristiano Ronaldo from Real Madrid in a deal nobody saw coming. However, in the midst of the glittering smokescreen, the Bianconeri managed to snap up another multi-talented Portuguese in Joao Cancelo.
Following a prolific debut season in Serie A while on loan with rivals Inter Milan, The defender caught the eye of multiple European heavyweights due to his consistency. A complete full-back with commanding defensive and attacking attributes, he starred in defence for Inter last season. This invoked Juventus to make a stunning €40 million bid, which parent side Valencia couldn't resist.
He's adapted to life at Juventus smoothly, having relished the opportunity to play for the Italian giants. Since making his debut in a hard-fought win against Chievo Verona, he hasn't looked back. Cancelo's made 12 appearances in Serie A for the Old Lady, in which they've kept seven clean sheets. He's shown commendable ability in defence, operating naturally as either right-back or even a left-back.
The defender's versatility has given coach Massimiliano Allegri more options going forward. He's also proved to be stiff competition for both Mattia De Sciglio and Alex Sandro, who've been forced to up their performance level to keep up with him. Juventus have only dropped four points from an available 54 in their first 18 Serie A matches. Cancelo's played a resounding role in assuring their bright start.
He's retained the rock-solid defensive nature he showcased in a more rigid system at Inter Milan last season. Despite not being the most aggressive full-back, he plays his role in nullifying his opposition wingers' threat by staying close to him and playing the offside line cleverly. He's averaged at around 2 tackles a game in Serie A, proving how rarely he needs to put a foot in.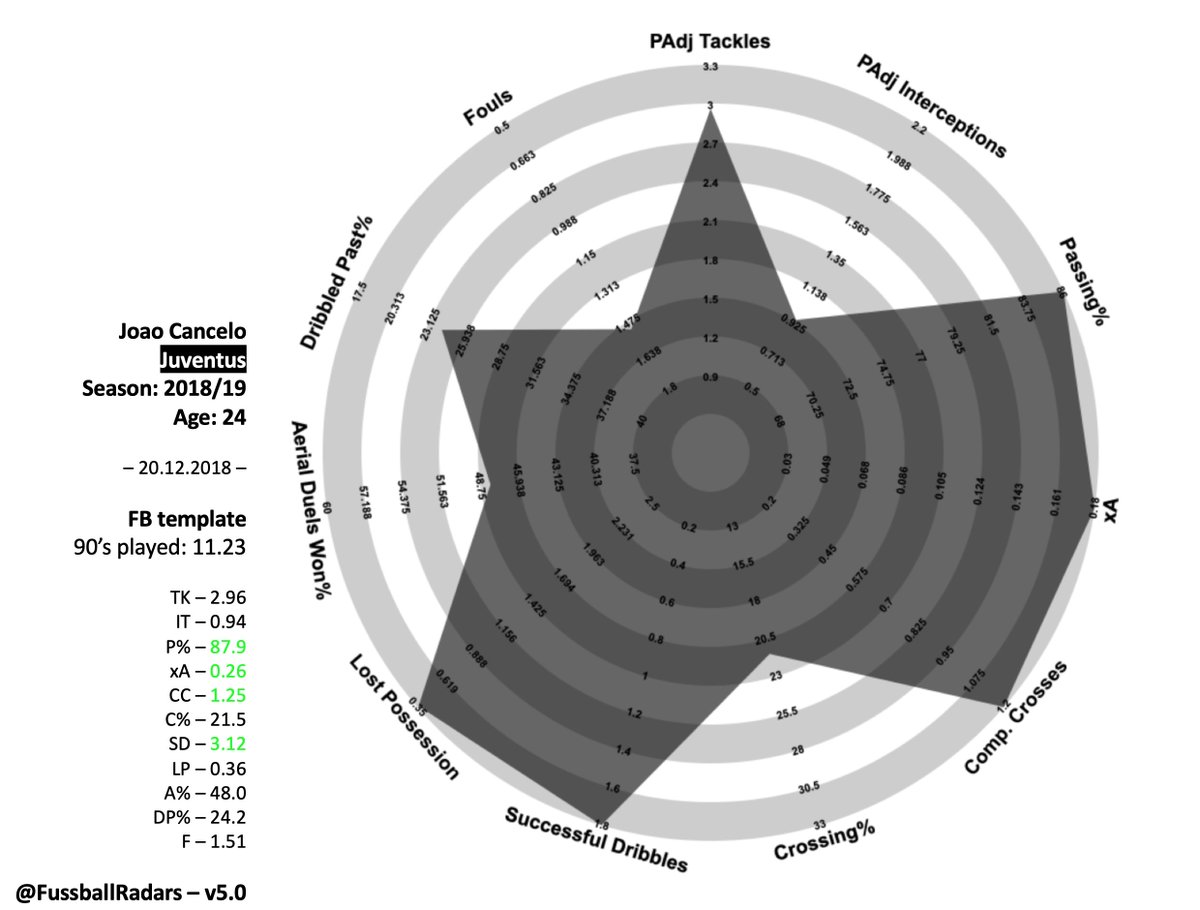 However, Cancelo's trump-card is his attacking style. His brilliance going forward has been on display numerous times this season, as he's added a new dimension to the Old Lady's attack. The Portuguese not only possesses a brilliant crossing ability, something which highly benefitted the aerial prowess of Mario Mandzukic and Cristiano Ronaldo, he's also aware in when to move forward.
His impressive eye for creating chances and rallying forward which has impressed Allegri enough to operate him as even a winger at times. The fact that he played as a left-winger in the home win against Bologna proves the manager's confidence in him. Cancelo's definitely earned his trust with some bright performances and the stats play in his favour as well.
He's had 74% dribbling success going forward this season, proving how good his close-control and movement has been. He's also made 21 key passes, in turn creating big chances for the Bianconeri. However, what distinguishes him from the rest is his ability to turn up when it matters the most. The Portuguese defender's excelled against on the "big occasions" this season, nullifying the best attackers with some rigid defensive displays.
Cancelo's also been fearless going forward against tougher opposition, with his persistence causing problems. He's made three assists so far in Serie A, two which were against the rival Milan clubs. He also gave a brilliant performance for Juventus against former side Inter Milan, putting in an amazing cross for Mandzukic's winner, while rendering upstart Matteo Politano ineffective. In the Champions League, the Portuguese gave a memorable performance against Manchester United at Old Trafford. Juve would go on to top the group.
Against former side Valencia, Cancelo provided an assist and withered the storm at the Mestalla. Despite his stunning start, the Portuguese remained an underrated individual in a star-studded Juventus team, with his discreet brilliance yet to come under the spotlight. However, at 24, Cancelo has enviably maturity about him and will only grow into a bigger star with experience.
While he might be out with a nagging injury, the right-back's impressive recovering nature points at him returning stronger than ever. With wing-backs being pivotal to Juventus' style, the 24-year-old will only grow in stature in influencing the Old Lady's sustained success over the next decade. Who knows? In the long run, Cancelo might even overshadow Ronaldo into being called their best signing of 2018.