Call me crazy but Manchester United can use Mandzukic
Background image: Alexander Kachkaev, CC BY 3.0
The Romelu Lukaku saga is as hot and uncomfortable as a 35º day at Glastonbury. Manchester United fans are excited by the billing, sweat the transfer then dehydrate when nothing comes of it.
First, he was off to Inter with Ivan Perisic coming the other way with a bit of dosh in a briefcase. Then it was just the dosh but on a payment plan. Then, Juventus came in for him. Manchester United want Paulo Dybala in exchange but some reports claim the Old Lady wants to send Mario Mandzukic to Old Trafford with or without the Argentine.
The initial reaction on each player? Dybala is like-for-like when it comes to Lukaku, another overvalued star who can't make the starting XI and has a reputation for disappearing in big matches. Mandzukic is 33. Like Zlatan Ibrahimovic, the Croatian can finish and create in unusual ways and he's old. The problem? He's a step down from the Swede in the talent department, a few steps behind when it comes to fitness and loves to play the victim as much as Ibra revelled in bullying his foes. Now in LA, Ibra still isn't shy about throwing the odd elbow or high boot an opponent's way, whereas Mandzukic will writhe on the ground trying to convince the referee that's just what's been done to him.
Despite those drawbacks, there's enough left in the tank to suggest the lanky goal machine could be a blessing in disguise for the Red Devils. He might be the perfect replacement for Romelu Lukaku in United's current state. On the wrong side of 30 and decidedly un-British, Mandzukic does not fit Ole Gunnar Solskjaer's bill but is undeniably the had-working professional the Norwegian desperately seeks. He brings the experience and winning mentality that left the clubhouse with Zlatan and Wayne Rooney.
Đilkoš, being the leader he is, can command United's front line. Marcus Rashford and Anthony Martial loved learning from Ibra and Rooney but school let out too early. Mandzukic will mentor them and make them earn their minutes on the pitch. Juventus' #17 will not let anyone be complacent, even for a minute.
Mandzukic is strictly short-term but Solskjaer needs a player to bridge the gap until Mason Greenwood adds experience to his game and muscle to his frame. The 17-year-old isn't ready. Not even Lionel Messi was at that age for Barcelona.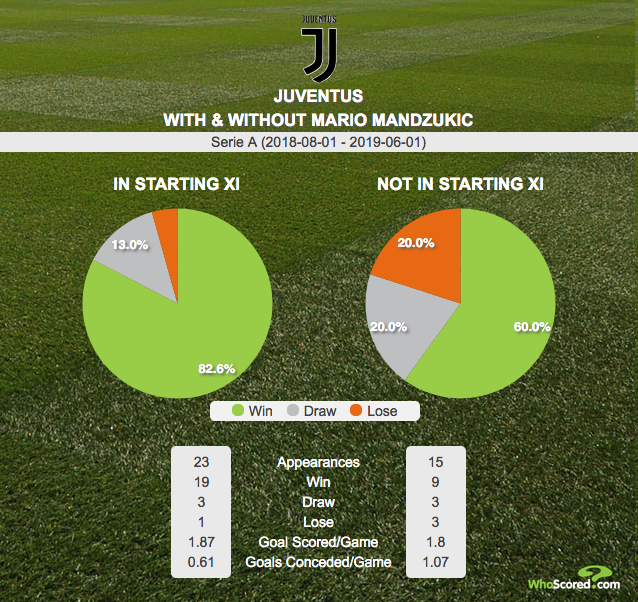 It isn't rocket science. The former Bayern and Atleti striker will share the load, challenge Rashford and Martial and give Greenwood time to grow. You can win with youngsters but not only with youngsters.
Super Mario has won almost everything there is to win, including nine domestic leagues and 13 cups with Dinamo Zagreb, Bayern Munich, Atletico Madrid and Juventus. He owns a Champions League winner's medal and is a World Cup finalist. Unlike Dybala or Lukaku, no one doubts he relishes the big games. He has scored in both the World Cup and Champions League final among other significant occasions.
While his age demands heavy rotation, Mandzukic is consistent when in the lineup. Last season, he scored nine and assisted a further six in 25 appearances in Serie A. He outperformed Dybala. His hold up play is impeccable, contesting every aerial duel like his life depends on it. He wins 2.9 aerials per game.
Although he lacks pace, his positional sense and vision allow him to bring teammates into the attack. That's why Massimiliano Allegri preferred him as Cristiano Ronaldo's partner when the Portuguese arrived at Juventus. If he didn't worry about creating a rift with other teammates, Cristiano would probably admit to sharing that preference.
Mandzukic lacks Lukaku's imposing strength but matches his height and has a few tricks up his sleeve to make up for the muscular deficiency. Think back to his bicycle kick in the Champions League final against Real Madrid in the 2017 Champions League final.
Solskjaer claims he doesn't need a tall target man but that isn't the same as not being able to appreciate one who brings all the other things to the table. Mandzukic's height gives the boss an additional tactical weapon. Defenders will be wary.
If Mario Mandzukic is a throw-in in any deal for Romelu Lukaku, Manchester United shouldn't turn their nose up at the offer.