Peter Bosz might've struck gold with Bayer Leverkusen's rich attacking wealth
Bosz is capable of big things with this blooming squad.
Background photo: Aleksandr Osipov, CC By 2.0
German football produces its golden generation almost once every passing decade. Dominant Bayer Munich and Borussia Dortmund headline the show in giving rise to top-level talent. However, an old guard has risen through the ranks this season. Despite a topsy-turvy campaign, Bayer Leverkusen now boasts a stunning attacking line.
Under new boss Peter Bosz, they've found new life. The former Dortmund manager's thrived with a squad bursting with talented and elevated their state. Die Werkself's youngsters are firing on all cylinders. They've earned the reputation of producing exceptional talents, with Stefan Kiesling, Oliver Neuville and Dimitar Berbatov all coming up their ranks. Yet this bunch feels special.
Academy graduate Kai Havertz is breaking through barriers. National team risers Julian Brandt, Kevin Volland are making their experience count. Stylish Leon Bailey's getting his groove back, while effective attackers Kevin Bellarabi and Lucas Alario add goals. The new manager's inherited a good bunch. Doing so has allowed him to unleash their hunger.
The biggest change he made was to shuffle up their system after coming aboard. Under Herko Herrlich, Die Werkself operated with a 4-2-3-1 formation. While it worked in creating some bright football, it wasn't effective enough, inevitably leading to his sack. He's tinkered towards a more attack-minded 4-3-3 formation. This change in shape as well as attacking flexibility is key to their recent success.
Brandt and Havertz are getting more opportunities to work through the middle. Bailey's free to roam on the left, while Bellarabi's often drifted through the right. He often switches roles with Havertz, adding unpredictability to their system. Brandt's creativity is being encouraged more than before. Bosz's just allowed his players to take their chances and be more experimentative.
In turn, Bayer's season's turned around in quite a drastic manner. They're now five points behind a Champions League spot. Winning six out of nine matches under the new coach's regime is encouraging considering they had only won seven out of 17 before his arrival. That being said, their recent home loss to Werder Bremen was a wake-up call. Maybe the Dutch gaffer needs to get back to tinkering.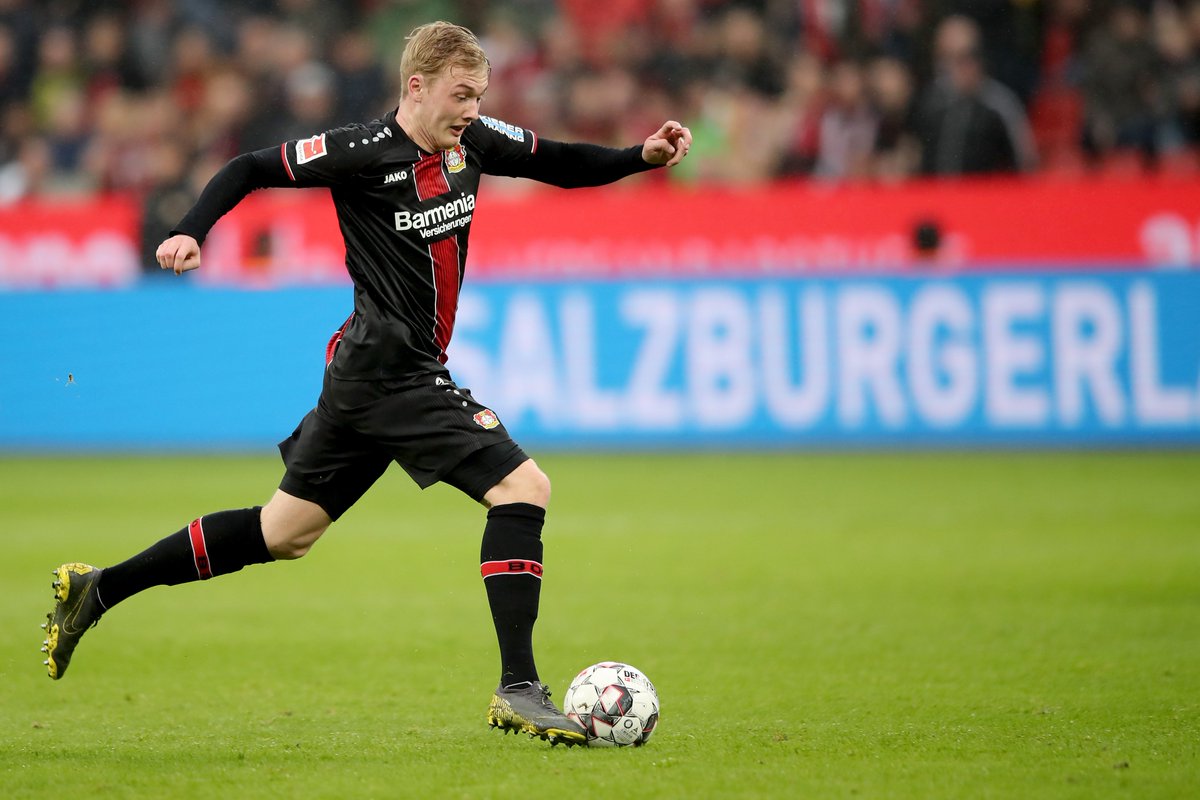 Nevertheless, the way he's elevated Leverkusen's booming attacking talent is inspirational. Volland's been his top-scorer with five strikes in nine games, yet it's the youngsters who've acted as the real stars. Havertz, Bailey have contributed four each, while Brandt's scored three while creating a whole load more. Their irresistible chemistry's already set a high benchmark in the Bosz era.
Keeping true to the German nature, they've worked their way into the box. By playing exquisite passing football, maintaining a tasty rhythm, Die Werkself's turned a delight to watch after the winter break. One could even argue they boast their best-attacking line in years.
The Dutch gaffer's managed to attach the pieces of the puzzle perfectly. He's allowed the youngsters more encouragement, letting Brandt dictate the attack, Havertz finish chances and Bailey stick to his ambitious nature. He's allowed the experienced Volland to be Bayer's leader in the attack, maintaining composure in the final third.
His work on overturning their defensive fortune's also commendable. The Bender twins-whom he jokingly asked for a third Bender- have found new life under him while youngster Jonathan Tah's done great work as well. He's done well to fortify their defensive shape again.
That being said, he's won over fans by tapping into Leverkusen's utmost potential. Something he failed to do at Borussia Dortmund, he's successfully achieved a few months into his new job. Bosz' own redemption's been completed. However, bigger objectives now hover over him.
To realise his dreams, he needs support from the board. Leverkusen possesses a squad primed for success. However, their golden attacking trio could be goaded away next season. However, if they manage to keep them, sky's the limit for Peter Bosz. Who knows? Maybe even a Bundesliga title challenge akin to Dortmund's is possible.