A tale of two Phils - How Jones and Foden epitomise their clubs
A collective groan rose around Old Trafford Tuesday night when Phil Jones trundled towards the box to take his turn in the League Cup penalty shootout against Derby County. Both teams were perfect to that point. However, perfect isn't a word typically associated with Phil Jones. Not in a positive way.
United were lucky to be in the shootout at all. An archetypal Marouane Fellaini header in the 95th minute gave them a chance to spare their own blushes against the Championship side.
Former Derby man Lee Grant manned the posts for the home side, a curious summer acquisition who probably didn't expect to play a single minute for the club. Jose Mourinho thrust Grant into the fray after Sergio Romero handled the ball outside the box around the hour mark.
Grant was powerless to stop any of his former club's eight penalties, leaving Jones to keep United in it. He took a deep breath and waddled towards the ball.
Meanwhile, in Oxford, another Phil had already knocked off for the night.
Manchester City's teen sensation, Phil Foden, wrapped up his side's easy win over Oxford United with a late goal. As Jones met with destiny Foden endured hugs and slaps on the back from teammates, basking in the glory of his first senior goal. He did not post the experience on Instagram, but that's an entirely different matter.
Following their own lesson in last season's FA Cup, delivered by Will Grigg and Wigan Athletic, City offered their fellow Premier League clubs a masterclass in how it is done against lower-league opposition. Over 70% possession and 27 shots to Oxford's one. It was a stroll in the park, the proverbial piece of cake. Foden's first career goal was the cherry on top although he involved himself in all three goals.
While Foden accepted deserved accolades, Jones reinforced his reputation as something of a moppet. Or is it muppet? The clown in Mourinho's circus, he stepped up and, with the absolute minimum of conviction, passed the ball to Scott Carson. To be fair, the Rams' keeper did have to dive to his left, but it was more a comfortable flop onto the divan combined with a snatch and click of the remote to settle in for the latest episode of Love Island than any act of desperation.
United were out. Once again, Phil Jones resided in their misery's epicentre. The collective groan morphed into an echoing lament. United fans up and down the country trotted out the worn out mantra, "Phil bloody Jones."
He's not a bad player. You don't make nearly 200 Premier League appearances for Manchester United unless you're half decent. Anyone can miss a penalty. As well, someone must be the worst at taking them, much like Shaquille O'Neal at the free throw line. The Big Aristotle was alright otherwise. Regardless, Jones' miss goes some way to summing up his luck.
Almost all the promise a younger Jones showed at Blackburn has been wrung out of him with each ungainly tumble, each gurn, each injury. Whether fairly or unfairly he has become a parody of himself, a hilarious meme, the contorted face of present-day Manchester United.
In many ways, Jones epitomises his club. The same can be said regarding Foden at City.
A youngster blessed with heaps of natural ability, he's a perfect fit for a Guardiola team. Indeed after City's win over Oxford, Pep spoke glowingly about Foden, predicting he could feature heavily for the club over the next decade. Oxford manager Karl Robinson compared him to Andres Iniesta.
Of equal importance, he is a local lad.
Growing up a City fan in Stockport, he came through the academy. His presence mitigates the criticism aimed at the club's extravagant spending on imported superstars since Sheikh Mansour took over in 2008.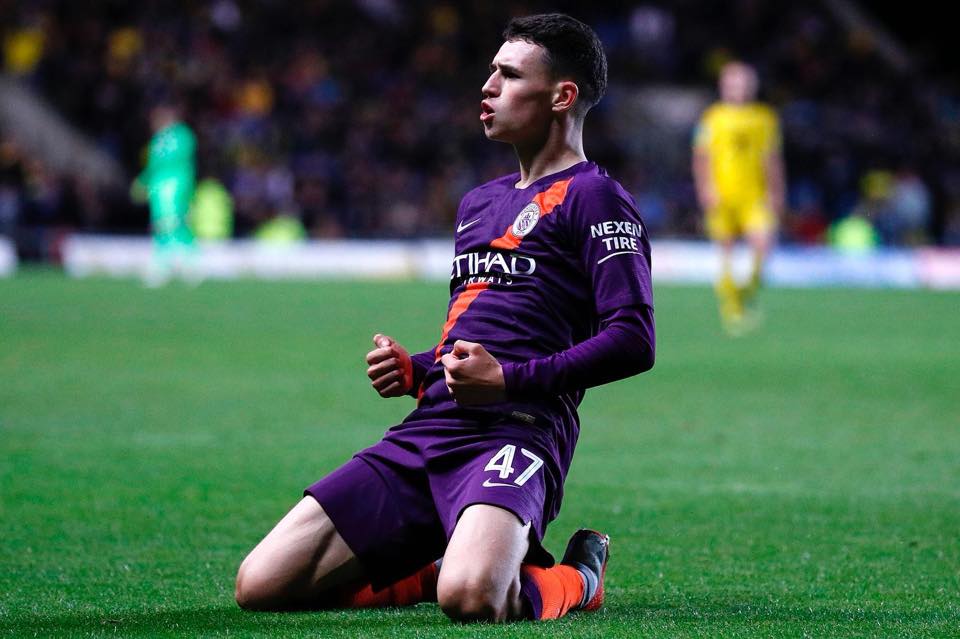 It still hasn't sunk in yet - getting my first goal for a club I've supported since I was a kid is a dream come true. More importantly, we got the win. 💙 @
ManCity
https://t.co/AkR9zxxaCA
He's the one player City fans can point to, saying, "He's one of our own." That's important for a club that's had the class of '92 shoved down its throat for so many years. Foden is a reason to get excited, the personification of City's clear plan to dominate English football in a particular way.
At United, there no longer seems to be a plan. The club is floundering, striving to return to their former lofty status as world's best but falling painfully short. They're not in crisis. That word is thrown around too much. They're certainly struggling to drown out the laughter surrounding them.
There is an innate strain of schadenfreude in the DNA of football fans. Many people thoroughly enjoy the unrest at Old Trafford. There's so much at which to poke fun: Mourinho's press conference meltdowns, Pogba's attempts to lead a mutiny, Mark Goldbridge's Partridge-esque tirades and, of course, the moribund sight of Phil Jones trundling up to the penalty spot.