Did Maurizio Sarri liken Jorginho to Cristiano Ronaldo?
While bemoaning the complications Cristiano Ronaldo presents, Maurizio Sarri inadvertently compared his game to personal favourite Jorginho.
Sometimes you just need to clear your head. That applies whether the stars in your eyes derive from being punched in the face or the endless flattery of sycophants. In Maurizio Sarri's case, it was a combination of both.
The former Chelsea and Napoli manager was sacked by Juventus a year ago despite winning the club's ninth consecutive Scudetto. When clubs issue the usual termination statement--something along the lines of 'we appreciate Maurizio's hardwork and are grateful for all he has given us; we wish him nothing but the best in his future endeavours'--the insincerity drips off the page. In Sarri's case, Juventus shouldn't have required a fourth-place finish under Andrea Pirlo to truly appreciate the chain-smoker's contributions. It should have been evident even if he failed in one campaign to deliver a long-desired Champions League title when predecessors Massimiliano Allegri and Antonio Conte each came up empty in three.
He was equally underappreciated at Chelsea. Fans wanted to see more of youngsters such as Callum Hudson-Odoi and couldn't understand why he played N'Golo Kante out of position to accommodate the one player he brought with him from Napoli, Jorginho. When Sarri won the Europa League with a masterful victory over North London rivals Arsenal and Unai Emery, the manager who specalises in that competition, it was too late for the few Stamford Bridgers who regretted their attacks on the Italian to apologise.
Now, after a year-long hiatus, the former investment banker will take charge at Lazio for the 2021/22 Serie A campaign. Sarri paused from his preparations to give a lengthy interview to radio programme Sport Italia, during which he made some interesting remarks. For Chelsea fans, the most gratifying will be his regret at leaving the Blues.
At Chelsea, I made a sensational mistake, that of wanting to return to Italy at all costs.
While Roman Abramovich is notorious for sacking managers, Sarri is quick to reveal that the Russian oligarch's right hand, Marina Granovskaia, was desperate for him to stay.
His candidness only goes so far, however. While he admits to being adamant on a return home, he doesn't say why. After watching him fumbling for a legislatively absent cigarette in stressful moments like the EFL Cup final in which Kepa Arrizabalaga refused to be substituted, it's fair to suspect if not presume his addiction factored into the decision.
Clearly, he would have loved to be in the technical area for the Champions League final victory over Manchester City, coaching players such as Kai Havertz and a slightly older, more mature Mason Mount.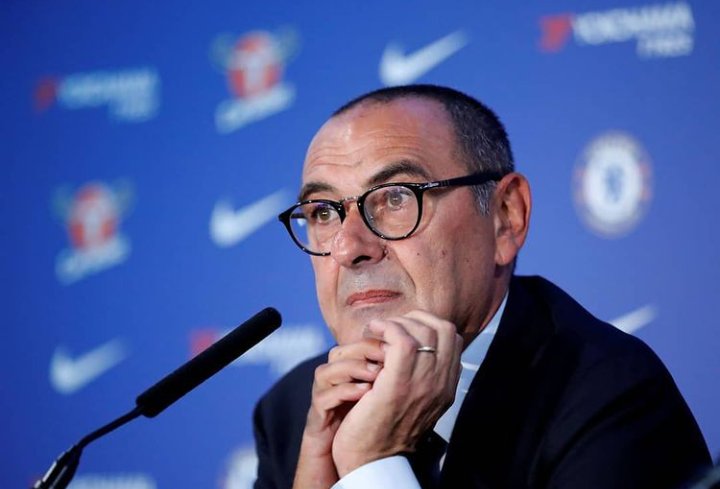 Maurizio Sarri:
"At Chelsea I made a sensational mistake of wanting to return to Italy at all costs. Chelsea are a great club, in the following years they have taken many young people suitable for me, Werner, Havertz, Mount, Ziyech: all suited to me and my way of playing."
#CFC
https://t.co/bDJMagddRy
He also misses Jorginho, whom he put forward as a Ballon d'Or candidate, especially if Italy win the European Championship this summer. Not far behind that endorsement was a quick 'I told you' in regards to N'Golo Kante's more rounded game after spending a year under his tutelage.
Still, Sarri's most intriguing insight may have been his opinion of Cristiano Ronaldo.
Ronaldo's management is not simple, from all points of view. He is a multinational company; he has personal interests that must coincide with football. His interests go beyond what is normal, beyond the team or club. I am a coach, not a manager. Ronaldo, however, brings the numbers at the end of the year. But in recent years, I hear a lot about players and little about teams.
While he may prefer that players not put themselves forward as individuals away from the pitch, the gaffer unconsciously drew an interesting parallel between his most and least prolific stars.
[Jorginho] is a refined player. That's why no one understands him. He makes everything seem easy; it's his greatness.
While Ronaldo still loves to flash multiple step-overs when isolated against a defender on the touchline, he has simplified his game over the years so that he is both subtle and direct in front of goal. Usually, he has already found time and space when the ball arrives. One or perhaps two touches are all that is needed for him to get off a shot. Jorginho almost never shoots and his patch is the centre of the pitch rather than the final third. Regardless, he too always knows where to be and, whether he finds the ball or it finds him, it is typically on its way as soon as it arrives. The pair serve distinctly different roles and exhibit polarised personalities. Yet, the simplicity and bareboned efficiency they both seek in their game makes them, in one aspect at least, kindred souls.
The Italian has managed and clearly respects both players even if he prefers the one who, like him, is all about football. While one can freely agree or disagree with his choices or managerial style, the man stands out in a modern game where constant media scrutiny prompts circumspection from personalities. Maurizio Sarri remains that rarity, the person who unreservedly speaks his mind. Leeds manager Marcelo Bielsa is a similar sort. One need only recall his openness and the tutorial on scouting opponents he delivered when accused of spying on Frank Lampard and Derby County in the Championship during the 2018/19 season. Surely, the Premier League could use more openness rather than less.