Is the Real Madrid dream over for Achraf Hakimi?
Real Madrid has a lot of talented youngsters. The club has been snapping up the next generation of superstars to add to those coming through their own Academy as they look to build towards sustained success. One of the most talented players to come out of their academy is Achraf Hakimi.
Achraf was born in Madrid and signed for Real in 2006 as an eight-year-old. He has come through all of the youth teams and the B team before eventually achieving the ultimate dream of every young boy in the clubs set up by making his senior debut last season. He was looked upon by many as the natural replacement for Dani Carvajal, who although one of the best right backs in the world, is a little injury prone.
Achraf is still just 19-years-old and has a huge future in the game. Despite being born in Spain, he is of Moroccan descent and he has decided to represent the African side at international level. So far the decision looks to be a good one as he made it to the World Cup and even played against the country of his birth as Spain and Morocco drew in the group stages.
Whether that decision proves to be a good one in the long run remains to be seen, but it might have already caused him to lose his place as Carvajal's successor. The Julen Lopetegui story is well known. It's clear that negotiations were going on between Real and the Spain manager long before the World Cup which eventually led to Lopetegui being sacked just before the World Cup. However, if Achraf had opted to play for Spain would he have been on Lopetegui's radar which may have led to the new Real manager not signing Alvaro Odriozola who was picked in Spain's World Cup squad by Lopetegui?
There's no way of knowing what might have happened if things had worked out differently but as it stands, Lopetegui has signed Odriozola to compete with Carvajal while Achraf has been loaned out to Borussia Dortmund. Lopetegui clearly doesn't have faith in Achraf and instead sees Odriozola as the future.
Achraf will be disappointed to have taken a step backwards in his career. He was a young prospect at one of the worlds biggest clubs and is now deemed surplus to requirements but in terms of a landing destination, he really could have done a lot worse than Borussia Dortmund. The Germans have a lot of young talented players and they aren't afraid to use them so he should get opportunities.
While being loaned out to Dortmund will hurt Achraf he should look at it as a positive. Before he broke into the Real Madrid team, Carvajal was sold to Bayer Leverkusen before he had ever got into the first team. Fortunately, for Real and Carvajal they had put a buyback clause in the deal and after an excellent year in the Bundesliga, he returned to Real.
Achraf needs to consider how things worked out for Carvajal and have enough belief in his own ability that his career can follow a similar path. He's a few years younger than Odriozola and if he can make this loan deal work while his rival is spending a lot of time on the bench then the gap between the players should close and there might be a future for him at Real after all.
For now, Achraf needs to see this loan spell as an opportunity rather than a setback. If he can do it then the likelihood is he will return to Real Madrid as a very serious threat to Carvajal and Odriozola for a starting place in the Real Madrid squad and a potentially long career with the La Liga giants.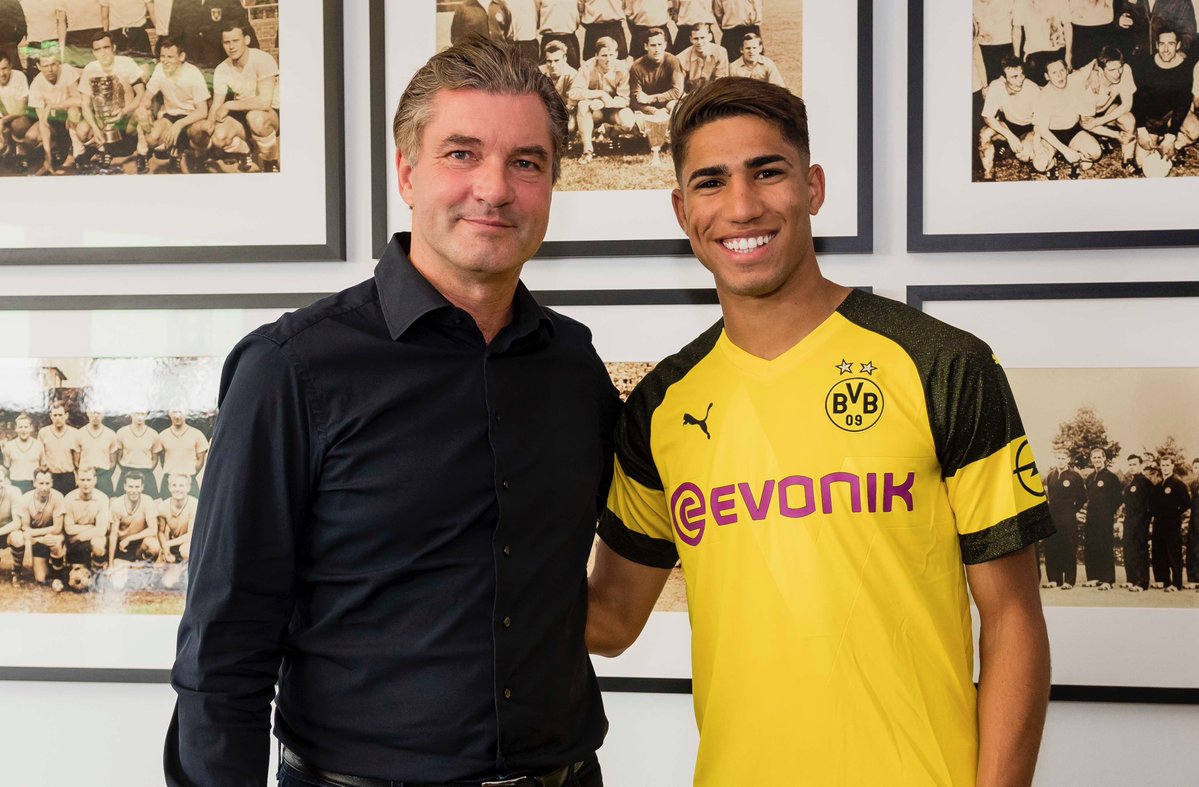 🇲🇦🤝 Dortmund have signed moroccan defender Achraf Hakimi from Real Madrid on a two-year loan deal.
He's only made 9 appearances for Madrid but has managed to score twice from right-back.
#BVB
#HalaMadrid
https://t.co/X2KyAOjiLD