Advantage Guadalajara
As my colleague recently wrote, there is more than one Champions League. In fact, there's one for each confederation, including Asia, South America as well as North and Central America. We concentrate on the latter as the competition goes into full throttle for its dramatic conclusion in Mexico.
We're six days away from the CONCACAF showpiece, which is set to promulgate the confederation and its best talents. The competition was reformatted to make it more competitive and appealing to American audiences. They've done away with the group system, changing it to a straight tournament bracket between 16 teams; with each tie a two-legged contest.
We're now in the midst of the endgame, with just 90 minutes left to play between Guadalajara and Toronto FC.
First Leg in Canada
The first match took place at the BMO Field in Toronto. Since its opening in 2007, the ground has seen some real nonpareil events, from the Canadian football games, a little lacrosse and of course, the Genesis concert. That was the stadium's only concert, ever.
Yet there was no prog-rock noodling to be found last Wednesday as Guadalajara were in town for the tie's first leg. Instead, a Mexican overture bellowed as the visitors took the lead in the second minute. Rodolfo Pizzaro scoring his eighth of the season in all competitions.
They'd be no cagey display now, Toronto needed to play to stay in the tie. Greg Vanney demanded more. He got it. Johnathan Osario stepped forward in the 19th minute and levelled the tie up in the six.
Yet fortune favours the brave; enter Alan Pulido. A divisive figure in Mexican football, given his controversial exodus from Mexico to Greece, only to return a few years later. Pulido ended up scoring an exceptional winner for Guadalajara. It's still unknown whether he intended a strike on goal from the free-kick. His floating ball missed everyone yet caught the keeper off guard before finding the back of the net. 2-1.
Guadalajara left the snowy Canadian capital with the advantage and two away goals.
Guadalajara
Matias Almeyda and his Mexican side have been busy, not only with anticipation of winning the Champions League. They had to contend the Guadalajara derby with Atlas. A rotated pack from the side which won in Toronto may have angered the fans, but it's clear to see the coach's thinking.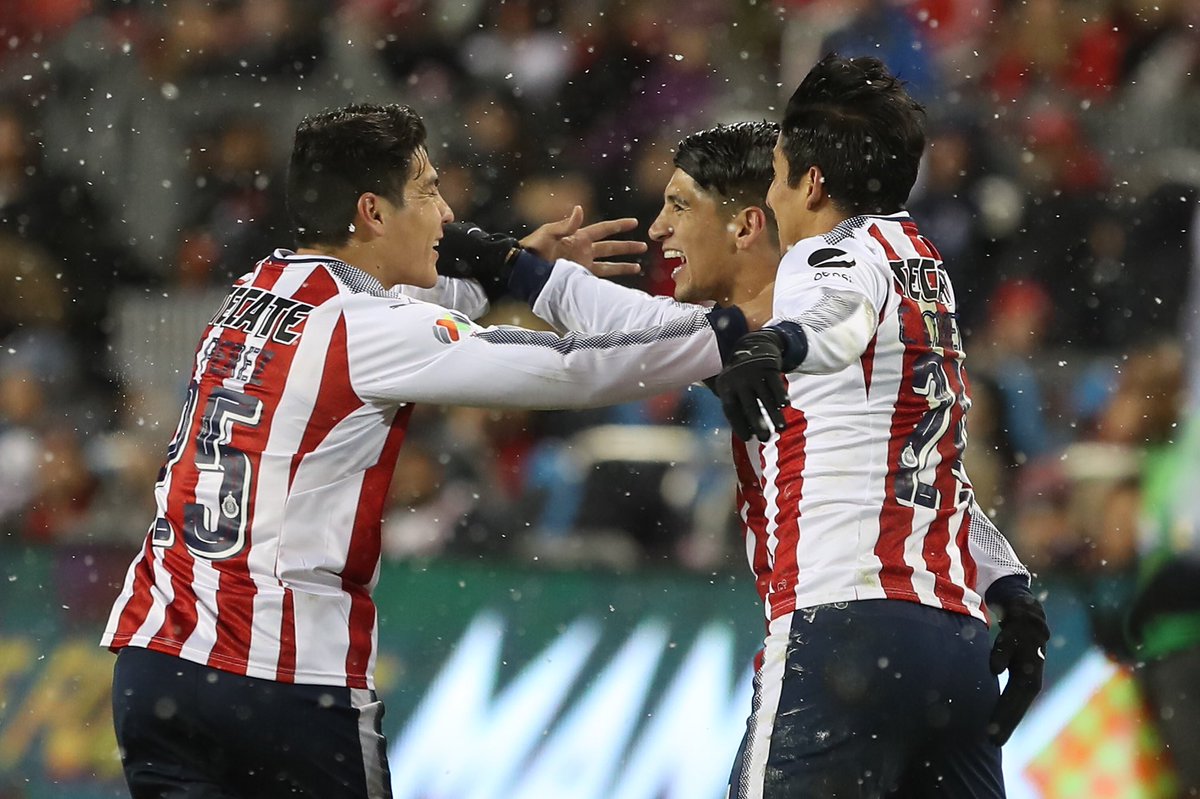 se logró un triunfo importante, pero nada está definido, muy contento por mi gol pero más por el esfuerzo del equipo, sigamos demostrando esa unión y a nosotros mismos que con puro mexicanos se puede carajo, #
vamosquevamos
#🇲🇽 #
final
https://t.co/20T4GRWark
Guadalajara cannot achieve much from the domestic season. Sitting 17th in the league means they cannot qualify for the post-season domestic tournament – yet are safe from relegation due to Mexico's complex points system. (Which really is a story for another time). Given their respective position, however, it looks like the team has favoured the Champions League throughout the season.
A derby loss isn't the best way to enter the second leg final. They'll have to hope key performers Pizzaro and Pulido are well rested and not affected by a loss to their cross-town rivals. That said, the fans should buoy them considering this is one of Mexico's most supported clubs.
Toronto FC
Last year's Major League Soccer champions were also busy this weekend with a trip to Houston. That's right, a fair old trek to Texas. Such is the logistical nightmare which teams face on a regular basis in America. Then again, the lone star state is on the way to Mexico, I guess.
The game was against the Orange costumed folk named Houston Dynamo. To say that Vanney shuffled the pack doesn't do it justice. A complete formation change, 3-5-2 to 5-3-2, with a completely different starting eleven. Favouring the final at all?
Houston smelt an opportunity, and wow did they take it. They hit them with five goals from five different players. Toronto mustered one back at 3-0 down, but it was clear this was the reserve side against a proud Texan team wanting to creep into the playoff picture. Having played only five league games this campaign, Toronto are rock bottom in MLS, with just three points.
Michael Bradley on #
CCL
Final: "The experience of playing on these nights, in these games, against good teams with good players....It's fantastic."
Embrace the moment, enjoy the big stage, and seize the opportunity to make history. #
TFC
#
TFCLive
#
MLS
#
SCCL2018
#
CCLFever
🇨🇦👊
https://t.co/rsBd25Ovxm
What Will Happen in the AKRON?
The Estadio AKRON will do its best to contain the sheer entertainment and Mexican footballing spirit. Guadalajara look to overthrow the North American invaders, while Toronto want to prize the glory back to the snowy mountains of Canada.
There's really no better combination of teams to show the confederation's diversity. The long-established footballing nation of Mexico sends out one of its finest to compete against an emerging money-ball team which – even – refer to themselves as a franchise. New vs. Old. Both have foregone success elsewhere in search of this title.
Guadalajara may value the tournament more than their adversaries, considering this is their one chance at silverware this season. Toronto, meanwhile, have just started their domestic campaign and still have an opportunity to win the championship.
Given the Champions League final concludes in their backyard and they have the lead to defend, the smart money is on the Mexican outfit. Yet, give Michael Bradley and Sebastian Giovinco a challenge and they'll give 110%. Anything could happen.
The game kicks off Thursday, 01:30 am GMT.