AFC Bournemouth continue to go from strength-to-strength under Eddie Howe
AFC Bournemouth; a modern-day success story. Just a decade ago, The Cherries almost had to fold due to rising debt. They were playing in League Two at the time, as the Football League almost blocked their participation in that competition, which would have meant non-league football for the South Coast club...
Eddie Howe pulled them out of trouble back then, gradually rising through the leagues, before a short stint at Burnley followed. The Englishman returned to Bournemouth in October 2012. The coach won League One Manager of the Month for November. His impact was instantly felt.
Three years and two promotions later, Bournemouth had reached the Premier League promised land. After narrowly avoiding relegation in their first top-flight campaign, Howe's men have gone from strength-to-strength, growing gradually, spending cautiously, rather than splashing the cash all in one go and hoping for an immediate progression. That's the perfect mantra in the modern-day game.
With two wins and one draw under their belt to start 2018/19, Bournemouth are sitting in sixth place. Sure, it's early in the campaign, but Europa League football should be their aim. Howe will be hoping to repeat Burnley's amazing achievement last season. That's The Cherries' inspiration. It's possible.
The club, as a whole, have been a real breath of fresh air. So often we see clubs sack their manager prematurely. Howe is proving what can be done with time. I don't think that it's surprising to see the direct correlation between successful managers and time spent at a club. Heck, Sir Alex Ferguson proves that more than anyone...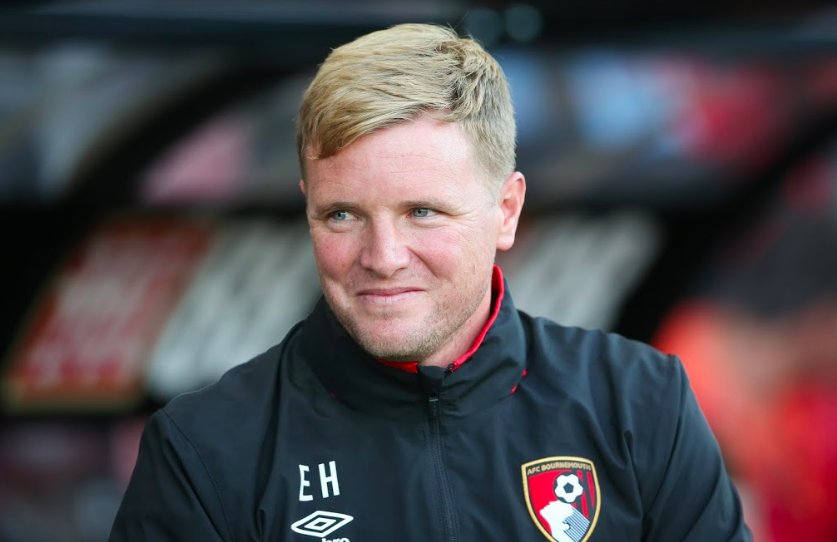 Top 5 longest served Premier League managers:
1. Eddie Howe - 2,140 days
2. Sean Dyche - 2,122 days
3. Mauricio Pochettino - 1,548 days
4. Chris Hughton - 1,330 days
5. Jurgen Klopp - 1,049 days
Brilliant to see 3 homegrown coaches up there 👏
https://t.co/uQ0RAxEWeQ
Howe, aged just 40, is the longest-serving manager in the Premier League. His ideologies, style and mantra has had more than half-a-decade to be implemented. Bournemouth buy the right players to fit his tactics. Rather than going for the big-name, The Cherries build the players around the scheme rather than the other way around.
Watching big-spending Wolverhampton Wanderers, Fulham, et al, it could have been so easy for Howe to join in on the fun and break the bank. Instead, that cautious, measured approach has been continued. Sure, money has been spent, but you can bet your bottom dollar that in time, Jefferson Lerma, Diego Rico and David Brooks, signed for a combined £50million, will enjoy success at Bournemouth. All are young, hungry, and ready to learn.
Notice a trend emerging here? None are those marquee, homegrown names ala Wolves signing Ruben Neves or Joao Moutinho. Bournemouth's biggest man-of-the-moment is the uncapped Callum Wilson. Howe is continuing to go against the trend, putting faith in his own ability to improve each and every single player who walks through the door at Dean Court. That has to be commended.
It's not as if Bournemouth play a rigid, defensive-minded style, either. They love to get on the front-foot. Six goals in three games isn't a return to be sniffed at. That's one strike more than Manchester United. Bournemouth have also conceded three goals less than their Northern counterparts.
That leads me to my next point. Would you honestly be surprised if Howe is in the running for the Old Trafford hot-seat should Jose Mourinho get the boot? I'm not saying that he'd get the job, but United could certainly do worse, particularly given the current options that are available. The crazy thing? I'm not even sure he'd leave...