Are minnows with teeth good for AFCON?
As the United States Women's National Team won their second FIFA Women's World Cup title on the bounce, it's easy to forget that something revolutionary started in Africa over the weekend...
With the Africa Cup of Nations in full flow, an evolution in diversity has appeared across the continent. Prime favourites Egypt were sent packing, stylish Morocco left dumbfounded, History was created by teams regarded as the "whipping boys" in the competition. To term the weekend frantic wouldn't be an undersell.
The group stages itself weren't anything spectacular. Results came as expected with the big guns flexing their world-class stars to wow the audience. The minnows endured an initial beating, but bided their time well to come out punching when the real deal began in the knockout rounds.
It all started when lowly Benin introduced themselves to the world in style. Having progressed thanks to a third place finish in the group stages, Les Ecureuils found themselves pit against heavyweights Morocco in their first ever knockout game. No signs of being intimidated were visible. A rock-solid defensive set-up from experienced Michel Dussuyer enabled they only conceded two goals in a tough group.
A similar unbreakable defensive display frustrated the Morrocans, while lady luck definitely favoured Benin the brave. Hakim Ziyech's botched penalty in the dying minutes saved their campaign and despite going down to ten men, Les Ecureuils kept strong. A steely mentality prevailed in an intense penalty shoot-out, earning them their first ever place in the competition's quarter-finals.
However, Benin's story ended up inspiring the other underdogs to continue the fairy tale. Suddenly, that fear factor induced by the muscular top nations didn't seem so intimidating anymore. Take South Africa's fantastic journey for instance. Written off, widely forgotten about since an impressive showing in 2013, did anyone fancy their chances against Mo Salah's Egypt? Unlikely.
They scraped qualification by being the fourth-best 3rd placed team, but the surmounting odds didn't deter Stuart Baxter's men. Incidentally, they went toe-to-toe and ended up being more clinical than Egypt, having more shots on target, eventually forcing Thembinkosi Lorch's late winner. Granted the hosts enjoyed more possession and perhaps played a more "beautiful" style, yet Bafana Bafana's fiery, young attack along with an organized, experienced defensive created the perfect combination to send Salah and co for an early vacation.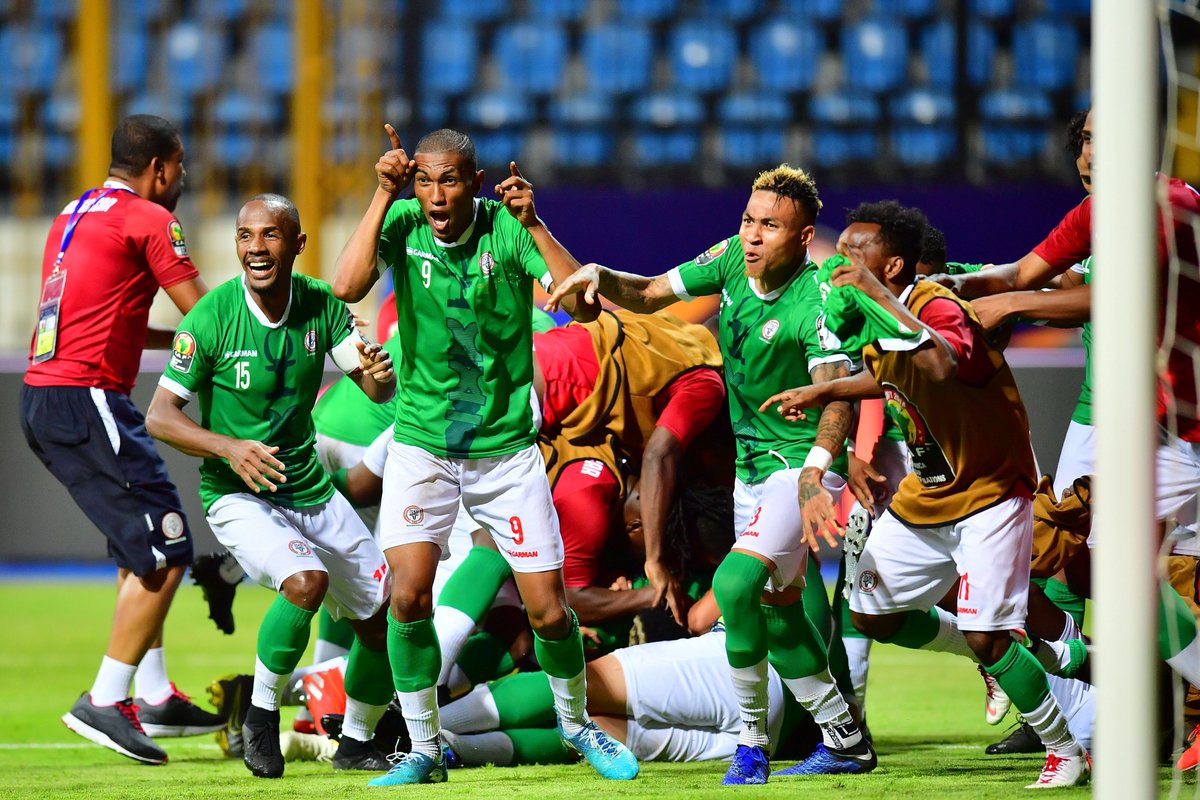 4 - Madagascar have become the first team to remain unbeaten in their first four games in the Africa Cup of Nations since Libya in 1982 (5). Crazy. #
MADRDC
https://t.co/PlsXclWtYq
The biggest underdog tale so far, although, has come from the unlikeliest source. Indeed, Madagascar has never been a nation known for its football. Perhaps reputed for its rich biodiversity amongst other things, they've failed repeatedly in an attempt to gain the spotlight in the beautiful game. However, in their AFCON debut, they've come out with fiery strikes. Their manager, Nicolas Dupuis, does double-time in managing the national side as well managing French four tier side FC Fleury.
That being said, perhaps the overload in work helped him churn the best out of his team. Not only did Madagascar top their group involving African giants Nigeria, even defeating the three-time champions, but have remained unbeaten when many perceived them as bottom-dwellers. The intimidating DPR Congo stood firm in the knockout rounds, but led by fierce striker Carolus Andriamatsinoro, their never-say-die attitude allowed them to oust the central African dynamites and book their first-ever AFCON quarter-finals berth.
Dupuis' outfit's extraordinary story perhaps symbolises how Africa's diversifying according to the modern game. The visible upsets are telling signs for Egypt and Morroco, whose complacency along with too much emphasis on particular stars are persisting banes. If their early eliminations prove anything, the African giants need to build thicker skin and develop an elite mentality to complement their technical skill. To replicate or oust Ghana 2010 World Cup heroics will still take some doing for the rising African sides.
The usual suspects are bound to adapt to the times, but these minnows have made a statement they aren't much behind either. Of course, World Cup qualification for Madagascar or Benin isn't coming anytime soon. They'll probably be eliminated upon facing the more experienced, superior sides as well. However, inspired hard-working displays and upsetting the natural order recently perhaps outline how African Football is moving firmly in the right direction...