Is Lisandro Martinez Ajax's latest generational talent?
Lisandro Martinez continues the long line of breakthrough talents at Ajax.
Lisandro Martinez arrived in Amsterdam for £6 million. Ajax director of football Marc Overmars struck gold with Martinez following Frenkie de Jong and Matthijs de Ligt's departure. Bought as a left-footed defender/left-back to provide cover for Daley Blind and Nicolas Tagliafico, he immediately engraved his name into the starting XI.
In the campaign's opening weeks, Ajax boss Erik Ten Hag used him in the back four but the Argentine's versatility allowed the manager to experiment. On Matchday 5, he switched Martinez with Daley Blind in defensive midfield. The swap worked well for both players. Martinez exerted more influence while Blind was not caught for pace.
The 22-year-old isn't afraid to lead. He can be seen marshalling the squad during matches. In midfield, he loved to drive forward with the ball at his feet. He handled the press well, drawing in defenders before laying off to teammates in position to progress the ball, resembling De Jong in that respect. Defensively, he was equally astute. His work freed up Donnie van de Beek to roam freely in attack. When Ajax's full-backs pushed high, Martinez tucked back, forming a back three.
While Ten Haag's experiment proved to be a masterstroke, Blind's tragic heart issue forced Martinez back to centre-half. In either position, he is invaluable. The Dutch boss is in no mood to drop him. Only Dusan Tadic starts more games for the Godenzonen.
At 5'8, Martinez isn't long and lean like Virgil van Dijk yet still wins 2.5 aerial duels per 90. He puts his body on the line to stop attacks as well. When the ball is won, he completes 70 passes per 90 with an 89% success rate.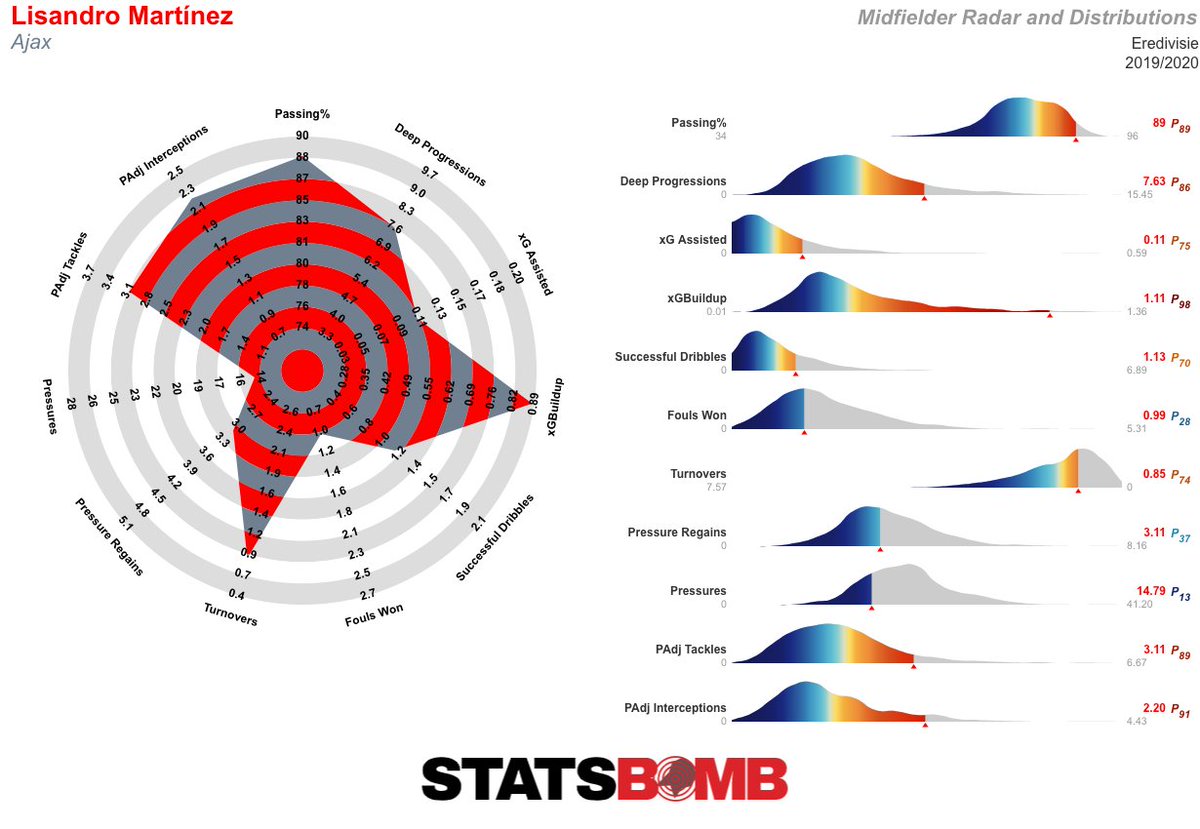 Ten Haag faces a difficult choice. De Jong began as a defender with Ajax's B team. His future waited further up the field. Martinez's case is similar although he is a far better defender than his predecessor, more De Ligt than De Jong if you will. Unfortunately, the attacking side of his game withers in his current role.
Blind's return allows Ten Hag to move Martinez back into the midfield. No one else in the squad is his match as a d-mid. The next few games may shape Martinez's future. On the other hand, Ajax must erase a two-goal deficit to Getafe to progress in the Europa League. The title race with AZ Alkmaar is up in the air too. He might be better leaving Martinez in defence and letting the savvy Blind dictate play from deep in midfield.
Ajax is an ideal environment for young footballers to develop their game. When they do, the world is their oyster. The Dutch champions sell their top players every season to make room for the next promising crop. Hakim Ziyech is already bound for Chelsea this summer. Other stars will move on too. Despite not replicating last season's incredible success, including a run to the Champions League final four, Martinez's acquisition remains a success story.
Inevitably, big European clubs will be banging on Ajax's door to secure his services, if not this summer then next. The Dutch media already claim he has admirers. What can you say when talking about the world and oysters other than to note Lisandro Martinez is a pearl waiting to be plucked?