Is Alex Iwobi poised to reach his potential at Arsenal?
Is the Super Eagle finally on the path to becoming a Gunners legend?
When it comes to footballers, we like to talk about class. Sometimes we mean their behaviour. Juan Mata is always involved in charitable projects. Lionel Messi was instrumental in continuing the search for Emiliano Sala after the Cardiff-bound Argentine's plane crashed in the English Channel. Jose Mourinho poking Tito Vilanova in the eye and Pep Guardiola giving a female linesman the hairdryer treatment in the Bundesliga fall at the other end of the scale. So does Kepa Arrizabalaga's refusal to come off when summoned by Maurizio Sarri in the EFL Cup final in February.
At other times, class simply refers to an unbelievable move on the pitch. Mo Salah's 25-yard volley past a helpless Kepa into the upper 90 late in the just-past Premier League season was pure class. In that context, we're talking a level of quality only a rare few can attain. Some, like Messi and Cristiano Ronaldo, exhibit elite quality throughout their careers. For others, it's fleeting. Think about Emmanuel Adebayor or Michu. Then there are players like Ravel Morrison who never live up to their potential.
For a while, it seemed like Alex Iwobi might fall into that category. After a more influential year with Arsenal under Unai Emery and a special summer at the African Cup of Nations with Nigeria, opinions on the Super Eagle prodigy are changing. Even though he has no genuine individual awards, the 23-year-old's ability can't be written off. His creativity is a unique attribute.
Though you might not see him topping the assist list, he makes key passes that lead to goals. He can initiate successful movements from any part of the midfield with a single touch on the ball. He has the vision to pick out the right teammate more often than not.
Iwobi can also hold up play while teammates arrive to join the attack. Or he can take on defenders himself. He isn't as consistent or polished as a Messi or Ronaldo [who is?] but he has a few tricks in his bag. Perhaps, he took after his uncle, Jay-Jay Okocha, who was highly skilled during his day.
Iwobi isn't Pierre-Emerick Aubameyang or Kylian Mbappe either. He offers quickness rather than blinding pace but runs confidently with the ball at his feet. After three seasons under Arsene Wenger in which most of the questions asked about the young Nigerian began with 'when', the word 'finally' began to appear next to his name last term. Along with the confidence, he's beginning to show command. Big moments don't overwhelm him. He plundered a very important goal to eliminate defending champions Cameroon in the AFCON Round of 16. More should be expected from him in the 2019/20 campaign at the Emirates.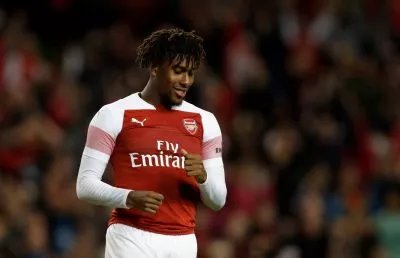 ➡️ Paulo Dybala in the league last season:
5 Goals + 4 Assists [30 Apps]
➡️ Alex Iwobi in the league last season:
3 goals + 6 Assists [22 Apps]
No disrespect to man like Iwobi but why are United fans acting like they're about to sign Messi?
https://t.co/m3CFX2MWRc
Iwobi's work rate and defensive contributions make him useful both on and off the ball. He's not afraid to throw himself into tackles or get dirty to dispossess opponents. He's always seeking to improve his game.
His well-rounded skill set isn't limited to a specific role either. Under Wenger, Iwobi was deployed as a left-winger, right-winger, striker, attacking midfielder, centre midfielder and right midfielder. After a while, however, he learned the meaning of 'jack of all trades, master of none'. Under Emery, he has focussed on the left flank where he can cut in onto his stronger right foot to deadly effect. As Mesut Ozil or Aaron Ramsey looped out wide, he would slot in behind Aubameyang or Alexander Lacazette to split the centre-halves with a precise through ball or keep them honest to allow spaces for others.
Iwobi and Arsenal have walked the same path since his childhood. While Iwobi is the proverbial late bloomer, Emery can thank Arsene Wenger for keeping him at the club for over a decade. The Frenchman believed in him and it's only a shame that belief is being validated after his retirement.
Iwobi provided six assists last season, more than Mesut Ozil, albeit with more playing time than the German. Emery counts on his number 17 to lighten up the game when the need arises. The new gaffer started him 22 times and sent him on late 13 in the Premier League last season. Few Gunners were given more playing time than the Nigerian.
The international stage usually offers players a chance to show their worth. Iwobi didn't disappoint in Egypt. His dribbling skills, creativity and scoring ability established him alongside Oghenekaro Etebo and Wilfred Ndidi in midfield and greatly aided Nigeria's run to the semifinal.
He isn't yet on the level where he is winning individual awards or being named into Premier League, AFCON or World Cup XIs. He may never be. At best, he may be someone more like Freddie Ljungberg or Alex Hleb, a supporting cast member or an unsung hero who steps in unexpectedly at critical moments. That's fine, though. When you remember those players after touching on the big names, quite often you'll say, 'now there was some class'.