Alex Oxlade-Chamberlain's injury woes continue to derail career
Just when it seems The Ox is approaching the end of the comeback trail, injury strikes again...
Background Image Via: Ruaraidh Gillies/Wikimedia Commons. CC BY-SA 2.0.
Upon signing for Arsenal almost a decade ago now, an illustrious career awaited Alex Oxlade-Chamberlain. As we approach 2020, it's fair to say that things haven't gone completely to the script for the Englishman.
Sure, The Ox has enjoyed major trophy success with both The Gunners and Liverpool, though time spent on the treatment table is stopping Oxlade-Chamberlain from fulfilling his utmost potential.
After writing that the 26-year-old had a huge role to play upon Merseyside this term, the injury bug has struck again - just as it felt as if Oxlade-Chamberlain was beginning to get the confidence flowing. Liverpool's #15 has been ruled out until 2020 with ankle ligament damage. Ligament issues was what completely ruined his 2018/19 term. He'll be praying lightning hasn't struck twice though as of right now, we're unsure of the severity...
There's only so much stress that can be placed upon the human body before it begins to take it's toll both mentally and physically. This is Oxlade-Chamberlain's sixteenth (!) injury since the 2012/13 campaign (Transfermarkt). So far, the Englishman has missed a huge 131 games sidelined - which is more than three complete Premier League seasons. When you're going toe-to-toe with elite athletes who're in pristine condition, it becomes even harder to battle back and maintain tip-top fitness levels season-in-season out.
You look at Oxlade-Chamberlain's former teammate Jack Wilshere whose career has followed a similar path. Both made their first-team breakthroughs at a similarly young age and now, the pair struggle to get themselves out on the field in their mid-to-late twenties. It's extremely sad to see as these are obviously, incredibly gifted young men. Sometimes, though, bad luck and reoccurring injuries prevail.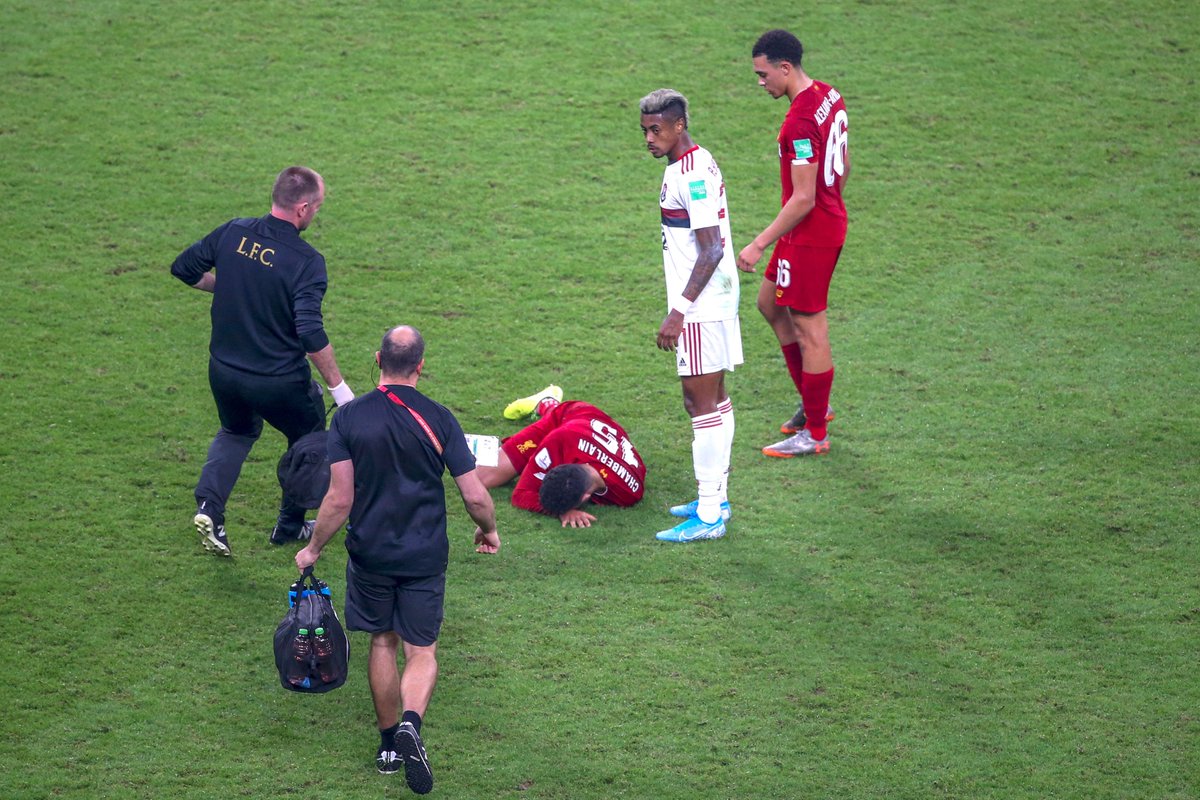 You can look at Oxlade-Chamberlain's 300+ domestic games played and portray a different picture. But how many of those have been as a late substitute in garbage time when the game is over and he's looking to build his way back? In 21 outings this term, the 26-year-old has completed ninety minutes just once, and that came in the semi-finals of the FIFA Club World Cup just last week. He'd play again just a few days later in the final and I don't think it's a coincidence that the strain on his body has resulted in another lengthy lay-off.
The hectic winter period always causes injuries, though when you're already struggling in that regard, the sad reality of Oxlade-Chamberlain's situation was that was nothing more than an inevitability.
It's not just at the domestic level, either. Oxlade-Chamberlain made his England debut in 2012. His 35 appearances is more than most will ever amass, though he has only ever featured in one major international tournament for the Three Lions - that came back in 2012...
Thankfully, Oxlade-Chamberlain definitely seems like a mentally-strong character who has the strength to come back from treatment table woes once again. I seriously hope that this young man has some serious fortune on his side upon his return. Liverpool does have a mega-talented player on their hands and that won't ever change. With some close man-management and a slice of luck, maybe, just maybe, Oxlade-Chamberlain can go on to be the superstar that many predicted, though right now, it feels like a long-shot...