Alisson to Liverpool leaves Jurgen Klopp with no excuses in Premier League title chase
When Manchester United paid a then world record fee for Paul Pogba, Jurgen Klopp was almost disgusted by the move. The Liverpool manager made it clear that he had no intentions of spending money that way and that even if he could, he wouldn't anyway. Time makes fools of us all.
Liverpool just paid a world record fee of £66 million for Roma goalkeeper Alisson. Klopp's words now ring hollow.
This summer alone the Reds have spent £112 million, highest in the Premier League. Alisson's fee lifts them just shy of the £200 million threshold. The deal takes Liverpool's spending under Klopp to £514 million in total, third highest in the Premier League since his arrival. They are right in the midst of the feeding frenzy.
Premier League Top Six Spending since 2015
| Team | £ in millions |
| --- | --- |
| Manchester City | 728 |
| Manchester United | 529 |
| Liverpool | 514 |
| Chelsea | 484 |
| Arsenal | 298 |
| Tottenham | 248 |
To redden Klopp's face further, he has now spent a world record fee on both a central defender and a goalkeeper. That kind of spending has put the pressure on him to deliver real success at Anfield this season.
Despite his spending, Klopp is yet to produce the success for which Liverpool's chiefs brought him. In the same period, Chelsea have won two titles an FA Cup and a League Cup. Manchester City have won the league and two League Cups. United have won the FA Cup, League Cup and Europa League. Arsenal have won two FA Cups despite their struggles at the end of Arsene Wenger's reign. Only Tottenham and Liverpool among the top six have failed to pick up silverware during Klopp's tenure.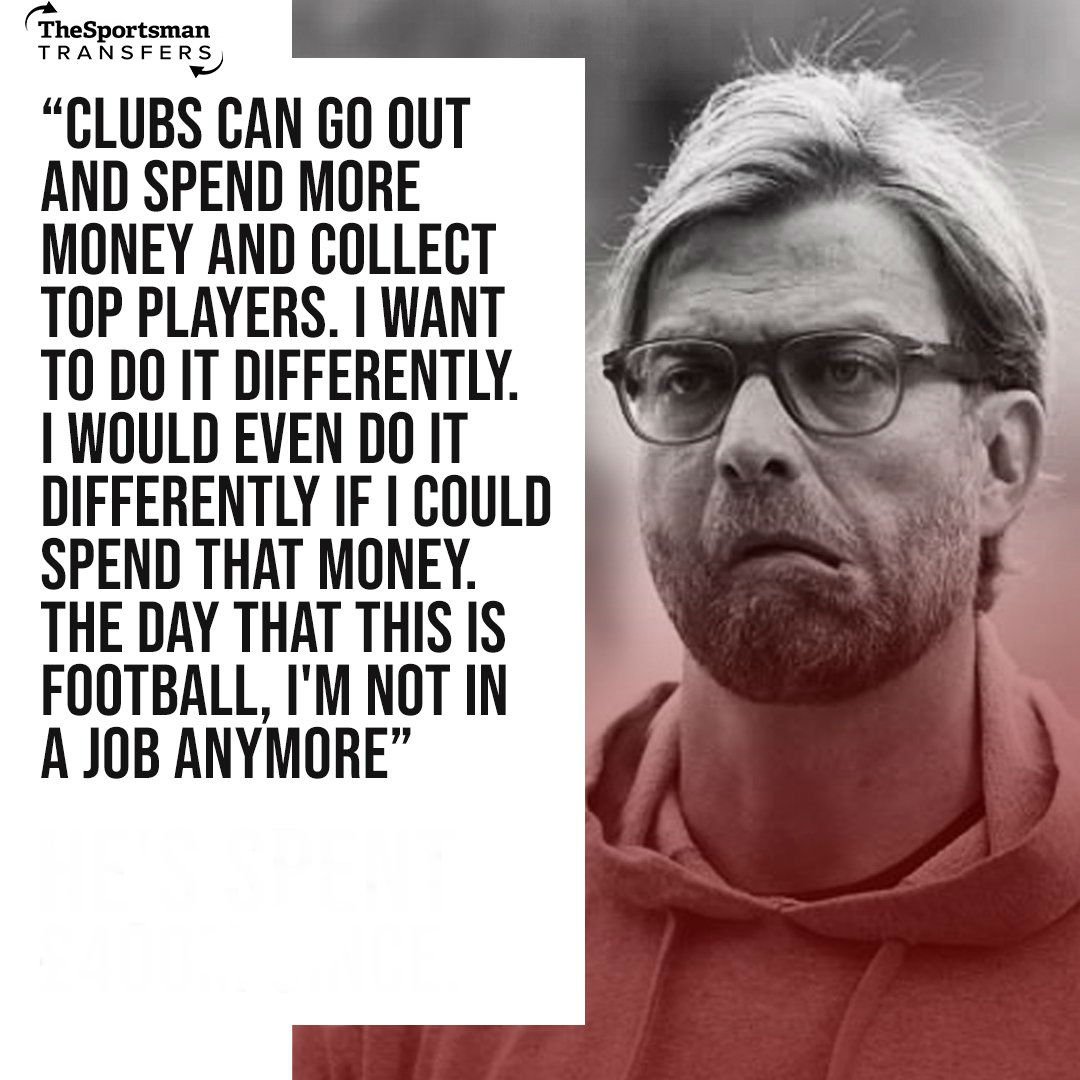 🤣 Klopp when Man Utd signed Pogba...
If he signs Alisson he will have spent £500m since being at Liverpool.
#MUFC
#LFC
https://t.co/YpCpRIqpJY
Liverpool, meanwhile, have not finished higher than fourth and have trailed Spurs in the last two seasons despite spending more in the transfer market. Klopp has spent the kind of money that should be bringing trophies and success on a regular basis. The German boss sneered at the spending of his rivals in the past but while they have delivered trophies he has not. Even those who have spent considerably less have some form of silverware to their name. Leicester City won the title despite spending £262 million less than Liverpool during Klopp's time in charge.
Liverpool's owners have opened the chequebook once again. They will expect their investment to pay a dividend. They do not have the deep pockets of those in charge at Manchester City or Chelsea. The Reds cannot afford to finish 25 points behind first place or sell fourth as a success again.
Klopp supporters will point to the fact they have been to three finals, including the Champions League, and have become a consistent top four team again. They are in a far healthier position than before his arrival. They will also cite net spend the Merseysiders' net spending, as the club have received good value for players it has sold to keep the squad balanced. All three are positive points that stand in his favour.
If Alisson signs, this is the best squad I can remember us having.

Pretty much every year, for as long as I can remember, I've thought 'we're 3..4..5 players short of being serious'. If Alisson signs, we're just a partner for Virgil away from being something very special indeed.
This is the point where the honeymoon ends, however. Klopp has spent enough. He has addressed all the weak areas in his team. He has a top-level goalkeeper to play behind Virgil Van Dijk, his top-level defender. He has a quality central midfield duo of Fabinho and Naby Keita to link that defence to his splendid attacking trio. This is a squad that has taken big sums to assemble. It should be good enough to win the title.
They are no longer two or three signings away. It is time to produce. No excuses remain.