An unexpected guest called Getafe
Barcelona's interest in forward Angel Rodriguez reflects Getafe's amazing season.
Thanks to his quite wide experience in the lower divisions of Spanish football, Jose Bordalas finally took a step forward as an elite coach during the 2017-2018 season. He guided Getafe CF to an impressive 8th position in La Liga after having driven them to promotion from the Segunda Division the previous season.
That course kept on its way during last term when the Azulones reached 5th place in La Liga and automatically qualified for the current Europa League. Getafe is facing a difficult challenge in Europe, against one of those classic sides, AFC Ajax. While competing across the continent Getafe are still impressing domestically, sitting third in La Liga. Taking into account this progression, everybody in Spain wonders where is the ceiling, and if they will be able to fight for a Champions League position while being alive in the Europa League until the business end of the competition?
Bordalas' football style does not appear in a good light in Spain: the Azulones is an extremely intense and vigorous team. They are well-known because of their wonderful space interpretation, mainly when defending. Besides that, Getafe are masters when managing slight differences in the score. Those features became huge virtues thanks to Bordalas, who finally found the way to reflect his own personality in a super competitive squad.
If we have a look at the players, we will find an extremely efficient blend of youth and experience. Both Spanish forwards Jaime Mata (31) and captain Jorge Molina (37) are very well accompanied by young players arriving from behind like Marc Cucurella (21) or the international Serbian Nemanja Maksimovic (25)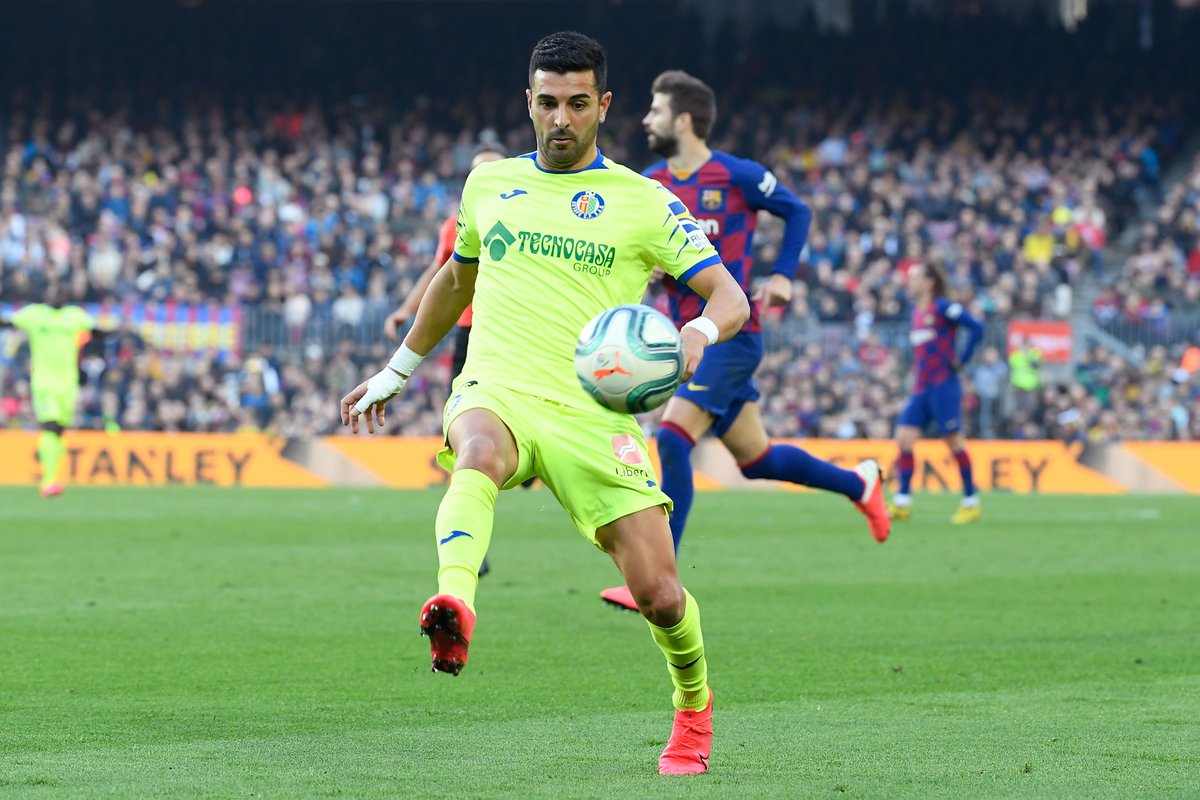 8 - In 21st century, no player has scored more subgoals for a club in a LaLiga single season than Angel Rodriguez (4, level with Morata). Revulsive.
https://t.co/SzWE3qcutI
Whether or not things are going OK in the pitch, there is an extra weapon on the bench, called Angel Rodriguez (32): the Real Zaragoza former player, who is being in the limelight last weeks because of the FC Barcelona interest, is an expert when challenging worn-out defences during the last stages of any given match. In respect to the defensive line, the Togolese Djené Dakoman (28) is amongst the big surprise packages in La Liga and the defensive team leader. Sure, he's always helped by experienced players like Damián Suárez (31) or Xabier Etxeita (32).
Looking ahead, the way Bordalas will manage his team during the latter of the current season seems to be a key to keep on fighting for Champions League positions while going for glory in the Europa League. Across the continent, Getafe has to deal with Ajax for a spot in the last sixteen.
If there is a Getafe antithesis in terms of football all around the continent, this is AFC Ajax: an extremely talented team who are sometimes accused of character lack to compete for bigger challenges.
On the other hand, in the domestic competition, the Azulones will strengthen to maintain their 3rd position facing Valencia, Villarreal, Sevilla, Atlético and Real Sociedad. At the very least, Getafe would like to finish in the top four, securing automatic qualification for the Champions League in the process.
In order to complete their dream, Barça's interest in Angel Rodriguez seems to become a crucial issue for the team based in Madrid. If they lose their star, they will be hurt in terms of alternatives for Molina and Mata. The final leg of the season is going to be a very tough effort, especially considering not only their age but also the high physical requirement of both competitions.
Whatever the outcome is, currently this modest club elbows with Spain's most powerful. This privilege is not a passing whim, but an earned right during years of work in accordance with Jose Bordalas' football philosophy...