Ander Herrera: Last of the old school club men?
Manchester United play deadly football these days rather than suicidal. Under caretaker manager Ole Gunnar Solskjaer, the Red Devils have won eight from nine games, drawing their most recent against Burnley. Players are enthused and rejuvenated rather than turgid and disinterested. As a fan, its good to see the change since Jose Mourinho's departure.
In defence, Mourinho's supposed strength, Victor Lindelof and Luke Shaw improved significantly in his wake. Ashley Young and Eric Bailly appear more comfortable too. In attack, Marcus Rashford, Jesse Lingard and Anthony Martial lease new lives in the final third. Romelu Lukaku and Alexis Sanchez provide excellent depth with the club still alive in three competitions. In the middle of the park. Paul Pogba is the trailblazer. Nemanja Matic increased his tempo to function as a surprisingly passable connection between the defence and midfield. And Ander Herrera toils in anonymity.
Herrera is a manager's player. He is trustworthy and committed. He fulfills the role required. The occasional important goal is gravy. Little wonder United were desperate to sign him from Athletic Bilbao, returning for a second attempt after bottling the first. He was United's Virgil van Dijk.
Arriving in the 2014-15 season when United fans still pined after Sir Alex Ferguson and regretted David Moyes, Louis van Gaal brought him off the bench to provide fresh legs. But he did more. He deserved more. Herrera performed when the club needed him. Ander was involved in 10 goals that season.
The next season, he provided directness and balance in the centre of the park. Even so, temper and penchant for rash tackles meant LvG preferred Marouane Fellaini, Morgan Schneiderlin and Daley Blind. The Spaniard received opportunities, raised hopes, then crushed them.
When Mourinho took over, Fellaini and Pogba stood in his way. Then Mou shifted to a three-man midfield and Herrera's presence was appreciated. He did everything for Mou, playing as a No.10, No.8, No.6 and even fullback. He played a pivotal role in winning the Europa League, earning the Matt Busby Player of the Year award.
Matic was signed the next season. Herrera returned to the bench.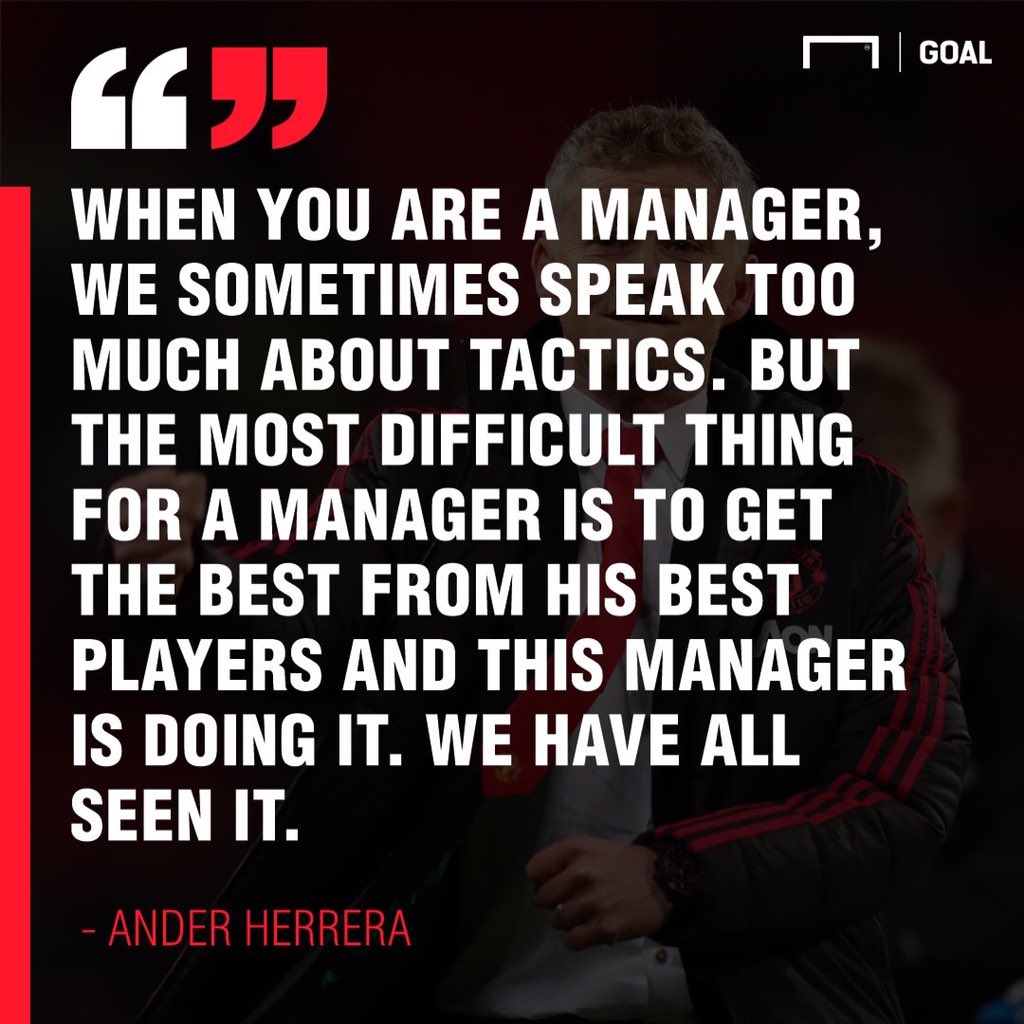 When Mourinho benched Pogba at the end of his tenure, he turned to Herrera. The Spaniard proved he could play a role, score a goal and keep his temper.
Under OGS, he thrives. When in possession, he goes into tight areas and recycles possession. Like Pogba, his pinpoint passing penetrates deeper defences. Ole's relaxed approach allows him to make intelligent runs in the final third. When not in possession, the Basque native wins it back and sparks the counterattack, averaging more than six tackles and interceptions per 90.
In Matic's absence, he also functions as a third centre-back, allowing fullbacks to stretch the opposition's defence. He is the glue that holds United's midfield in place. It's telling he didn't start when United finally dropped points under the new boss.
That said, he isn't one to claim he should have started. He puts the team before his personal interests.
If I deserve a new contract, the contract will come. I'm not a selfish guy, I want the team to keep winning games.
The Norwegian knows how important a cult hero like Herrera can be. He was one himself under Sir Alex. He's a fan favourite in part because he can differentiate between the club and the business and aligns himself with the former.
What I don't like is cases where owners prioritise their interests over the club's. Football can't be solely about profit. Look, no one's stupid. No one wants to lose money. Nor should it be about people getting rich off people's dreams.
His aesthetic is often underrated. He looks weak but is not. Standing at six-feet, he possesses the nasty aggression and energy found in former captains Nemanja Vidic, Roy Keane and Bryan Robson. If the fans could choose who wore the armband, it would be on his arm.