Andrea Belotti would fit perfectly at AC Milan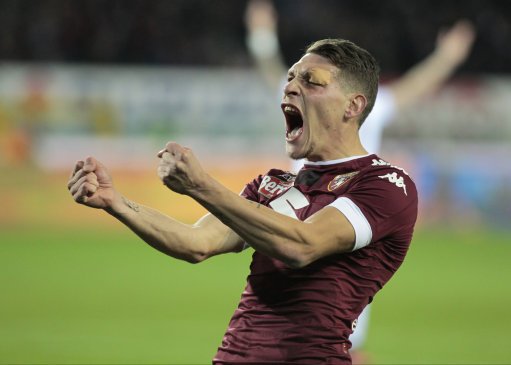 📰Tabloid Talk
Tuttosport reports that Conte wants Andrea Belotti at Chelsea but Abramovich is reluctant to hand over the £91m release clause
https://t.co/is0lQoKznx
AC Milan have been linked with several strikers during the summer, but recent reports have indicated that they are on the verge of adding Andrea Belotti. The Torino marksman is not a sexy name by any means, but there is no question he would fit perfectly with what Vincenzo Montella wants to do in Milan this upcoming season.
AC Milan has been extremely busy during the current transfer market. But they are far from over when it comes to adding talent. With roughly three weeks before the window closes, the Serie A giants will remain active. They are expected to add at least one more player to strengthen their side even more.
Milan has been linked with a striker during the entire summer. They signed Andre Silva from FC Porto, but they could easily add another one in the coming days. Zlatan Ibrahimovic and Pierre-Emerick Aubameyang have been constantly linked with an arrival to San Siro, but none is coming. Based on recent reports, the player who would arrive at the San Siro is none other than Andrea Belotti.
Who Is Andrea Belotti?
For those unfamiliar with the name,
Belotti played last season for Torino in the Serie A
. He caught the world's attention after an impressive season that saw him score 26 times in the league, and finished the year with 28 goals and eight assists from 38 matches across all competitions for
Il Toro
. So yes, he knows what is like to have success in Serie A. He is a proven forward, and that's exactly what Milan needs right now.
If we look deeper, we can see that Milan would benefit greatly from signing the
Torino striker
. He is 23- ears-old, so he has at least a few seasons before hitting his prime. He also has seven caps and three goals with the Italy national team, and we can expect that number to increase in the coming years.
Makes A Lot Of Sense Both On And Off The Field
Let's be honest - who wouldn't want a player with those characteristics? He is not the most technical striker out there, that's a given. But Milan does not need someone with those traits. They have enough creativity with (potentially) Suso and Hakan Calhanoglu playing behind the lone forward in Vincenzo Montella's 4-2-3-1 system.
And if we talk about tactics, then Belotti is quite interesting as well. He can finish with both feet, has a potent header, and his positioning is excellent. He is strong enough to win aerial duels on a consistent basis and knows how to play with his back to the goal. That last point is quite important because he would need to hold up the ball effectively to start attacks if Milan chooses to play on the counter from time to time.
Belotti started the season on a tear, registering two goals and one assist in Torino's 7-1 win over Trapani in the Coppa Italia. Yes, it wasn't the strongest opponent and he is not going to register those numbers in every single league match. But the potential is there, and he is currently one of the most promising forwards in Europe. So Milan would do a great job signing him, especially considering he is only going to get more and more expensive in the foreseeable future.
Estimated Cost
Belotti is currently valued at €30 million by Transfermarkt. However, there is no doubt he will be far more expensive than that. Latest offers suggested Torino wanted at least €70M to start negotiations, and he has a €100 million release clause. But at the current market rates, where average-to-good players can easily cost €50M, getting Belotti for  €70 or even  €80M could be a steal.
Chelsea, however, are also interested in the player. So Milan will need to move fast. But if they land him, there is no question he would be an excellent fit. Belotti possesses all the traits needed to thrive in Milan as soon as Montella inserts him in the starting XI.