Sympathy for Andreas Pereira
Unfortunately, the midfielder's enthusiasm and endeavour don't make up for his failings.
Manchester United fans question Paul Pogba's commitment to the club. They abhor Anthony Martial's work rate or the alleged lack thereof. Dedication and graft are two traits they demand from any player who pulls on the red strip regardless of their quality.
Don't take this as a criticism against Bruno Fernandes who exchanged shirts with countryman and fellow Premier League debutant Daniel Podence then promptly donned the Wolves kit.
The erstwhile Olympiacos winger is the latest Portuguese in the Wanderers' extensive collection. It's understandable, even appropriate, the pair would perform the age-old ritual, just as Fernandes greeted several of his opponents on the day in the tunnel just before kickoff, enjoying a short conversation with Wolverhampton keeper Rui Patricio. After their chat, however, Bruno went out and made his mate work. He struck a blistering volley that Patricio could only parry, the only shot on target for United in the first half on Saturday, but he also sent a near-post effort just wide, forcing the Wolves No.1 to dive at full stretch just in case. In the second half, he demanded two more saves from his friend, one to stop a dipping free-kick, the other on a far-post Marcus Rashford special that bounced in front of the keeper who could only fumble it beyond the post and out for a corner.
Donning the Wolves kit was understandable too. Podence could afford to stand around socialising with Bruno's shirt thrown over his shoulder because he'd worn a long-sleeve t-shirt under his. Fernandes hadn't and didn't want to freeze his nipples off. Needs must. Nonetheless, it's likely Mike Phelan or another member of the coaching staff took him aside a quick word about English football etiquette with everyone back in the dressing room. Good game lad, but in the future…
Instead, commitment and work ethic come to mind when thinking about another Portuguese-speaking United player. Andreas Pereira lacks for neither. The Belgian-born Brazilian international plays whenever and wherever the boss asks, as a No.10, a central or holding midfielder and, against Wolves, out on the left-wing. When handed a start or brought on as a substitute, he's a wound-up top waiting to be released.
The problem is, like a spinning top, no one, especially the player himself, appears to know which way he'll go next. In attacking roles, he's forever turning into double and triple teams. His passes tend to go astray. Teammates never anticipate his back-heel flicks. When he shoots on target, it's right at the keeper. When he misses, it's supporters 25 rows deep in the Stretford End who find themselves diving. Defensively, he's a foul waiting to happen.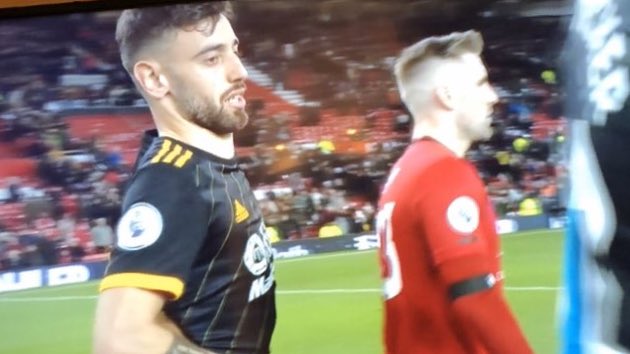 The will is there, even the skill. Composure and decision-making are not. It's both an emotional and cognitive issue. If the lad didn't have a head for the game in training, Ole Gunnar Solskjaer wouldn't keep playing him. The constant pressure and mental pace of Premier League football appear to be too much. Opponents don't give him time to think and his own sense of urgency betrays him. Forget whether or not he's Manchester United material, Andreas Pereira just doesn't look cut out to be a Premier League player.
It's possible spending the next four months practising with, watching and learning from Bruno Fernandes may provide the epiphany the 24-year-old so desperately needs. Otherwise, United must sell him in the summer. Born in Belgium, Pereira may find the Jupiler League a step too far but he possesses the talent to thrive in the Eredivisie or perhaps for a mid-table Bundesliga or Ligue 1 side. Given his heritage, Portugal is another possibility but he's already struggled in La Liga and the Championship isn't for him.
Some fans criticise Solskjaer and the United board for keeping Pereira and a few other players too long. Jesse Lingard's United career tracks a similar path to the likes of Darron Gibson and Tom Cleverley. Pereira is the Red Devil's contemporary Anderson. Social media warriors ask why the club didn't bring Fernandes in during the summer. The answer is simple. First, Solskjaer began building from the back. His two major signings in his first transfer window were Aaron Wan-Bissaka and Harry Maguire. Second, with a raft of midfielders including Pogba, Fred, Juan Mata, Jesse Lingard, Scott McTominay, Nemanja Matic, Periera and James Garner, he wanted to give everyone a full calendar year with him to show their quality.
McTominay and Fred improved significantly. Matic and Mata proved they have something left in the tank. Garner apparently isn't ready. Pogba and McTominay's injuries forced Solskjaer to rely on Lingard and Pereira more than he should.
In the summer, fans should expect players like Lingard and Pereira to be sold, another midfielder and a striker to be brought in. In the interim, it's painful to watch a youngster with Pereira's attitude and energy repeatedly fail to meet the challenge.