Are AS Roma reaping the rewards for trusting in youth?
With a new manager and a young squad, the Giallorossi are third in Serie A.
Patience is a virtue. AS Roma's learnt that the hard way. After the struggles in an uncomfortable campaign last time around, the smiles are returning to the Italian capital. A new era's been ushered in with Paulo Fonseca's arrival.
One aspect remaining constant is the Giallorossi's trust in their young upstarts. They haven't always shined the brightest, yet their potential has retained faith from the higher-ups. With La Lupa finally having hit the stride promised with their new coach's arrival, the youngsters' have begun to soar.
Not so long ago, Nicolo Zaniolo, Justin Kluivert and Lorenzo Pellegrini weren't delivering. Even through the darkest times, they received the assurance to rejuvenate their confidence. Now the youngsters are repaying the trust by leading Roma to challenge for a Serie A top-four spot.
They appointed the right coach to escalate their youngsters' hunger. Before he was an esteemed coach at Shakhtar Donetsk, the Portuguese began his managerial career guiding Estrela de Amadora's youth side. Fonseca possesses plenty of experience in finding the rights spots to aggravate the hot-blooded young players.
But the inspired change he's brought has clearly livened up his players. Zaniolo(3 goals) and Kluivert(2 goals) have already outscored themselves from the entirety of last season, where they netted a combined three times.
The Italian scored in back-to-back games for the very first time, while Kluivert's showcasing his reputed dad's striking hunger with every passing game. More than just goals, they have a matured cloud around them, while also improving their decision-making. As a result, their link-up play, ability to find team-mates in space and overall cohesion's brightened up.
Lorenzo Pellegrini has delivered consistency when running the show for the Giallorossi. With four assists in six appearances, he's maintaining a status-quo as their creative wizard. When you find as inviting set-pieces or forward passes as he provides, any opportunistic attacker would pounce.
At the back, Gianluca Mancini has been a proactive, reliable outlet. The 23-year-old has formed a solid bond with Chris Smalling, a new signing slowly becoming a fan-favourite in Rome. The reason for the youngsters soaring is the support they're receiving from the experienced candidates.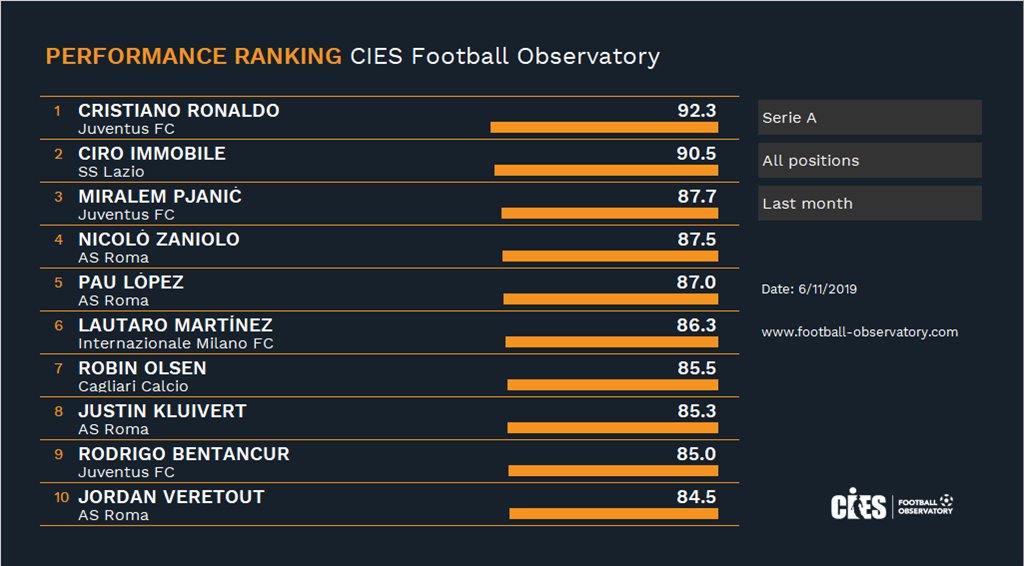 Indeed, these youngsters are surrounded with players nearing their decline but with enough knowledge to pass onto their juniors. Who wouldn't get better getting tips from a prime goal-scorer like Edin Dzeko? Or a penetrative, clever wing-back like Aleksandar Kolarov? Fonseca's found the right way to blend youth with experience in aggravating the fireworks.
Moreover, Roma's attacking flow could only get better once Cengiz Under returns from injury. He's made a meagre 3 appearances this season, scoring a beautiful strike nonetheless. When he does return to form, La Lupa's attacking thrill should move up a notch.
The Turkish International's dazzling movement, close-control and tendency to do wondrous things with the ball makes him arguably their most dangerous attacking threat. He's also the shining example of their boons for smart investment in youth, having maintained consistency since signing from Istanbul Basaksehir in 2017.
Not just Under, but the overall growth in performance-levels for the youngsters should motivate those coming through the system even more. Fonseca isn't one to shy away from giving youth a chance. Their esteemed Primavera squad gives him more room for encouragement.
Sitting in 3rd in the Campionato Primavera 1 table, the kids are talented. Certain ones, technically astounding. France U-19 defender William Biranda is moulding into another mobile rock-solid centre-back like William Saliba. Ludovico D'Orazio's a menacing winger with a bright eye for goal.
Brazilian Felipe Estrella's contributed six goals in seven appearances, proving the blooming samba inside him. But midfielder Alessio Ricardi's probably first in line for the big call-up. With four goals from midfield for La Lupa's youth side, the Italian U-19 regular has proven himself a booming, creative youngster packed with flair.
As long as the teenagers keep delivering, Fonseca won't shy away from calling upon their support. After how the current crop of young sensations have rejuvenated the Giallorossi into making their fans enjoy their enthralling attacking relentlessness again, the future foreshadows bright things for the Roman warriors.