Are Mbappe and Haaland the new Messi and Ronaldo?
Will Mbappe and Haaland dominate the Ballon d'Or parade for the next decade?
Lionel Messi and Cristiano Ronaldo held the football universe spellbound with scintillating displays in the last decade. The duo shares 11 of the 12 Ballon d'Ors since 2008. Only Luka Modric broke the hegemony in 2018. During their ascension, so many special talents came and went. Until this season, it didn't appear that anyone else would stand head and shoulders above the rest.
As the duelling legends near the end of their careers, at 32 and 35 respectively, the world that took them for granted and then feared what life would be like without them unexpectedly enjoys a second chance to appreciate greatness. Their gaze must shift north from Barcelona and Turin, however, to cities in Germany and France.
The Champions League encounter between Borussia Dortmund and Paris Saint-Germain intrigued for several reasons. The two sides play some of the best attacking football on the continent. Goals were expected to flow. Key players on both sides make headlines. Neymar is a special talent who loves to entertain on the pitch and confound off. Jadon Sancho isn't any different. But both find their stars dimmed by more luminous teammates. Kylian Mbappe and Erling Braut Haaland are the future and the future is now.
Call it home advantage but Haaland stole the show at the Westfalenstadion. The former RB Salzburg point man fired in two goals to give Dortmund a 2-1 advantage heading into the second leg. Mbappe had a say in the match despite ending up on the losing side. The 21-year-old provided the assist for Neymar's consolation strike. That leaves the tie delicately poised for a final showdown at the Parc des Princes come March 11. Although, with Haaland in the BVB squad, PSG's away goal isn't overly concerning.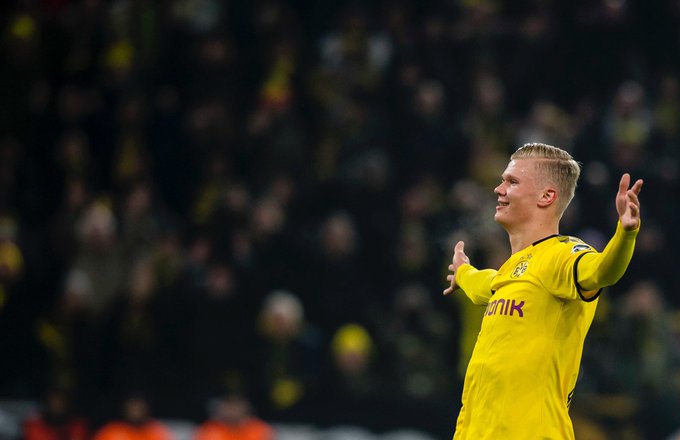 Erling Braut Haaland's stats this season:
📝 29 games
⚽️ 39 goals
🎩 6 hat-tricks
💛 11 goals in 7 games for Borussia Dortmund.
🇪🇺 10 goals in 7 Champions League games.
19 years of age. 🤯
https://t.co/O6gA1n3J3A
Mbappe and Haaland have emerged as the game's new icons. Their productivity in front of goal amazes. In 24 games this season, Mbappe has clocked a total of 20 goals and eight assists in Ligue 1 and Champions League football. On the other hand, featuring for RB Salzburg and Borussia Dortmund, Haaland has netted 24 league goals and a further 10 in the Champions League. For others in their age bracket, only Timo Werner and Sancho can be mentioned in the same breath.
Ciro Immobile and Robert Lewandowski carry the standard for the older generation. The Lazio man has 26 Serie A goals this term while Lewandowski netted 23 times in 22 Bundesliga games for Bayern Munich. We're discussing career seasons for both, though. Neither excels to this degree as consistently as Messi and Ronaldo.
The Polish international comes closest. He scores 0.91 goals per game, as does Mbappe, compared to Messi and Ronaldo at 1.05 and 1.01 respectively [Understat]. Haaland's current output dwarfs those numbers. The 19-year-old bombs 2.38 goals per game. The Frenchman makes up ground on the Norwegian with 0.33 assists per 90. Where Haaland's finishing evokes comparisons to Ronaldo, Mbappe's creativity recalls Messi.
The biggest test will be consistency. Can either or both produce insane numbers year in and year out? If they can, the coming decade belongs to them.