Are RB Leipzig genuine title contenders?
Can Julian Nagelsmann guide RB Leipzig to the Bundesliga title?
Julian Nagelsmann's appointment, announced well ahead of the 2019/20 campaign, drew anticipation and optimism. At 32, one of the youngest managers in Europe, Nagelsmann was performing wonders with Hoffenheim. What would he do when he arrived at his new club in the summer?
While awaiting the new man, RB Leipzig finished third in the Bundesliga under Ralf Rangnick, a well-renowned coach in his own right. The bar was set high. Now, with two games to go before the winter break, Leipzig top the Bundesliga, two points better than Borussia Monchengladbach. The lead the division in most goals scored and fewest conceded. Their 42 strikes edge Bayern Munich by one although the five-goal margin [16-21] in the opposite column place the defending champions fifth.
Leipzig are perfect in their last six domestic matches. Following a 2-1 defeat to upstarts Freiburg, die Roten Bullen took their frustrations out on Mainz with an eight-goal barrage. They haven't scored fewer than three against German opponents since, adding a 6-1 mauling of Wolfsburg in the DFB Pokal to their Bundesliga marauding.
Nagelsmann brought the best in his Hoffenheim squad despite his lame-duck status, working wonders with Florian Grillitsch, Kerem Demirbay, Andrej Kramaric and Nadem Amiri. Now, Nagelsmann harnesses one of the most complete sides in the Bundesliga, blessed with immense talent across the pitch. One question remains unanswered, however. After Borussia Dortmund's second-half collapse in 2018/19, critics will only believe Leipzig can hold off the seven-times running champions when they see it.
The season hasn't been all clear sailing. Whether or not it was the beer, Oktober was a forgettable month. They lost to Schalke and Freiburg, drew twice and were also beaten by Lyon in the Champions League. That drop in form came after a rapid start to the season, five wins from six and an inspired draw against Bayern. Have Leipzig found their wings or are the energy-drink sponsored side merely a streaky outfit?
Not one to feel like everything must be his, Nagelsmann retained the 4-2-2-2 shape Rangnick favoured and the players knew like the back of their hands. The formation allows both compactness and fluidity. Leipzig press and counter-press effectively as a unit. They exploit gaps by overloading the wide areas and through quick transition. Key attacking players Timo Werner, Youssef Poulsen, Christopher Nkunku and Marcel Sabitzer all hold the speed and agility required to wreak havoc on exposed defences.
At left-back, Marcel Halstenburg is pivotal in transition. He joins the attack, interchanging with teammates and giving defenders an extra man to mark. In 17 appearances across all competitions, he's pitched in with two goals, two assists and 1.66 key passes per 90 [Understat]. His key passes are actually down from 2.05 under Rangnick last term but when Marcelo Saracchi takes a turn, the Uruguayan delivers 2.08 shots and 2.08 key passes per 90. He has a goal in four appearances to show for his work.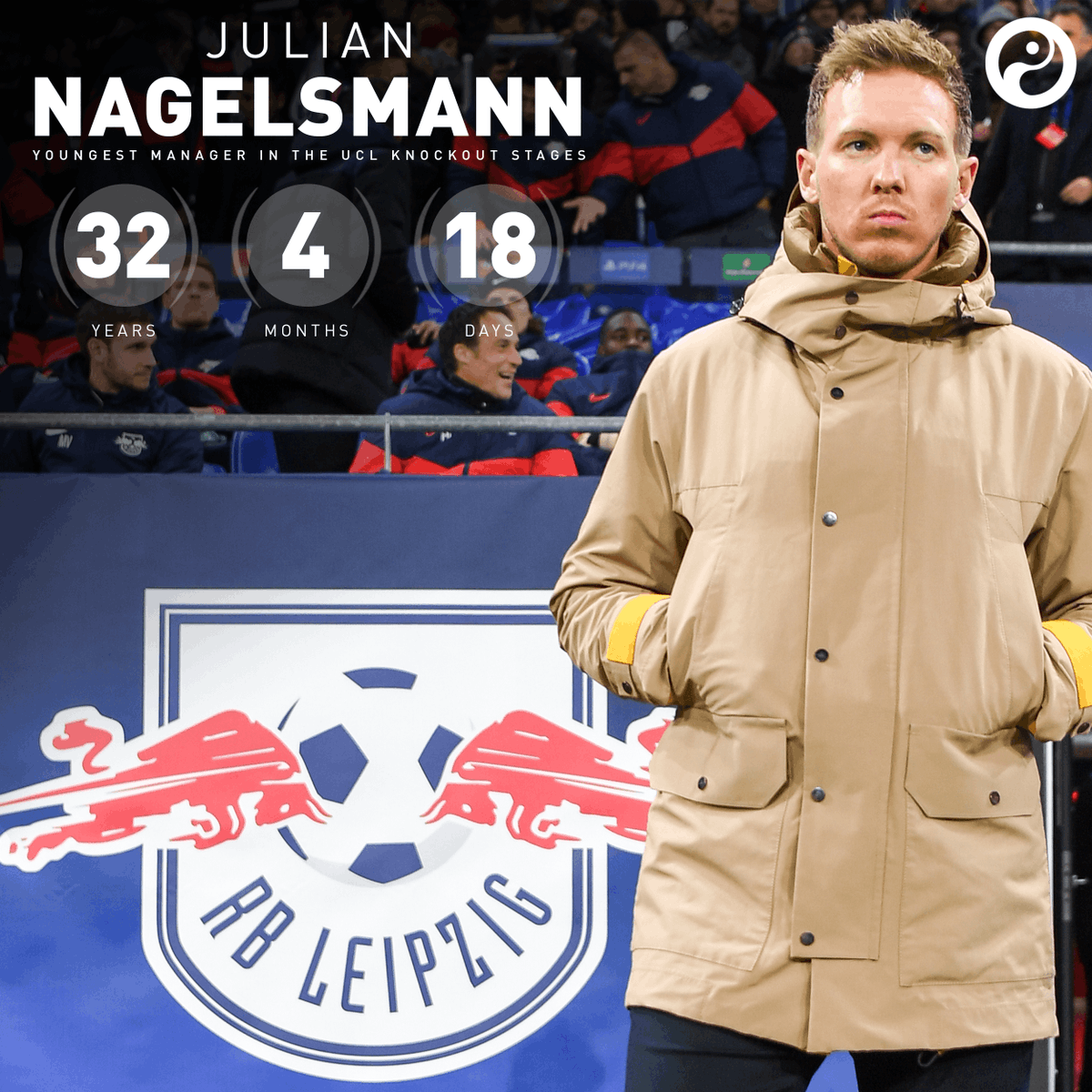 Julian Nagelsmann is younger than Lionel Messi...
In fact, 60 players *older* than the RB Leipzig manager have made at least one appearance in the Champions league this season. 🤯
https://t.co/ai2RzyGTlW
On the flanks, Sabitzer and Forsberg's efficiency stands out. The Swede's work recalls his stellar 2016/17 campaign, with eight goals and four assists from the left side, all told this term. On the right, Sabitzer betters his partner with 11 and seven.
Then there's the potent front-line of Timo Werner and Youssef Poulsen, who rank among Europe's top strike partnerships. Werner's sheer speed, ability on the counter and Poulsen's size, industry and holdup play complement each other brilliantly. With the array of creative talent behind them, the duo doesn't want for chances. The German striker already has 21 goals in all competitions, 16 in the Bundesliga. Only Robert Lewandowski puts him to shame. Werner's tally is all the more impressive when you consider he does most of his work creating overloads on the wings rather than operating centrally.
At the back, RB Leipzig harness a wealth of players who could become future stars. French duo Dayot Upamecano and Ibrahima Konate are built for the big time. You've also got the experience and know-how of Hungarian international Will Orban, the versatile Stefan Ilsanker and young Nordi Mukiele, a fine centre back but an even better right-back.
Red Bull intentionally build for progression and growth throughout their burgeoning football empire. Leipzig have achieved so much since their inception in 2009. Can they be German champions after only 11 years of existence? With Julian Nagelsmann at the helm, don't bet against it.