Areas FC Barcelona need to strengthen in over the summer
Despite winning the Copa del Rey last week, FC Barcelona have had a poor season by their standards. With a new manager now appointed, they must bring in some players during the transfer window in the summer if they want to become the formidable side they once were.
Right-Back
Letting Dani Alves go was an awful decision by the club. His outstanding performances for Juventus prove that he still world-class and the club should start to look for a suitable replacement for him. Sergi Roberto and Aleix Vidal have both played there this season but are not natural full-backs and have been forced to play out of position.
In terms of potential candidates, Kyle Walker would be a perfect fit. He's fast, powerful and willing to work hard at both ends of the pitch. With
rumours that he may
be heading to Manchester City, they may look closer to home. Manager, Ernesto Valverde could consider bringing Óscar De Marcos to the club, at player who he worked closely with at Athletic Bilbao. With a lot of experience in the league, he would be a great addition to the team and he'd certainly strengthen the backline.
Centre-Back
Gerard Piqué needs a solid partner next to him before the start of next season. Although Samuel Umtiti has done well in his first season, he has made some costly mistakes as well and should not be a regular starter for one of the best clubs in the world. With
reports that
Javier Mascherano and Jérémy Mathieu are set to leave the club, they will need to bring in a reliable defender.
One option is Aymeric Laporte. Despite being the same age as Umtiti, he has a lot more experience in the Spanish top flight having made 142 appearances for Atletico Bilbao already. Another potential target could be César Azpilicueta. The Chelsea man had a great season and proved he can play at centre-back and full-back. Having played just under 100 games for Osasuna, Azpilicueta is familiar with the league and knows a lot of the Spanish players at the club from international fixtures.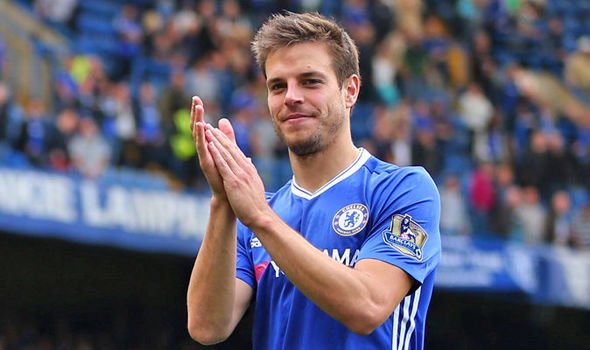 Barcelona are set to hold talks with Chelsea over the possibility of signing César Azpilicueta. (Source: SPORT)
https://t.co/mf1qEvzKet
Midfielder


It is sad to say but Andrés Iniesta is past his peak and does not often make it through a full game anymore. The creative mastermind still has plenty to offer the side but Barcelona should already be considering who his permanent replacement will be. André Gomes has not impressed much this season and Arda Turan has failed to make the position his own as well.

The lack of options at the club means they should look to the transfer window and specifically at Marco Verratti. The Italian played extremely well against Barcelona in the Champions League this season and may fancy a new challenge, after being at PSG for a number of years.  With four years left on his contract, it would take a substantial offer to sign him but Valverde should make him a top priority.


Back-up Forward(s)


The front three of Lionel Messi, Luis Suarez and Neymar is the best in the world right now, perhaps even the best ever in football. The problem, however, is that there is a gulf in class between these three and the rest of the attacking players therefore when one is missing through injury or suspension, the team really suffers. This lack of strength in depth has really cost them this season, especially when you compare the quality of the players their rivals, Real Madrid can bring off the bench.

Any forward that did sign would have to accept that game time would be limited and opportunities rare but the chance to a club as iconic as Barcelona should be motivation enough. They should look to sign a player with the quality of Sergio Agüero, someone who could put pressure on the front three or come off the bench and make a real impact. With the amount of games that are played over the course of a season, squad rotation is becoming an important factor and without alternative attacking options, Barcelona could find themselves struggling yet again.