Arsenal 1-0 West Ham United: 3 talking points
Arsenal faced West Ham on Tuesday night for only the third time in League Cup history. Each had one previous win. It was the second contest between the two sides in four days, having played out a 0-0 draw in the Premier League.
After an uninspiring forty minutes, the Carabao Cup encounter kicked into life when Danny Welbeck scored with the first shot on target. It proved decisive. The win takes the Gunners into their seventh League Cup semi-final under Arsene Wenger.
The Carabao Cup is possibly Arsenal's only realistic shot at silverware this season.
Here are three talking points from Arsenal's 1-0 win over West Ham.
Debuchy ready to replace Bellerin
Hector Bellerin's development has stagnated for far too long due to a lack of competition at right back. Mathieu Debuchy is firing on all cylinders again, however, meaning the Spaniard should frantically start looking over his shoulder.
Although Debuchy's demise was painful to watch, his re-emergence helped remind fans why he was once highly-rated. The Frenchman's performance against West Ham was much more assured than Bellerin's on Saturday.
The time is perfect to get a run in the team as the demanding Christmas period has arrived. A start against Liverpool in the next game may come too soon for Debuchy, but he's certainly proven his readiness for more first-team football.
Against West Ham, Debuchy won three aerials, made three tackles, two clearances and intercepted one pass.
Quina fails to shine
Before the match, a lot was made about Domingos Quina's potential inclusion in the West Ham squad. The 18-year-old is one of the most highly rated players on the England U23 scene. So much so, reports suggest Liverpool is ready to splash £10million on the teenager sooner rather than later.
For all the hype and adulation surrounding him, however, Quina failed to live up to expectations at the Emirates. He struggled to make an impact against a second-string Arsenal side, clearly showing the void in quality between U23 and senior football.
Quina only completed one dribble, 24 passes and wasn't able to create a chance against the Gunners. It was a tough start for the youngster. With more first-team opportunities, though, he'll begin to learn the hard way.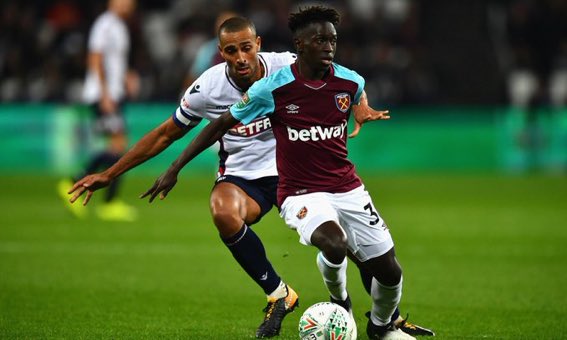 Giroud limps off injured
Olivier Giroud has carried last season's scintillating goalscoring form into this campaign. Despite only starting one Premier League game this season, the French forward has scored 4 goals in 361 minutes. Wenger has deployed the 31-year-old in a super-sub role this campaign, forcing him to play second fiddle to the £52.7 million-rated Alexandre Lacazette.
With a 6-pointer against Liverpool looming, Arsenal will now be without Giroud's firepower. He limped off the pitch in the 77th minute against West Ham with what looked like a hamstring injury.
After the game, Wenger confirmed that the striker will miss Friday night's encounter. The Arsenal boss anxiously stated, "It doesn't look very good for him."