Are Arsenal getting overly dependent on Aubameyang?
Pierre-Emerick Aubameyang needs help, with Arsenal becoming solely reliant on the man from Gabon.
Background image: Ronnie MacDonald, CC BY 2.0
It wasn't that long ago when Robin van Persie almost single-handedly carried Arsenal to a top-four spot as the rot started to set in under Arsene Wenger. Before that, King Thierry Henry had established his throne in North London, in large part due to his striking excellence.
Well, Pierre-Emerick Aubameyang is becoming the latest inductee to the one-man show at the Emirates. Having played a crucial part in earning every point in their Premier League campaign, he's' saving Unai Emery's blushes during a transitional period at Arsenal.
The Gabon international is almost always in the right place at the right time to fire in decisive strikes. When the Gunners find themselves at the darkest, he takes games by the scruff of their necks to spark majestic moments; even though their poor defensive is contradicting his effectiveness.
By possessing every skill required for being an elite striker, he's turned into their beating heart. However, it'd be criminal for Arsenal to keep the pressure mounted on him to produce the goods all the time. He needs help.
Having netted eight in all competitions already, Aubameyang is rocketing towards breaking the twenty-goal threshold again. His impact in the Premier League cannot be undermined - having scored more goals than anyone else in the league since his debut in 2018. But the fact he doesn't have many years left, being aged thirty, is worrying.
It's time for his counterparts to assume responsibility into taking the pressure off his shoulders. The Spanish gaffer's handling his young crop pretty well with his rotational skills, even if that meant having to sacrifice experienced campaigners like Mesut Ozil, Henrikh Mkhitaryan. Bukayo Saka's a real firecracker but must improve his final product with his aim at goal. In time, that will come.
Gabrielle Martinelli also turned up the style with braces against Nottingham Forrest as well as Standard Liege, but there's still time for him to get explosive in the Premier League. The Brazilian's a lethal finisher like Aubameyang, while also possessing other traits including working well from the left. Emery must hone his talent in time to take the torch from Aubameyang.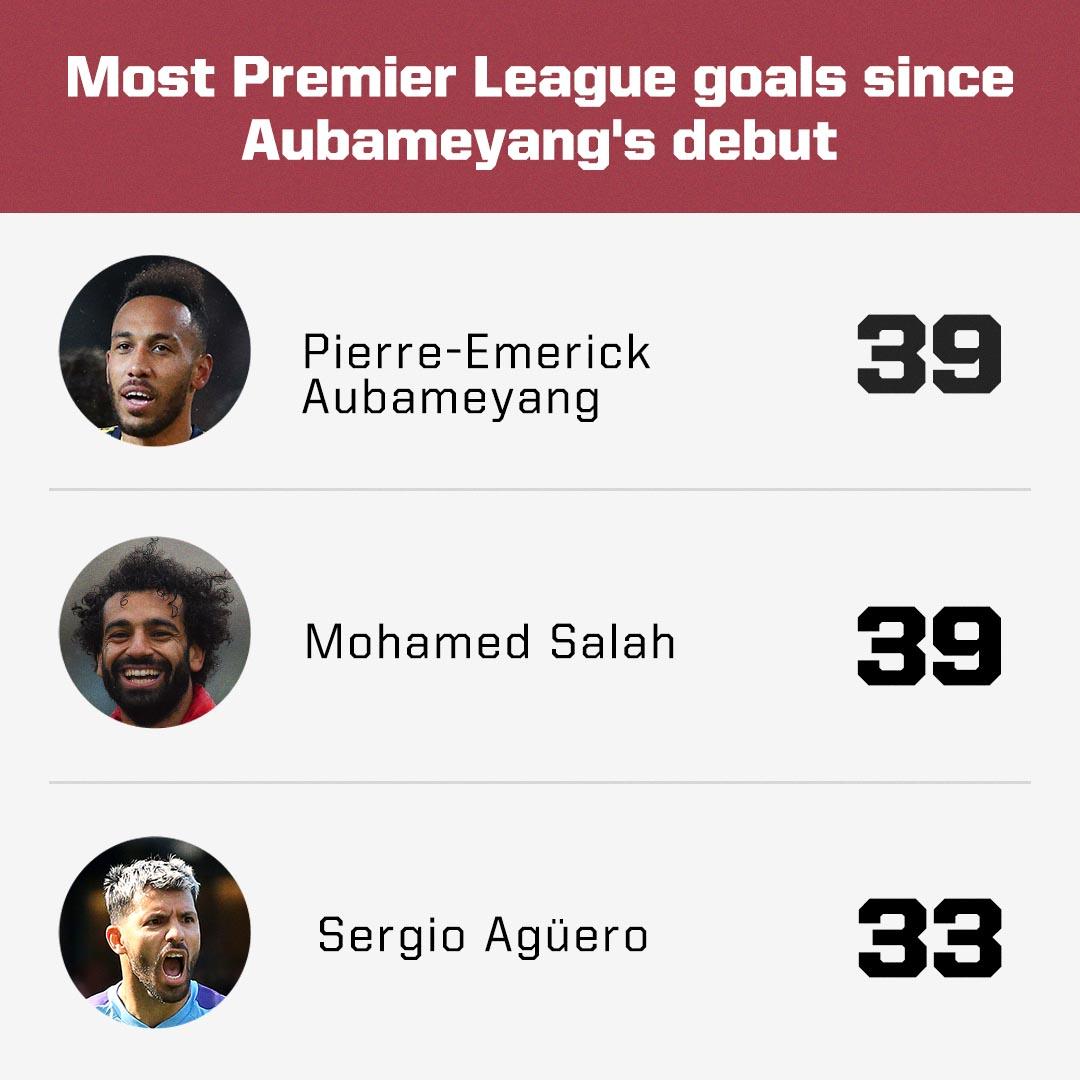 However, there must be more emphasis placed on the present rather than the future. The Gunners have clung onto a top-four position so far thanks to his regular strikes, but Arsenal needs other options than the 30-year-old to stop themselves from becoming one-dimensional. The senior players must step up in order to bring a more unique attacking pattern, thus taking some responsibility.
Nicolas Pepe is yet to prove his worth, but has every skill in his arsenal (mind the pun) to come up with silky contributions. With an Arjen Robben-esque tendency to curl in by cutting through the right, nerves have so far resulted in his inept finishing. He needs to be calmed down and given time to express his immaculate talent.
Of course, Alexandre Lacazette's slated to return anytime soon. The French striker's fiery competitiveness, coupled with Auba's natural instincts seems like the dream pairing. After missing several games through injury, no doubt he'll be hungrier than ever to try and catch up on his mates' impressive goals-tally. The problem, though, has been finding a formation that suits the pair. This is another conundrum Emery will have to overcome.
Dani Ceballos has been effectively brought on as the short-term replacement plan for Aaron Ramsey but he needs to bring that cutting-edge that the Welshman had in abundance. His creativity is unquestioned, but he needs to add more bite to his performances. Basically, he needs to deliver more goals and assists.
Arsenal's reputation is now one that's built upon being carried to top-four spots by their star strikers. However, if Unai Emery is to break that trend, he must fine-tune his side's attacking rhythm as his unreliable backline isn't going to be able to win them matches. Aubameyang's brilliance can only take them so far. It's time for others to step up and take them closer to the promised land.