How can Arteta reignite Arsenal's attack?
What changes should Arteta make to unleash Arsenal's attack?
Mikel Arteta's time at Arsenal reflects their entire campaign. Despite showcasing occasional promise, the Gunners lack consistency. Since coming aboard, he's improved certain departments. Unfortunately, it's come at the expense of others. Defensively, Arsenal present opponents with a much tighter, organised shape. Offensively, they're suddenly at sea.
Prior to Arteta's arrival, the Gunners shipped 18 goals in their last nine games overall before Christmas. Since, they've conceded just eight, keeping two clean-sheets. Arteta rang changes. The Spaniard gave David Luiz more authority. Sokratis Papastathopoulos and Shkodran Mustafi cover him when he moves forward.
Lucas Torreira rediscovered his pit bull mentality. Granit Xhaka gained composure. The Gunners concede fewer shots (12.4/4.1 on target) than they did under Unai Emery(16.7/5.8). The deep midfielders work harder to close down opponents. Defenders reactions are sharper.
So, if a strong attack is built on a stronger defence, why aren't Arsenal firing on all cylinders? Their problem turned upside-down. When defending more, the Gunners score no more than they did when woeful at the back. Over those nine games before Arteta took the reins, the Emirates outfit scored 11 times. Since he was installed, they've scored--surprise--11 times.
To free up the attack, the former Gunners captain must make some difficult choices as manager. Alexandre Lacazette holds Arsenal back. He's yet to score under Arteta, his only outstanding performance coming against Manchester United. The Frenchman last scored a league away goal 364 days ago on 9 February 2019. He last scored any goal nearly two months ago. Even centre-backs Sokratis [0.39] and Callum Chambers [0.37] register better expected-goal numbers than the former Lyon talisman [0.26] in Arteta's system [Understat]. He drops deeper to create chances, a la Harry Kane, but tends to fluff his lines.
Top scorer Pierre Emerick Aubameyang adapted to the change with ease but plays out of position. He needs to operate centrally to be most effective. Arteta put his best pieces together against Burnley, pairing Auba and Laca with Gabriel Martinelli on the right. The experiment failed, resulting in a goalless draw.
The Brazilian teenager at least responded to the new boss' ministrations. He makes clever runs into the box, involving himself more. Similarly, makeshift left-back Bukayo Saka's thrives on the freedom to surge forward. Arteta demonstrates more influence with the young players. Is it his persona or a statement on his credibility entering his first job as the man in charge?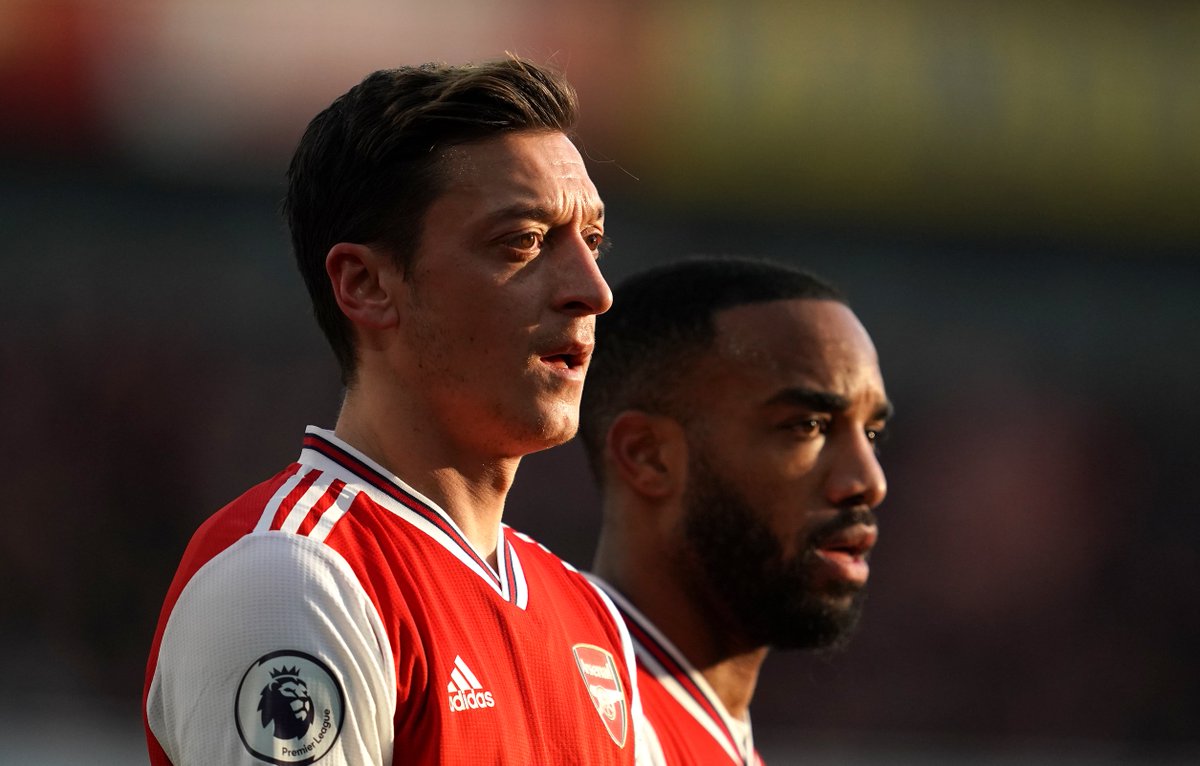 Alexandre Lacazette's last Premier League goal away from home: 9th February 2019
Mesut Özil's last Premier League assist away from home: 30th January 2018
No time like the present. 😳
https://t.co/b6cVPID5Q7
Right now, Martinelli possesses the club's second best-expected goals rate [0.48]. Starting him ahead of Lacazette seems intuitive. The Spaniard must find a productive role for Nicolas Pepe. Unable to reproduce his Lille numbers (22G/11A), he provides the most expected assists per 90 [0.18]. With 1.2 key passes, three dribbles and 1.8 shots per 90 [WhoScored], he's the liveliest player on the flanks. The Ivorian's unpredictable movement, precise set-pieces and incisive passes can torment any backline.
Meanwhile, Mesut Ozil shows no sign of resurgence, directly involved in zero goals. Despite working harder to stitch chances, even boasting 2.1 key passes per 90, the German lacks the killer final touch that made him famous. If his troubles persist, it may be time to reintroduce Dani Ceballos. Injuries derailed the Real Madrid loanee's promising start. With more assists than the German, albeit only 2/1, he possesses the creative punch to shift the Gunners into a higher gear.
Creating chances means little unless they are finished. Under Arteta, the Gunners take the fewest shots in the Premier League, 68 in those nine games. They aren't doing enough with 55% possession over that span.
The Spaniard mimics mentor Pep Guardiola in moving the ball to shift defences, create gaps and therefore opportunities. But Arsenal are no Man City. They possess more raw firepower than finesse. The players must be encouraged to take more shots at goal rather than looking to free up a teammate for an easy tap-in.
Xhaka can rip stinging long-range volleys. Pepe'sshot has more swerve than a Beyonce video. Aubameyang and Martinelli also hide cannons in their boots. If Arsenal shoot from anywhere, defenders will come out to close them down, creating space behind for the fleetfooted Auba and Pepe to run into. Arsenal have the weaponry to intimidate opponents. They must use it more effectively.