Iago Aspas' Celta Vigo dream proves La Liga still has life
La Liga's often perceived as this dystopian land fought over between two kings. Often a gritty warrior in Atletico Madrid comes along to rule the roost, yet are largely overpowered by Barcelona and Real Madrid. The interest level for the league also declining because of its predictability.
Unlike the cut-throat competitive Premier League, it's one judged only by the race upstairs. However, stories like Iago Aspas' for Celta Vigo breaks the proverbial glass ceiling on it's "two-club" league status. After being ravaged by injuries this year, he stole the show when El Celta needed him most last week.
Coming off an injury, he scored two stunning second-half goals to get them a vital win against relegation contenders Villarreal. In the end, the entire stadium chanted his name. The substituted Spaniard couldn't contain himself, bawling his eyes out being overwhelmed by the appreciation. Be it for only one day, but Vigo was his to rule over.
Sometimes, individual heroics manage to outshine the giants at La Liga. In the Spaniard's case, it was true as he emerged from the depths to uplift his side. His heroic tale isn't normally something which gains the spotlight, yet Aspas' passionate display scripted a beautiful story. Who says only Lionel Messi and co can create stories? For now, the underdogs are taking over to steal the headlines.
The fight is far from over for Celta. Even after Aspas scored another inspired goal and later assisted one against bottom-feeders Huesca, reality struck them with a cruel draw. It's time to wake up from the dream. Some crunch ties await Celticos, including home ties against relegation battlers Girona as well as Rayo Vallecano. The race to avoiding relegation will be a tough one.
Yet if La Liga's proven anything this season, it's that dreams can be turned into reality if you believe into something. Take Jaime Mata's rise for Getafe. Having foiled in Spain's Segunda Division his whole career, he finally clawed his way into La Liga to represent the underlining gems in Spain. In his debut season, he's scored thirteen goals, more than one-third of Getafe's whole total.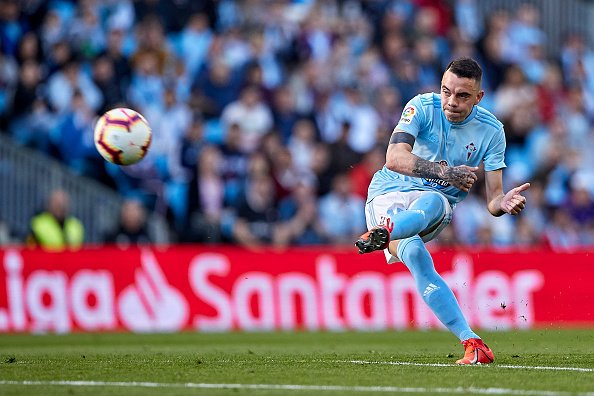 1 - Iago Aspas is the first player to have scored in #
LaLiga
this season with the right foot (one), left foot (eight), head (two), from penalty spot (one) & from direct shot (two). Soul
https://t.co/0wXlucmTox
The 30-year-old's been vital towards helping them march onto an unprecedented UEFA Champions League place. El Geta have never qualified for the pinnacle of European Football before, but the late-bloomer Mata's inspired journey's mirrored theirs this season. When given a surprising national team call-up, everyone mistook Jaime for Juan Mata. However, if tracing his inspiring story well, one would see Jaime's tale is just as inspired as the Manchester United man's.
When talking about unexpected rises, one cannot undermine Deporitvo Alaves' ascent. After avoiding a relegation scare last season, Spanish coach Abelardo Fernandez' revamped their structure. They're united to the winning cause, resulting in surprising success. At one point, they sat in 2nd place at La Liga. Now they're only three points away from a coveted Champions League place. They've defeated heavyweights Real Madrid, Valencia and Villarreal this season, grinding out wins thanks to a stubborn defensive structure set-up by a former defender himself.
While Alaves' story speaks volumes of resurgence, the redemption story in La Liga's been Santi Cazorla's inspired return for Villarreal. At one point, let alone playing football, even walking on two legs was unassured for him. Following a gruesome Achilles tendon injury, one problem led to another.
Eight surgeries, excruciating pain, a possibility of losing his leg haunted the Spaniard. However, he fought on, eventually winning his war with pain. Now, he's entangled in a battle to keep Villarreal from losing their pride. Battling relegation, Cazorla's the man they're looking to inspire them. He's scored four and assisted seven goals this season, rolling back the years in a recent spectacular display against Barcelona.
Aspas' and Cazorla's stories show the common people are also capable of living heroic tales. While La Liga remains stagnant at the top, things are changing towards creating heart-warming tales down under to show underdog tales are well and truly alive in Spain.