Atalanta could ruin AC Milan's Champions League hopes
AC Milan's new found form will be tested at Atalanta
Serie A's Champions League race is just as compelling, if not more than the Premier League. AC Milan enters the weekend fourth but only a point ahead of a chasing pack consisting of Roma, Lazio and Saturday's hosts, Atalanta. The duel in Bergamo could ultimately decide who emerges first to the finish line.
AC Milan got the best possible tonic ahead of the brief, narrow trip to Atalanta. Three Rossoneri legends, Massimo Ambrosini, Andrea Pirlo and Massimo Oddo graced Thursday's training session. It was a reminder of some sort about the club's rich yet hapless recent history, especially in Europe. According to Gattuso:
"This visit sent out a great message, I enjoyed it a lot. I'm happy with how my lads welcomed these former champions, lots of smiles were on display. Now it's up to us to make the club return to certain levels."
Seven-time winners, AC Milan are in the sixth year of a chronic exile from Europe's elite club competition. Gattuso and his former teammates were still very much in active service the last time out. Max Allegri, too, was still Carlo Ancelotti's puppet. In that period, the Europa League offered solace.
Milan's red-clad half have every course to dream big. Gattuso's team have picked up strongly after a difficult end to 2018 in which they garnered just two wins in eight Serie A matches. Fourth on the log with 39 points, they are four behind San Siro co-tenants Inter. The Rossoneri are unbeaten in six matches across all competitions.
Inside their current form, they have beaten and drawn against Napoli in the Coppa Italia and league respectively. Gattuso's men also picked up a point in Rome in the first week of the current month. The sudden upturn in fortunes isn't unrelated to winter arrival of Krzysztof Piatek.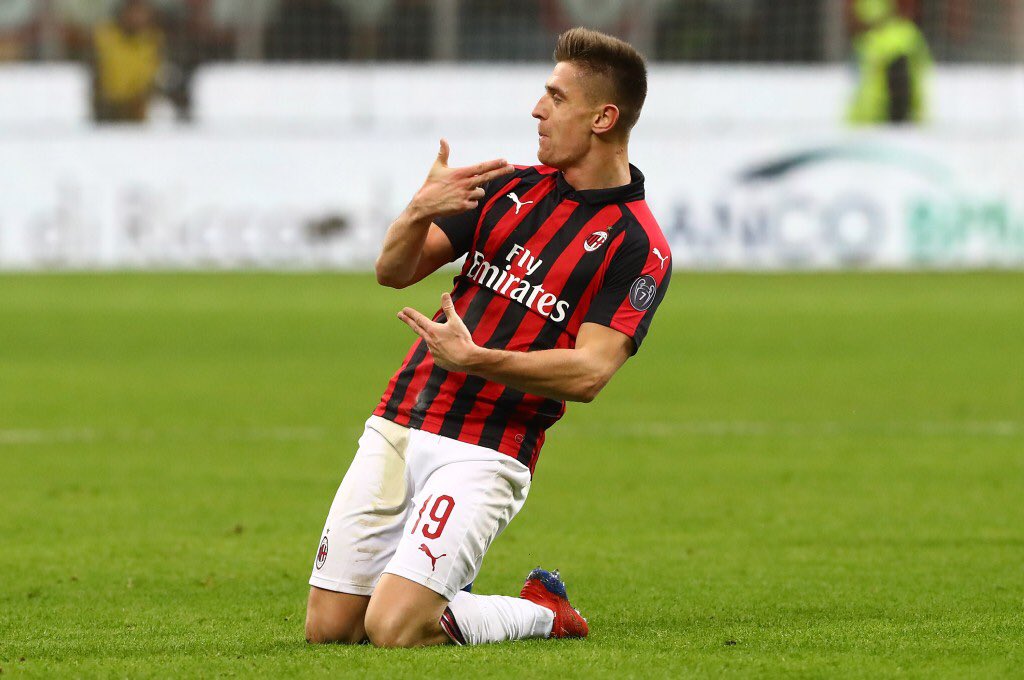 Piątek to Sky: "I am happy. I have to remain concentrated to continue do well. I am fine here, the fans wish me well. I want to score in each game. The 'Robocop' nickname? I am a gunman."
https://t.co/TPb2TZOIK9
The Pole stormed Milan with his clinical boots intact. After a hot streak of 19 goals in 21 games for Genoa, Piatek is enhancing his poaching reputation under Gattuso. He made it four from three starts against Calgliari last week. His previous three goals had earned a 2-0 win over Napoli and a draw at Roma. Milan has not lost any game since the 22-year-old arrived.
That amiable streak is under serious threat on Saturday night. Gattuso and his men are next in line for the Goddess' allure. Gian Gasperini's side has captivated Italy with an attractive brand of attacking and highly-productive football. They have no rival in the final third.
La Dea's 23 games yielded half century goals thanks in part to the attacking trio of Papu Gomez, Josep Ilicic, and most of all, Capocannoniere contender Duvan Zapata. Atalanta's fantastic trio was responsible for 44 strikes. Zapata alone supplied almost half.
Gasperini's strength lies on the flank. He utilises wing-backs pushing forward, followed by the attacking trident moving fluidly into attacking spaces. The ex-Genoa boss is a fitness freak. No wonder his team is physically strong, injured rarely. Gattuso is wary of the physical attributes of his hosts.
"We will need to wear helmets. We are playing against a top Italian team who are both physically impressive and also possess great quality."
Over the last 15 games, Atalanta has picked up 32 points, averaging a little above two in every match. Although Milan isn't one of those frail customers, odds and form are in the Goddess' side.
The Milanese have picked up maximum points just once in previous 10 league meetings. Four of the last five games ended in stalemates. The last time the Lombardy side secured three points at Stadio Atleti Azzurri d'Italia was over a decade ago. Gattuso must end that shameful streak or ultimately regret.