Barca must fix leaky defense
Barca's backline lets in more goals than their four nearest La Liga rivals.
Scoring two goals and conceding one isn't the best way to win a game, especially if the letters FCB emblazon the badge over your heart. Barcelona manager Quique Setien found relief after picking up all three points against Getafe on Saturday but his team's performance left a lot to be desired. He found himself repeating the mantra from the previous match versus his former club, Real Betis. Barca must improve.
It's been a tough ride for the Catalans this season. Eliminated from the Copa Del Rey a few days ago by Athletic Bilbao, they also surrendered the top spot in La Liga to Real Madrid in La Liga following the recent 2-0 defeat to Valencia. Celta Vigo's surprise 2-2 draw at the Santiago Bernabeu leaves them one point behind the Merengues after 24 matches but 'behind' isn't a word in the Blaugrana lexicon.
Without Luis Suarez, Lionel Messi struggles to score. Ousmane Dembele is shelved too. Ansu Fati and Antoine Griezmann join Messi as the only fit attackers in the squad without cover. That said, Messi continues to create for teammates, six times in his last three matches if you're counting. The search for a forward to add depth to the attack until season's end continues but it's hardly a life or death issue. The defence is.
The backline fails to impress. While the club's 57 Liga goals eclipse nearest rival Real by 13, they concede nearly twice as many as Los Blanco's 16. They've let in 29 goals to date. Six clubs, including Real Vallodolid in 15th do better.
Overlapping is a major concern. Setien's system requires the two full-backs to move high up the pitch. So do Sergio Busquets and Frenkie de Jong in midfield. The centre-backs find themselves isolated when opponents counterattack. Central defenders Gerard Pique, Samuel Umtiti and Clement Lenglet lack pace, exacerbating the problem.
Barca's defensive performance levels drop during the game's late stages as well. Tired players can't cope with the fresh legs opposing managers throw on late. It cost them in the Supercopa de Espana semifinal against Atletico Madrid. In the 2-1 victory over Levante, the match threatened to end on a different note if it were extended by even a minute or two. Down 2-0 on Saturday Getafe pegged one back in the 66th minute. Meanwhile, the only defensive substitution on the day was Jordi Alba who was injured in the first half. Arturo Vidal came on for Arthur Melo but Setien cannot call on a shut-down centre-back late in games.
While Setien was hired to break Barca from Ernesto Valverde's defensive shell, he cannot afford to entirely abandon the rearguard. The Liga title is up for grabs. A one-point gap isn't anything to panic over but it draws concern after two seasons in which Real Madrid trailed their Clasico rivals by double-digit margins. Zinedine Zidane's side isn't as prolific as Barcelona his defence is unparalleled in the Spanish top flight, conceding only 16 goals in 24 games. They won't cede ground easily and with Eden Hazard returning from injury, their scoring stands to improve.
Beyond La Liga, Barcelona can't hope to return the Champions League to the Camp Nou without a stalwart defence to hold off the likes of Liverpool, Paris Saint-Germain, Manchester City [still in it for now] and Real. Setien must address the situation quickly. The UCL returns next week. Eibar this coming Saturday represent a chance to fine-tune but then it's Napoli followed by the Bernabeu Clasico. Time is not a luxury.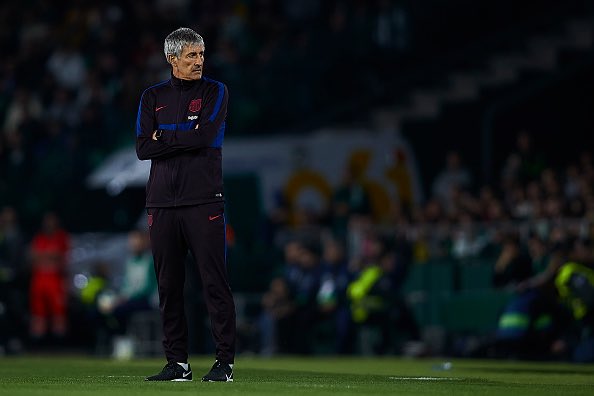 Quique Setién: "I'm pleased with the team. We have to put the value on this game. There are things we could do better, but I am very happy with the team's attitude."
https://t.co/SiwG1DLq7Z