Can good friends Ajax help Barcelona out of another jam?
Directly or indirectly, too many Ajax players end up at the Nou Camp for Barcelona to ignore the Dutch champions in a time of need.
Background image: Manminder Singh
When Rinus Michels brought Total Football to Barcelona in the 1970s, it began a beautiful friendship. Johan Cruijff eventually followed his mentor to the Nou Camp. The legendary Dutch midfielder played in Blaugrana stripes, won titles as the manager and developed La Masia into an academy to rival Ajax's. His son Jordi came through its ranks. As Pep Guardiola ushered in Barca's golden generation, Cruijff had the chairman's ear as a special advisor.
Other Dutchman, from Ajax and elsewhere, spent time at the Catalan club. Louis van Gaal. Ronald Koeman. Frank de Boer. Frank Rijkaard. After making his name at the Amsterdam ArenA, Zlatan Ibrahimovic's desire to play for Barcelona shocked no one. The club sent Samuel Eto'o, Alex Hleb on loan and €46 million to Internazionale to make it happen.
Perhaps the tension between the boisterous Swede and the tightly wound Catalan manager strained the friendship between the two clubs. Maybe they just drifted apart, as you do. There's nothing more heartwarming than reconciliation but, if the bond didn't need to be reforged last spring, the two clubs at least renewed their vows.
Even as Ajax stunned football by going through Real Madrid, Juventus and Cristiano Ronaldo to reach the Champions League semifinals, Barcelona and Ajax consummated a €75 million deal for one of the resurgent Dutch giant's two 'sons of gods'. The Dutch side promised generational talent Frenkie de Jong to Barca for the 2019/20 campaign. Even though centre-half Matthijs de Ligt later opted to sign for Juventus, the clubs announced a formal partnership in which each would help the other develop its young talents through loan deals and transfers.
Now, Barcelona have reason to test Ajax's willingness to broaden their partnership to include veteran stars. Their 32-year-old striker, Luis Suarez, an Ajax alumnus himself, is lost for the season. Neck and neck with Real Madrid in La Liga and entering the Champions League knockout rounds, Barca need a forward who can work with and prevent defenders from focusing too heavily on Lionel Messi and Antoine Griezmann.
In the past two campaigns, manager Ernesto Valverde sought to reinforce the squad with a more physical element in both midfield and attack, recruiting Paulinho, Arturo Vidal and Kevin Prince-Boateng. The two midfielders made an impact but the Ghanaian striker remained an insurance policy until returning to Serie A with Fiorentina in the summer. Eventually, the board lost patience with Valverde's uninspired choices and appointed former Real Betis boss Quique Setien to revive Barcelona's flair.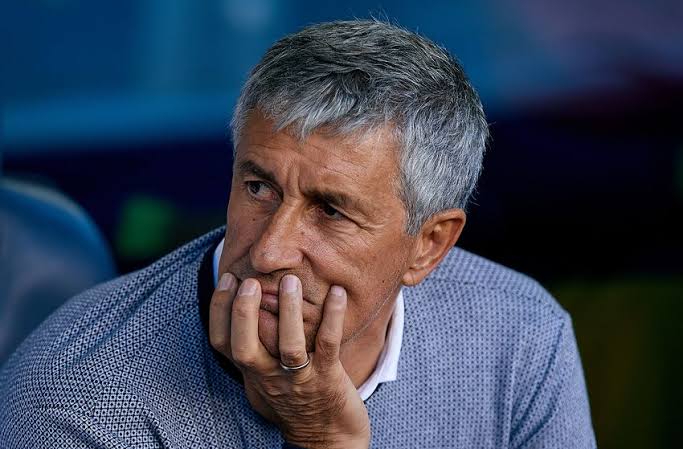 📰 — Setién met with Abidal, Ramon Planes, Òscar Grau, and Bartomeu. Two decisions were made:
1. No more player exits. Vidal will stay.
2. Signing a forward this month to replace Luis Suárez is an option.
[sport]
https://t.co/fkAbBXtCxS
With that remit in mind, the Barcelona media churns out rumoured replacements for Suarez. The latest depicts the club preparing a loan bid for Arsenal striker Pierre-Emerick Aubameyang. While the Gabonese might be viewed as a mature Ousmane Dembele or romanticised as an equally clinical Samuel Eto'o [with a tank of nitrous oxide strapped to his back], the prospect is a non-starter.
The two clubs did business in the past but it's hardly the mutual admiration society Barca and Ajax espouse. To hear Cules tell it, the Gunners all but kidnapped Cesc Fabregas from La Masia. Arsene Wenger fought tooth and nail to keep him when the Catalans came to his rescue, as he did previously with Thierry Henry. Barca later gained a measure of revenge by allowing the North Londoners to take the disagreeable Alexis Sanchez off their hands.
Even if Arsenal weren't in a tight Premier League spot this campaign, they're not in any way amenable to loaning out their most important player just because Josep Maria Bartomeu is on the other end of the line. The Barcelona president lacks the goodwill, time and leverage to pry Auba loose at the first asking. The trust level between the clubs is so low that any operation to acquire the 16-goal man requires extensive planning, effort and two or three transfer windows to accomplish. This one isn't happening.
If the defending La Liga champions want to do a quick bit of business, they are better off dealing with a club prepared to sell or one with whom they enjoy a decent rapport. Ajax tick both boxes. Six points and 20 goals better than AZ Alkmaar in the Eredivisie table, the Godzonen might consider selling or loaning a veteran scorer to the Nou Camp now for a tidy profit.
Klaas Jan-Huntelaar comes off the bench regularly for Erik Ten Hag. In 1,002 minutes, the 36-year-old provides nine goals and two assists. His age may worry Barca who need a forward to start regularly. As well, the former Real Madrid number nine is a more direct target man than fits the Blaugrana style. That said, with Champions League football no longer in the frame this season, Ten Hag may be comfortable giving Huntelaar more minutes if Barca avail themselves of another Ajax centre-forward.
Club captain Dusan Tadic shared Eredivisie Golden Boot honours with PSV Eindhoven's Luuk de Jong last term, each notching 28 domestic goals. Another target man, De Jong struggles to adapt to the more technical game in La Liga following his summer move to Sevilla. Tadic is not a target man, however. The 31-year-old Serbian specialises in movement and interaction with teammates. Like Suarez, he loves to drift to the left side and leave space in the middle for teammates to fill.
His production this season tailed off after a prolific opening six weeks. He scored in his first five league matches and three times in Champions League qualifying. He added eight assists in the first eight Eredivisie games. While he then failed to score in the Lancers' six group matches, he did create three goals during that stage of the competition. Overall, he's registered 11 goals and 19 assists for Ajax.
Soft competition in the Dutch league must be taken into account when evaluating those numbers. Teammate Hakim Ziyech boasts eight goals and 21 assists from the right-wing. Attacking-mid Donny van de Beek contributes nine and eight, left-wing Quincy Promes, 14 and five.
On the other hand, that bodes well for Barcelona in two ways. First, Ajax is overstocked with scoring talent. They won't be too concerned about replacing Tadic. Second, Erik Ten Hag's group went toe-to-toe with European elites last term and were the unlucky odd-man-out in a tough group featuring Valencia and Europa League champions Chelsea this season. Tadic won't be overawed by La Liga's quality.
At 5'11, 168lbs, the Serb lacks the 6'2/190 Suarez's physicality and acting skills. Nevertheless, his movement, passing and vision should allow him to develop quick chemistry with Lionel Messi and Antoine Griezmann.
Ajax bought him from Southampton for €11.4 million two seasons ago. Despite crossing over the 30-year-old threshold, Transfermarkt raised his value to €25 million. That's a fee Barcelona can readily afford. If the Dutch champions are open to the idea, the Blaugrana should make use of their friendship again.