La Liga giants hoping to buy back European dominance
Background photo: Pawel Sczymczuk. CC BY 4.0.
The transformation in European football last season was widely described as a victory for the game. The flight of the underdogs, the old guard being ousted and particularly the Spanish dominance being broken had been perceived as a major barrier-breaker to usher in a new era in the UEFA Champions League. The fact that four English teams made the finals of Europe's two most prestigious competitions indicated a drastic shift.
Considering that the past five Champions Leagues and four out of the past five Europa Leagues all being won by Spanish sides before last season, the English' jump to prominence felt a breath of fresh air. However, while the Premier League sides started basking in their glory, the fallen giants were already plotting a way back to ruling with an iron fist.
Real Madrid, embarrassed by a youthful Ajax side, plotted a change well before the season ended. Florentino Perez piped down on his ego, bringing Zinedine Zidane back to run the club on his own terms. The Frenchman's requirements were duly complied, with Los Blancos opening the monetary vault after the season.
Eden Hazard's "dream move" finally came true, while brilliant youngsters like Luka Jovic, Ferland Mendy, Eder Militao were brought in to add the missing spark. Hazard can produce the magic which withered away with Cristiano Ronaldo's departure, while Jovic's the lethal goal-scorer to succeed Kareem Benzema. Mendy along with Militao will be trusted to solve their defensive issues and knowing their blooming ability should make Los Blancos a formidable side to score past.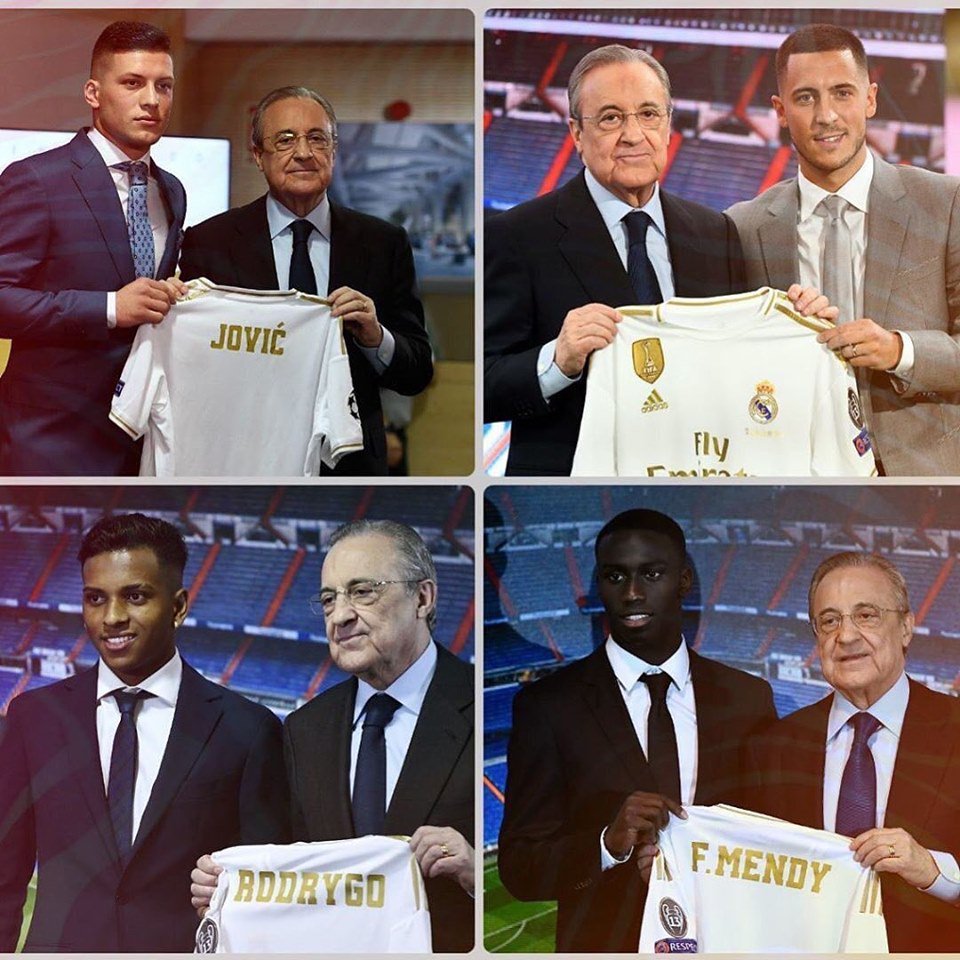 The 10 teams that have spent the most in summer transfers 2019. So far.
1-Real Madrid, 303 M
2-Barcelona, 235 M
3-Atletico, 207 M
4-Borussia, 127.5 M
5-Bayern, 118 M
6-Sevilla, 111.5 M
7-Roma, 95 M
8-Aston Villa, 93.1 M
9- City, 90 M
10-Inter, 85.5 M
https://t.co/Irg9AMkBkh
For a club which once sacked their manager even after winning the Champions League, enduring their worst season in ages was a reality check. Barcelona, fresh of their downfall at Anfield, also started making moves. While Frenkie De Jong's signing was sealed months in advance, the La Liga champions secured another dream addition. French star Antoine Griezmann was brought on board to create the world-class attacking line they lacked last time out.
De Jong is the midfield controller they've lacked since Andres Iniesta left, tipped to keep the tiki-taka magic alive. Greizmann's the attacking wizardry needed to take the pressure off Lionel Messi's shoulders. With Neymar also teasing a move back to Camp Nou, the La Liga giants are once again threatening to make the Champions League their own monopoly.
Even the stubborn Diego Simeone opened the floodgates, breaking the club record to rope in Portuguese sensation Joao Felix along with a host of defensive signings to rebuild his side. Felix is Griezmann's replacement to continue thrilling the faithful with his electric goal-scoring hunger. Simeone's also signed multiple defenders to reform his defensive line to the best in Europe. The Spanish trio all surpassed the £100million transfer spending budget, getting their business done early.
They possess an elite mentality like no other over this decade, being the reason for Spain's rule in Europe. When a king loses a battle, does he go into the next one with similar troops? He recruits the best warriors to rebuild a stronger unit to decimate his opposition. This cut-throat mentality is what separates the likes of Real Madrid and Barcelona from the rest.
Even in the Europa League scenario, Sevilla have also made nearly 10 signings in the first transfer window following Monchi's return. They won three consecutive Europa League titles under the technical director's tutelage and cashed out nearly £100million themselves to secure another European title.
While the Espana sides are spending vehemently, the English big sides have been quiet in the market. Manchester City only filled one persisting void with Rodri's club-record signing, but are yet to find Vincent Kompany's successor. John Stones and Nicolas Otamendi can hardly be trusted upon.
Even Jurgen Klopp has slacked off after securing the sixth European title. Alex Oxlade-Chamberlain, as well as Rhian Brewster, are being humorously considered new signings. Their need for a creative midfielder along with a prominent striker has gone under the rug. Tottenham Hotspur finally started spending, but only adding Tanguy Ndombele won't allow them to challenge for the top.
Chelsea's transfer ban will hinder their Champions League aspirations, while Arsenal and Manchester United are struggling to get more deals done. Ole Gunnar Solskjaer already indicated he'll play youngsters in the Europa League, while even Unai Emery's experience can't solve the Gunnars European curse.
The transfer window closes shut for Premier Leauge clubs on 8th August. Not even ten transfers have been completed together by the English top-six. Unless more world-class talents are brought in to bulk up their squads, it wouldn't be surprising if we see the Spanish domination start all over next season.