Why Barcelona's special signing won't be spine-tingling
The RFEF gave Barcelona license to operate outside the transfer window but it isn't as big a favour as it seems.
Britain's passion for wagering may explain the Premier League fan's scepticism regarding VAR. The video-assisted referee, goal-line and offside technology are tools to correct inadvertent errors. In other words, they're safety nets. The connection is simple. Gamblers love to take risks. Brits love to gamble. VAR is a safety net designed to reduce risk. Premier League fans don't like VAR.
Among Europeans, only the French rival the English passion for a quick punt. Spaniards, meanwhile, are three times less likely to visit a casino than Brits according to a recent Statista study. Comparatively speaking, it's fair to say La Liga fans like to hedge their bets.
A more cautious nature may be why the RFEF allows clubs to apply for an emergency signing when too many squad players in one position suffer long-term injuries. The FA and Premier League wouldn't dream of such a thing.
If you're desperate, promote an academy player or, as Sir Alex Ferguson did in more than one season, drop a midfielder like Ryan Giggs or Michael Carrick into central defence to get you through the holiday fixtures. If you're short on attacking players with Arsenal coming to Old Trafford, start seven defenders, give them license to attack and watch the blood slowly drain from Arsene Wenger's complexion over 90 minutes. In short, the Prem expects clubs to play the cards they're dealt.
Rather than demanding their clubs adapt to adversity, La Liga prefers to help them retain their identity. Thus, when Ousmane Dembele went down for the season shortly after the January window closed, joining Luis Suarez in the Camp Nou hospital ward, the RFEF threw the Catalans a lifeline. Barcelona's choice not to sign a player to replace Suarez in January apparently didn't matter. La Liga gave Barca a redo. They can now sign a forward outside the transfer window.
In the context of the rule applying to all Primera Division sides, the exemption is fair. When you consider the Blaugrana spent the window attempting to wrestle Rodrigo away from Valencia, couldn't come up with a satisfactory bid and will now seek the cheaper option they opted not to simultaneously explore when UEFA remained open for business, it smells like preferential treatment.
Regardless, Barcelona are actively in the market for a forward. Even if their own finances permitted it, the club probably wouldn't come back in for Rodrigo. One, the extent of the knee injury that ruled the 28-year-old out of the Valentine's Day clash with Atletico Madrid remains unknown. Two, while Transfermarkt values the player at €50 million, the club stand to lose at least as much in potential revenue by letting him go.
Despite failing to claim all three points at the Mestalla against Atleti, Los Che remain solidly in the Champions League discussion, only two points adrift the Rojiblancos who hold down fourth in the table. Already in the Round of 16 this season, the Bats stand to earn at least €33.9 million [based on 2018/19 prize money distributed] with at least another €10 million to be claimed for making the quarters, same again for the semis and double for the finals. Then there's the matter of qualifying for next year which guarantees another €15-20 million for participating in the group stage, with another €3 million or so for each win and somewhere near a cool million for every draw.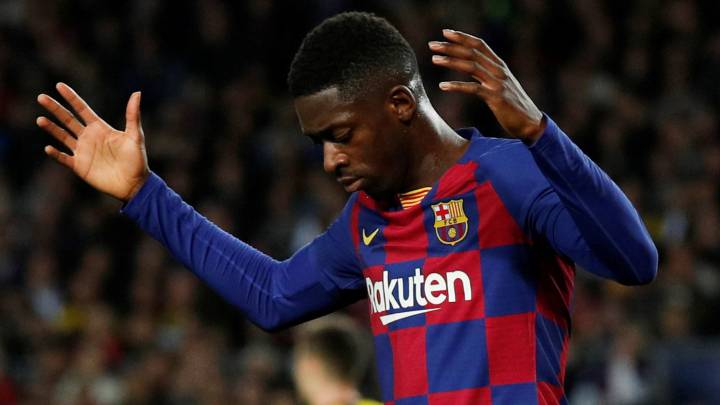 💬 ¦ @
marcelobechler
¦ Barcelona now expects an RFEF notification to be able to hire someone outside the transfer window. That player currently needs to play in Spain or be without a club and could play only in LaLiga.
https://t.co/VVQ4RTW6bi
A windfall anywhere from 80-160% of the player's valuation hangs on whether Rodrigo stays with Valencia. Selling him at market value is at best a break-even proposition whereas keeping him could be very profitable. If pressed, Valencia will only sell for an inflated price. If Barcelona could afford to press, Rodrigo would already be in Catalunya.
A point behind Valencia, expect Real Sociedad to adopt a similarly combative stance towards Barcelona's alleged interest in Willian Jose [€30 million, Transfermarkt]. Realistically, they stand a better chance to qualify for the less lucrative Europa League but the Brazilian and his eight goals nevertheless remain critical to their ambitions. The Catalans will again find themselves paying far over market value for a temporary fix who may make two or three appearances at best.
Last season, after allowing Yerry Mina to sign with Everton, Barca endured a defensive crisis when Samuel Umititi went down. Clement Lenglet and Gerard Pique became the only experienced central defenders in Ernesto Valverde's squad. The club reached out to Valencia who loaned them Colombian Jeisson Murillo. After two La Liga and two Copa del Rey appearances for FCB, Los Che sold him to Sampdoria. Il Blucerchiati then loaned him to Celta Vigo.
With Antoine Griezmann moving into the number nine role in Luis Suarez's absence, his most dangerous position while at Estadio Metropolitano, La Masia product Ansu Fati slots in on the left for new boss Quique Setien. With the Catalan press hounding the club for selling and loaning out academy players to raise funds, giving the 17-year-old every opportunity to shine proves Setien's commitment to the promise of restoring the club ethos.
Renewed commitment to their brand directs Barca towards another Jeisson Murillo-esque signing, acquiring players of the ilk reported by Tom Dutton in the Evening Standard. Real Zaragoza's 22-year-old Luis Suarez fits the supporters' appetite for youth. Real Mallorca's Ante Budimir [28] and Real Betis' Loren Moron [26] are more experienced, plug and play options for the manager. Girona's Cristhian Stuani [33] is a proven finisher but may be past his selling date. All are rated under €5 million by Transfermarkt, low risk, low reward options who can be moved on quickly in the summer.
On Saturday, the club 'auditioned' another candidate in Getafe's Angel Rodriguez. Like Valencia and Sociedad, the other Madrid club remains in the Champions League mix, holding down third place despite their 2-1 defeat at the Camp Nou. Their leading scorer, Angel Rodriguez, makes his living coming off the bench. His goal tally reached 14 in all competitions in the 66th minute at the Camp Nou. Given Rodriguez's age [32], Getafe may be willing to sell their most prolific scorer despite their European prospects. They'll inflate Rodriguez's price but, rated at €7.5 million [TM], he may be just the player the Blaugrana can afford at well over market value.
While La Liga's emergency transfer exemption may be an unwarranted get-out-of-jail-free card for Barcelona, their finances, the available options and the reluctance of more direct rivals to sell combine to make the RFEF's gift to one of its flagship clubs a tempest in a teapot.