Barcelona fans acting like jilted lovers over Neymar, Griezmann
When Manchester United dragged their heels after the summer transfer window opened, supporters erupted. Claiming they'd reached their limit with the club's American owners, fans quickly organized the #GlazersOut campaign.
They garnered support with lies, whipping more passive United fans into a frenzy with memes suggesting the Yanks siphoned billions from the club without backing the managers. Enough people forgot the hundreds of millions paid for Paul Pogba, Romelu Lukaku, Henrikh Mkhitaryan, Fred, Nemanja Matic, Eric Bailly and Victor Lindelof, the hundreds of thousands paid weekly to Alexis Sanchez and remembered Ed Woodward saying United didn't need another centre-half because Chris Smalling and Phil Jones were as good as anyone in a market that included Harry Maguire, Toby Alderweireld and Leonardo Bonucci.
Obviously, that was a very stupid thing to say but Red Devils should have taken a minute to understand where the cheeky little chipmunk with the keys to the vault was coming from. Jose Mourinho was pushing for another signing to shore up his suddenly woeful backline. Meanwhile, the Portuguese feuded with his players like a sumo wrestler at an all you can eat buffet, taking a big bite out of nearly everyone on the menu. His major signings were either on the bench in dismal form or already gone. If you're a millionaire dad, do you keep buying your reckless son new cars when all he does is crash them or do you take a stand?
Now that Mourinho is gone, Ed is working on getting Ole Gunnar Solskjaer that centre-half. Leicester is said to have turned down a £70 million offer for Harry Maguire. The United wheels are grinding too slowly for fans, however. They think teams will quake in their boots and offer up their top stars at Tesco prices if the United honcho makes his demands in a firmer, deeper voice. They fail to understand that television money has levelled the playing field. Smaller clubs won't be so easily bullied now that they have a bit of dosh of their own.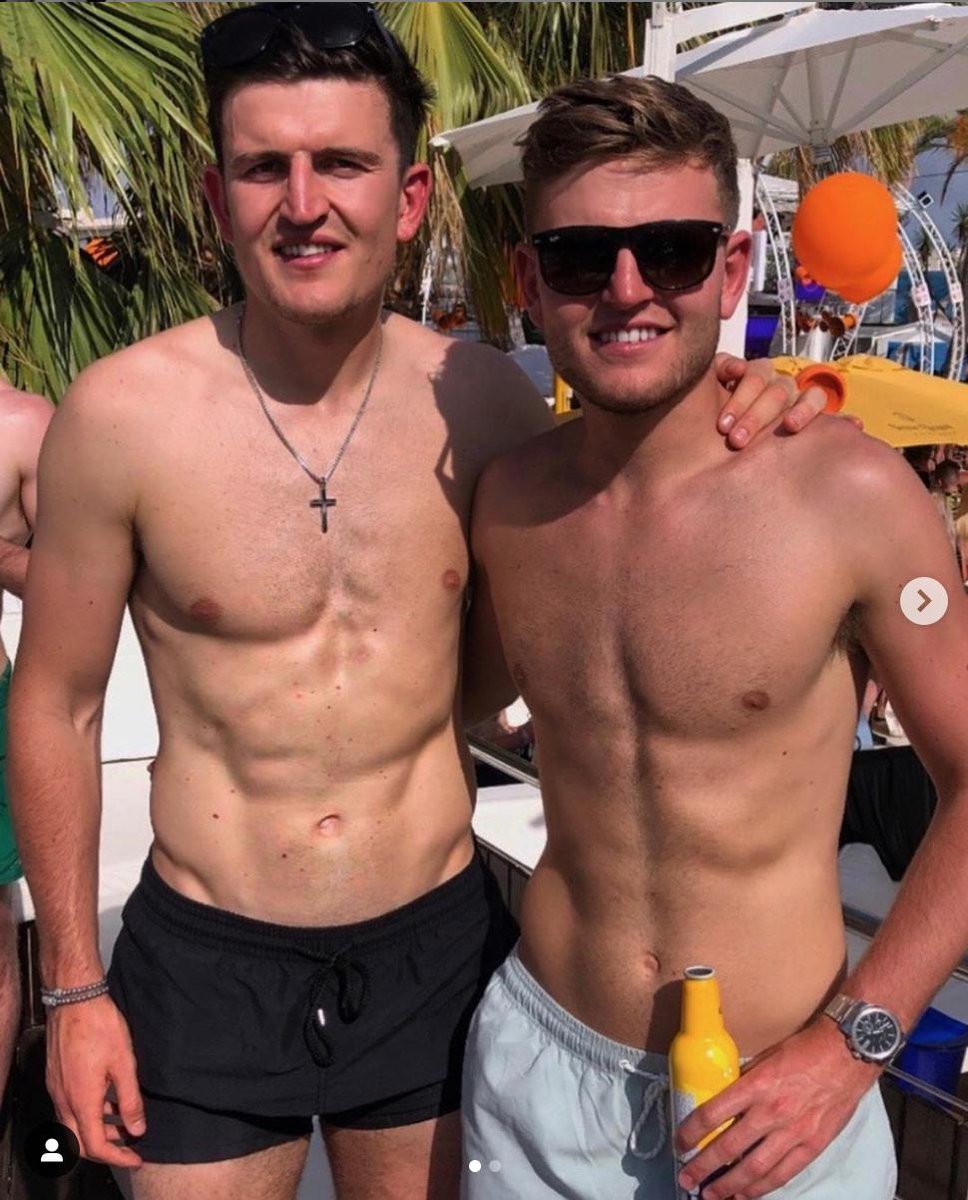 I genuinely think Harry Maguire is unfairly judged because of his head.
Below the neck, that's the body of a lithe, toned, hunky athlete. If that body walked into your hen party to provide some adult frivolity involving whipped cream and a truncheon, you'd be more than happy.
https://t.co/6catSMEIoV
Supporters don't care to remember that it took Manchester City more than a year to pry Riyad Mahrez from the Foxes. It doesn't fit their world view. United faithful are hardly the only hotheads with an inflated opinion of their club's status, however.
While they're trying to rid themselves of owners who don't sign the players they want when they want, their Barcelona counterparts are doing their damnedest to prevent their board from making two major signings. The club has been linked to both Neymar and Antoine Griezmann but the masses aren't having it. It's quite a unique phenomenon when you consider the Blaugrana's current state.
The team hasn't won the Champions League since 2014. In the past two editions, they were ousted after taking three-goal advantages against Roma and Liverpool in first legs at the Nou Camp.
In addition, the roster is ageing. Lionel Messi, Luis Suarez, Gerard Pique and recent signing Arturo Vidal are all 32. Ivan Rakitic is 31. Sergio Busquets is only 30 although he's been around so long and moves so slowly it seems like he should be 34 or 35.
Finally, recent transfers haven't worked out that well.
People couldn't believe they even signed Paulinho from the Chinese Super League, let alone that the Brazilian shocked them with a decent campaign then decided to return to the Far East. It was either the food or the fact that supporters in that part of the world actually support their players rather than trying to tear them down.
Vidal was brought in to add some grit to the side but Liverpool glossed him up like Dior Rouge Dior in 999 Satin, ranked by Cosmo as the fourth best Red lipstick of "all damn time".
Don't ask me how I knew that. You wouldn't believe me if I told you I just Googled it. I know you want to click on the link, though. Go ahead. I'll wait.
Where were we? Oh, right. Worst are the two signings who were brought in for Neymar when he de-Camped to Paris. Philippe Coutinho and Ousmane Dembele haven't provided a decent return on their combined €285 million fee.
Fans want both players gone but under no circumstances desire either Neymar's return or Griezmann's arrival. Never mind that the pair are the best wingers on the market and would instantly transform Barca back into a side that other elite teams will respect. Before the two capitulations to the Giallorossi and Merseysiders, it was Neymar who engineered La Remontada, in which the Catalans sensationally turned around their own three-goal deficit to Paris Saint-Germain in the Champions League.
Messi had little to do with that fight-back yet fans took to social media to caution Neymar to remember his place. They were subsequently outraged when he decided it was elsewhere. Nor are they ready to forgive or forget the Brazilian's infidelity however much they need him. Luis Suarez is turning into Barca's version of Karim Benzema. Dembele would rather play video games. Coutinho looks about as involved as a DMV clerk on his lunch break. Even so, Neymar remains persona non grata.
The beef with Griezmann is personal as well. Barcelona pursued him last summer but he made a big Lebron-esque show of his "Decision" to remain with Atletico Madrid. In their minds, the Frenchman should have been a cheap tramp willing to dump his old club for them because they are bigger, stronger and the Catalan accent is a little sexier than the Castilian. Instead, he showed a moment's worth of class by staying in a committed relationship, refusing to desert Atleti while she was under a transfer ban. Now that she's back on her feet, Griezmann put himself on the market and the Cules don't want to hear it. Boy, please. You had your chance. Turns out everyone's a diva.
The Barcelona board is doing their best to ignore supporters' outrage, figuring they'll get over it when the players arrive and start pumping in goals and assists from either side of Messi. That said, they've used the fans' outrage to drive down the price for both players.
Neymar is also less welcome at the Parc des Princes since fighting with fans after losing the Coupe de France, becoming embroiled in a rape scandal and watching Frenchman Kylian Mbappe take over Les Parisiens while he was injured. With Barcelona playing hard to get, the Ligue 1 champions reportedly slashed their asking price for the injured Selecao to well below the €222 million they paid two seasons ago.
Other reports suggest Barcelona will send Nelson Semedo to Atletico in order to reduce the €120 million price tag on Griezmann.
If the rumours are true, acquiring the two players suddenly becomes affordable for the Blaugrana. The only concern for FCB president Josep Maria Bartomeu is whether the fans will forgive him for ignoring their wishes when the socio elections roll around in 2021. A Champions League title with the two stars firing the key salvos may earn their forgiveness. Not much else will.