Xavi already crafting his management legend
Xavi's managerial career is off to a good start at Al Sadd.
Xavi Hernandez. The Catalan-born made the midfield his own personal possession throughout his Barcelona days. He personified tika-taka. In his own words, "I look for spaces. All-day. I'm always looking." Consistently finding them, he helped the Blaugrana, Spain then Al-Sadd to silverware.
Xavi's playing career stands tall with 1,135 officially FIFA recognised matches, the most of any outfield player in history and the third overall. Now aged 39, the spaces he seeks are somewhat different. Rather than the pitch, he's on the sidelines, taking his first steps into management.
Former professional footballers are not always good managers. Many turn out to be woeful. Some tarnish their relationship with their most cherished club. Clarence Seedorf at AC Milan and Kenny Dalglish's second stint at Liverpool are examples. A Chelsea icon, Frank Lampard might not be as welcome at Stamford Bridge come the season's end.
Xavi, disregarding such advise, took the helm of a club for which he won multiple titles as a player. That's right, Al-Sadd.
Based in Qatar at the Jassim bin Hamad Stadium, Al-Sadd longed for a title over the last five years. They had consistently finished either second or third. Jesualdo Ferreira finally delivered in 2018/19, winning the Qatar Stars League in his fourth year in charge. At 73, the average high temperatures probably weren't too comfortable for him. He decided to leave on a high.
With a vacancy made, Xavi again looked for space, found it, and took the position in July. The Qatari season operates much like European systems, beginning in autumn to close in the spring. Overseeing two league games to date, he's won both, 4-1 then 7-1.
Xavi's managerial prowess is more apparent in the Asian Champions League. Unlike the Qatari competition, the ACL follows a winter campaign much like the J League/K League/Scandinavian schedule. This means continental football eats ever so slightly into Qatar's domestic off-season, creating a long wait between matchdays with no regular consistency.
Considering the seasonal overlap, Xavi arrived in time for the ACL's round of 16. Al-Sadd were pitted against fellow Qatari outfit, Al-Duhail. The first leg finished 1-1. Learning quickly, the former Spain international completely changed his team's shape in less than a week for the return clash.
A 4-2-3-1 formation barely resembles a 3-4-2-1, yet Xavi opted for this transition with the exact same line-up. Similar to a software wizard manipulating a hard drive, he installed a new program into Al Sadd. It produced great success as they won 3-1. As Radiohead sang, OK Computer.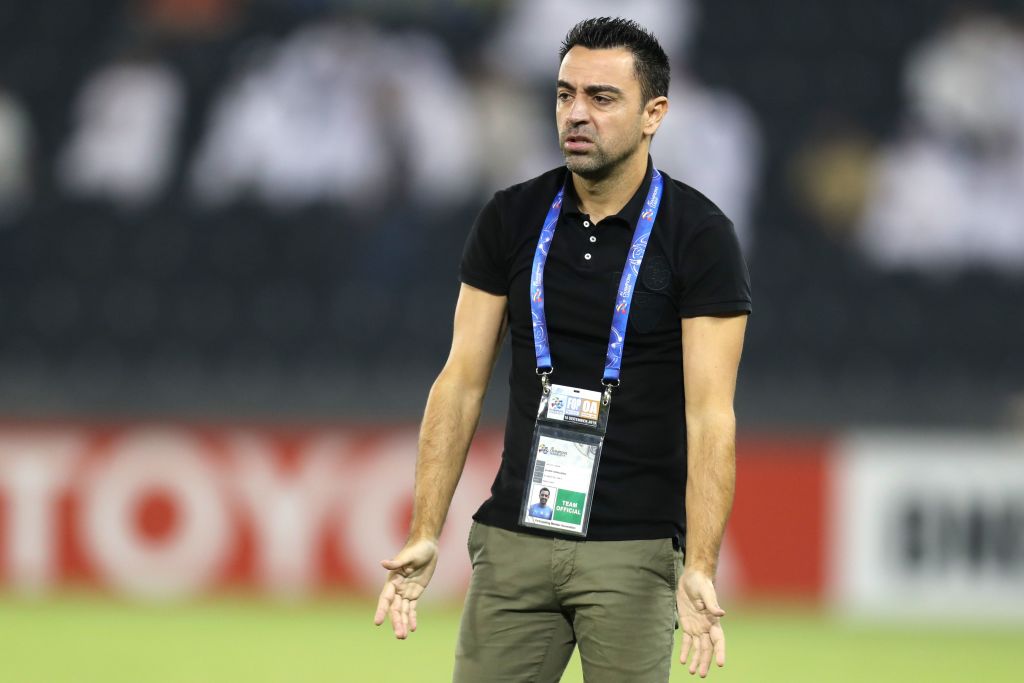 Xavi may have bossed the midfield but he is far from a tyrant in character. His calm, collected demeanour allows him to make bonds easily. This skill is needed to manage professional players, as well as to attract fresh faces to a club. Al Sadd secured Nam Tae-hee from Al Duhail. The South Korean has been pivotal to the rotational midfield system. His gaffer's convinced him to take a more centralised position.
Al Sadd's next tie was further afield - a trip to Riyadh to take on Saudi Arabian champions, Al Nassr. In the first leg, it was apparent the opposition's box threat was too much for Xavi's three-man defence. His side lost, 2-1.
Determined to progress, Xavi reverted to 4-2-3-1. It takes administrational rights and character to command a team to break their norm. Now an uninstall wizard, the boss restored his Al Sadd PC to factory settings. He dug up the recycle bin in such a way which won the tie 4-3 on aggregate. Acting as his general, Nam Tae-hee assisted two of the three goals scored that day.
Having already won a trophy as Al Sadd manager, Qatar's Sheikh Jassim Cup, remained unbeaten in the league and reached the ACL's semi-finals, Xavi's managerial career is off to an excellent start. He is poised to go from strength to strength.
At this rate, it's only a matter of time before Xavi returns to Barcelona. That's a sentiment which his former teammate, Samuel Eto'o agreed with when interviewed recently.