Are De Jong, Arthur double-teaming Busquets out of Barca lineup?
The young duo are driving the Blaugrana back up the La Liga table
Is the sun finally setting on Sergio Busquets? The defensive midfielder is the last survivor from the midfield trio who carved out a golden era at the Nou Camp. Andres Iniesta is playing in Japan. Xavi Hernandez is managing in Qatar. Barcelona fans needn't worry about darkness settling over Catalunya. Frenkie de Jong and Arthur Melo are poised to deliver a new dawn. The pair exemplifies the Barca way.
Busquets can still dictate matches from the base of midfield but not at the same tempo. Once press-resistant, he can now be harried off the ball. Peekaboo was never the fastest but he made up for it with other skills: positioning, anticipation, timing, vision. Those attributes remain but can no longer hide his shortcomings. The Spaniard is too slow to react, especially in transition. Games run past him. The mind is willing; the body is waving to the bench.
Not to worry. Ernesto Valverde has options. Frenkie de Jong is settling nicely into his new digs. Arthur Melo arrived last season and needed more time but he too is showing his best side. Last year, he hoped to be thrown into the fray on the hour. Now, he features for the full 90. The duo have again made the midfield Barcelona's strength.
If Valverde is to return the Blaugrana to Europe's pinnacle, he must do it with a double pivot. As unpleasant as the news might be for Busquets, the manager lacks the personnel suitable for the 4-3-3.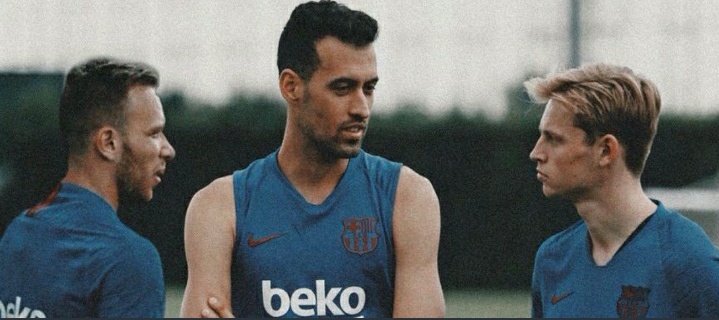 Frenkie De Jong já declarou meses atrás sobre substituir o Busquets nos próximos anos.
O próprio Busquets já declarou que pretende jogar menos jogos.
Arthur e De Jong são jogadores para no mínimo 8/10 de titularidade.
https://t.co/ol9352rbev
De Jong's best season at Ajax came last year in a 4-2-3-1, partnered by Lasse Schone. Arthur's best season at Gremio also came in a 4-2-3-1. Michel was his running mate. In the double pivot, both can take possession from the centre-backs. Both excel at transition and build-up. The Dutchman offers composure and control to break high presses. The Brazilian has excellent vision and technique in reading defences and picking out the perfect pass.
In addition, Arthur beefed up and adjusted his attitude over the summer. His performance levels have risen. Barcelona haven't lost with him in the lineup this term. He registers 1.6 key passes per La liga 90 this season, up from 0.5 last season. End product? The Barca #8 already has two goals and three assists in 5 appearances. In 2018/19, he recorded a single assist.
Meanwhile, De Jong has completed the second most dribbles [21] in the squad. It's no shame being second to Lionel Messi [27] in anything. The Dutchman also has a 93% pass accuracy and been directly involved in two goals. He is registering one key pass per game but his biggest attribute is the one that draws comparisons to Busquets. It's not that he buys fouls from match officials, although he does. Rather, it's how he dictates tempo throughout a match. That quality remains one of the few intangibles statistical analysis is yet to capture. Like Busquets, De Jong has mastered it, however.
As a duo, De Jong and Arthur's connection seems to grow stronger every game. They work hard during the press and make the ugly tackle when need be. They make 9.98 and 7.36 progressive passes per 90 respectively. The league average is 6.657. Their forward passing accuracy is 90% and 84%. Like all the best players, they make it seem easy.
Valverde, for all his wrongs, has done extremely well with Busquets, slowly transitioning him out. The Spaniard limits Busi's overall minutes while starting him in the majority of games. Busquets simply cannot match the levels of intensity in big matches. Arthur and de Jong can. The switch to the 4-2-3-1 looks to be perfect, improving the squad's balance. Ivan Rakitic and Busquets can be used as rotation options for the double pivot along with Carlos Alena and Riqui Puig. All that's left is to become kings of Europe again.
[Data from WhoScored and Wyscout via @Blindside_Run]