Bayern Munich have a score to settle with Real Madrid
The Champions League semifinal draw took place on Friday in Nyon, Switzerland. The two favourites for the final were drawn together. Real Madrid and Bayern Munich meet yet again, following last season's quarterfinal in which Real progressed under controversial circumstances.
Although Cristiano Ronaldo is in torrid form at the moment, Los Blancos have been inconsistent this campaign. It wouldn't be a shock for Bayern to slip past them and book a place in Kyiv. Die Roten also struggled early under Carlo Ancelotti but righted the ship much quicker when Jupp Heynckes took charge. The Bavarians are playing beautiful football.
Is it possible the wily old manager is on course for another treble, picking up where he left off in 2013? Here are three reasons why Bayern have extra incentive in this tie.
Last season's Champions League
In 2017, Madrid and Bayern were drawn together in the quarterfinal. A controversial decision to send off combative midfielder Javi Martinez changed the fixture's complexion. Real Madrid regrouped, pressed their advantage, and defeated the Bavarians 2-1 on the night. From then, it was a lost cause.
In the reverse fixture, Bayern were leading 2-1 when Arturo Vidal was sent off for two bookable offences. Naturally, Ronaldo stepped up, scoring twice before Marco Asensio wrapped it up. Bayern will be out to avenge those twin 'injustices'.
James Rodriguez
The Colombian midfielder was a peripheral figure last season at the Santiago Bernabeu. Persistent lobbying won him a loan move to the Allianz Arena for two years. Nothing in the agreement prevents him playing against the Merengues in the tie.
In his three years in Spain, James wasn't a fan favourite. Perhaps they expected too much from the World Cup Golden Boot winner. He has rebuilt his career in Munich and become an integral member of Heynckes' team.
Eliminating his parent club would not only provide personal satisfaction, it may clinch a permanent deal with his new side. Certainly, Zinedine Zidane would have to regret his choice. While James enjoys his time in Germany, the Frenchman has struggled to remedy an inconsistent attack. Everyone likes to say "I told you so." For James Rodriguez, there would be no sweeter triumph.
The Allianz Arena humiliation
In 2013/14, Bayern thought they were embarking on a spell of European dominance. Heynckes had won the treble. Pep Guardiola had assumed command. How could they not continue?
Real Madrid arrived at the Allianz Arena holding a 1-0 advantage from the first leg. The second leg is one the Bayern faithful want to forget. Bayern lost 4-0 on the night. Madrid played some of the best counter-attacking football ever seen in the European game. It is past time die Roten returned the favour.
Setting the stage
The semifinal promises to be very interesting. Zidane's side are intent on matching Bayern and Ajax as three-time-on-the-trot European Cup winners. The German champions have too much unsettled business with the Madridistas, however. Al the pain inflicted over the past few years can only be healed by winning this tie.
Naturally, Real neither cares nor understands. In the six previous ties between the two, Bayern have won four. To Los Blancos, their two victories have only begun to balance the ledger. It may not be a final, but in a way that's a good thing. Fans can watch these two giants square off twice.

Enjoy the carnage.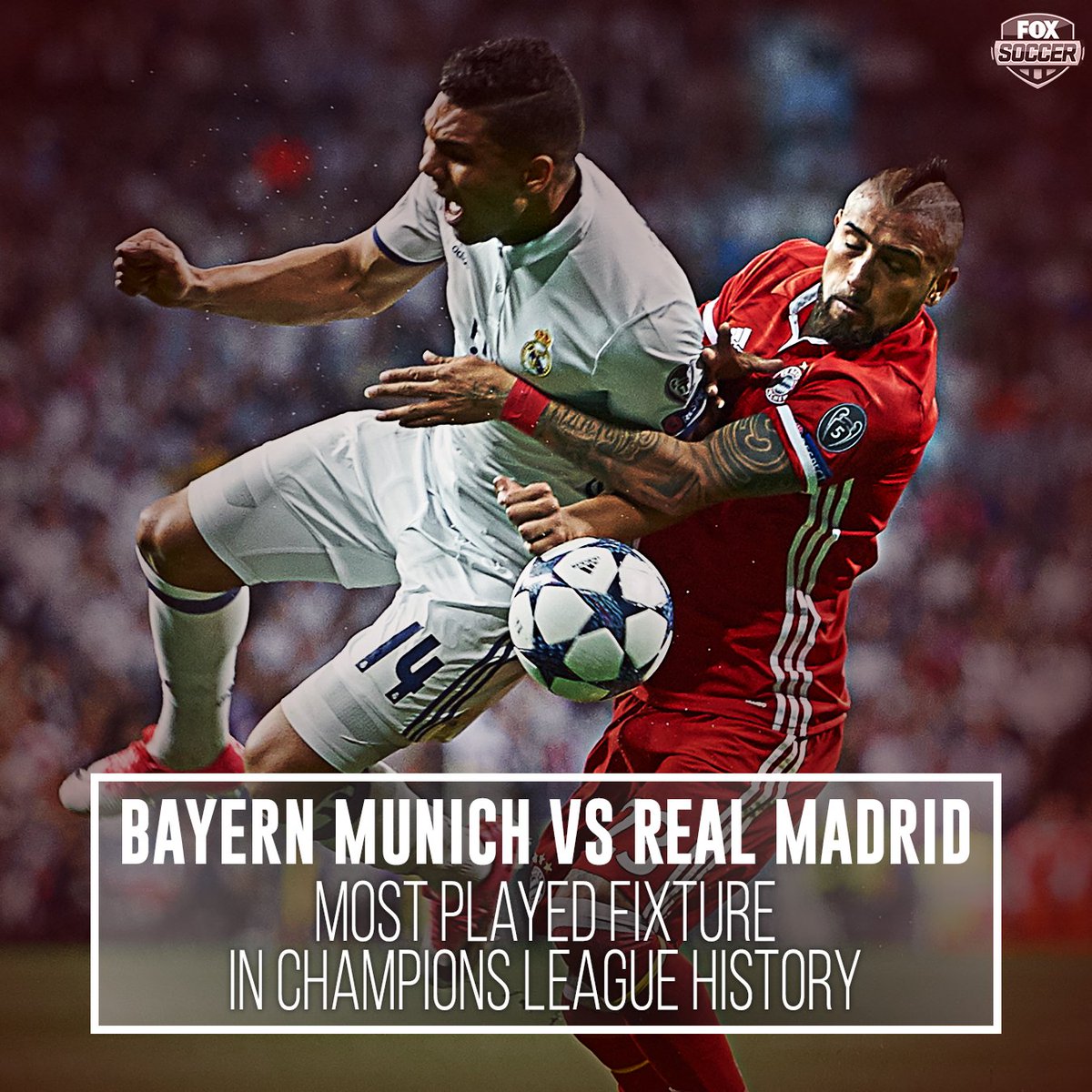 👀 It wouldn't be Champions League without the 'European Clasico.'
Bayern and Real Madrid will meet for a record 25th and 26th time!
https://t.co/saEdZfn8Oh