Bernardo Silva: Manchester City's unheralded genius
Bernardo Silva approaches undroppable status at Manchester City.
Background Image: Jonathan Palombo, CC by 2.0
There's a significant change in Manchester City's attack since strolling to the Premier League last season. Pep Guardiola's side smashed 106 goals in their title season and aren't far off that pace this campaign. In Europe, they're miles beyond the second-most prolific side, Paris Saint-Germain. All that despite Kevin de Bruyne's extended absence. How do they manage? The Citizens have a secret charm in Bernardo Silva. The diminutive playmaker midfielder could be the silver-lining at the end of the campaign.
Bernardo had a silvery smile when he landed in Manchester Airport from Ibiza in 2017. He had to cut short his holiday to complete the £43 million move from Monaco. His new employers were delighted to see him in such a joyous mood but questioned his fashion choice.
Bernardo underestimated warnings about British weather.
"People were telling me that Manchester is cold but I thought, 'Come on, it will at all right in July,' but when I arrived it was raining and windy. I wore my pink shorts — never again."
Silva's first experience says it all. A big-money buy who took everything for granted, including the potential competition in Pep Guardiola's team. You could forgive his ignorance. He was part of that young, talented AS Monaco side which swept City out of the Champions League some months before.
Life at the Etihad was similar to the weather conditions; severe and unwelcoming with the unforgiving perfectionist Guardiola as a pilot. In addition, the Premier League media is littered with naysayers waiting to pounce on every single error. They piled on the Portuguese midfielder.
He struggled to adjust. The midfielder was dazed by the hurly-burly of the Premier League. At 5 ft 8, he lacked the requisite physical conditions. As a clean midfielder, he was too decent to lunge into tackles. He would think twice about putting his foot in and was regularly knocked off the ball.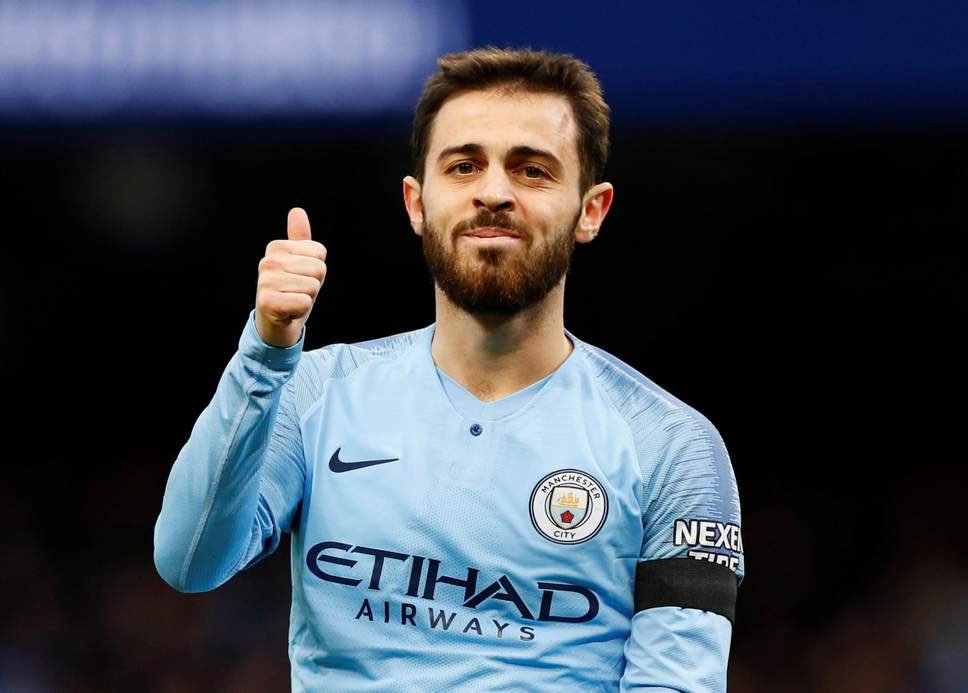 Pep has declared Bernardo Silva 'undroppable' in our pursuit for the title.
"To drop Bernardo right now is almost impossible. It's him and 10 more players right now. I don't know what happens at the end, but for what he's done so far - every single game he's been perfect." #
MCFC
https://t.co/CjG4Ul8biB
Despite minimal assistance from the Portuguese, City still cruised to the title. Silva was shunted to the end of the bench, watching as a procession of attacking talent that included Ilkay Gundogan, Leroy Sane, Gabriel Jesus and finally Riyad Mahrez, walked through the door to the front of the queue. This season, he overcame the crowd and asserted himelf.
Not so extolled as Sergio Aguero and Raheem Sterling, the Portuguese is quietly putting up consistent displays. Despite Guardiola's tinkering, Bernando still found his way into the starting line-up on 23 occasions in the league. He's been directly involved in 14 strikes (eight goals, six assists), more than the entirety of last season.
Bernardo is settling into a central role after initially excelling on the flanks. Sometimes, he is forced to shuttle through both positions to accommodate his Spanish namesake David and Kevin de Bruyne. No matter. He's proving equally adept at creating and finishing chances. A world-class performer, Silva is adding industry off the ball to this tool kit.
He is the prototype Guardiola player: a diminutive, quick thinker, focused and supremely fit. He loses the ball as infrequently as Xavi and is blessed with the close control of Andres Iniesta.
Silva's sudden physical prowess hasn't gone unnoticed. In the league this season, he's covered around 150 miles - the equivalent of running from Manchester to Reading. In his 27 appearances in the both Premier and Champions Leagues, Silva has run a remarkable 283.9 kilometres (176.4 miles). Frailty no longer applies.
Silva's contribution to his team will be key to City retaining the Premier League. If they can, maybe he'll trot out the pink shorts on the winner's podium.