Bernardo Silva: Manchester City's unheralded genius
As the career of one Silva begins to wind down at City, another is developing nicely...
Background image Via: Wikimedia Commons/Ed Higgins. Used under Creative Commons.
Back in 2017's summer, Manchester City had begun to make waves. Pep Guardiola's first twelve months at The Etihad wasn't without struggle, but the Catalonian has always been a master when it comes to identifying problems within his squads, then fixing them almost instantly.
After being dumped from the Champions League by AS Monaco just a few months previous, Guardiola chose to undertake a mini-raid on the then-Ligue 1 victors. Benjamin Mendy was acquired in a £50million+ move, while Bernardo Silva also made the switch to Eastlands. Although immensely talented, eyebrows were raised about the Portuguese's stature and lack of physicality. It's fair to say those concerns are no longer valid.
Two years on, the 24-year-old is amongst the best players on the planet. Not only has Silva been included in the PFA Team of the Year, he's also in the final six contenders in both the PFA Player and Young of the Year awards. Although it'll be tough to beat his teammate Raheem Sterling in both categories, the attacker just isn't getting the recognition that his stellar season deserves.
First of all, it's worth noting that Silva is one of the reasons why the mega-talented Leroy Sane has often been stuck on the star-studded City bench for large portions of this season. That alone tells you everything you need to know about just how well City's #20 is performing at the current time. Then you look at the stats. Thirteen goals and eleven assists across all competitions sums him up perfectly. He's a complete player that can do it all.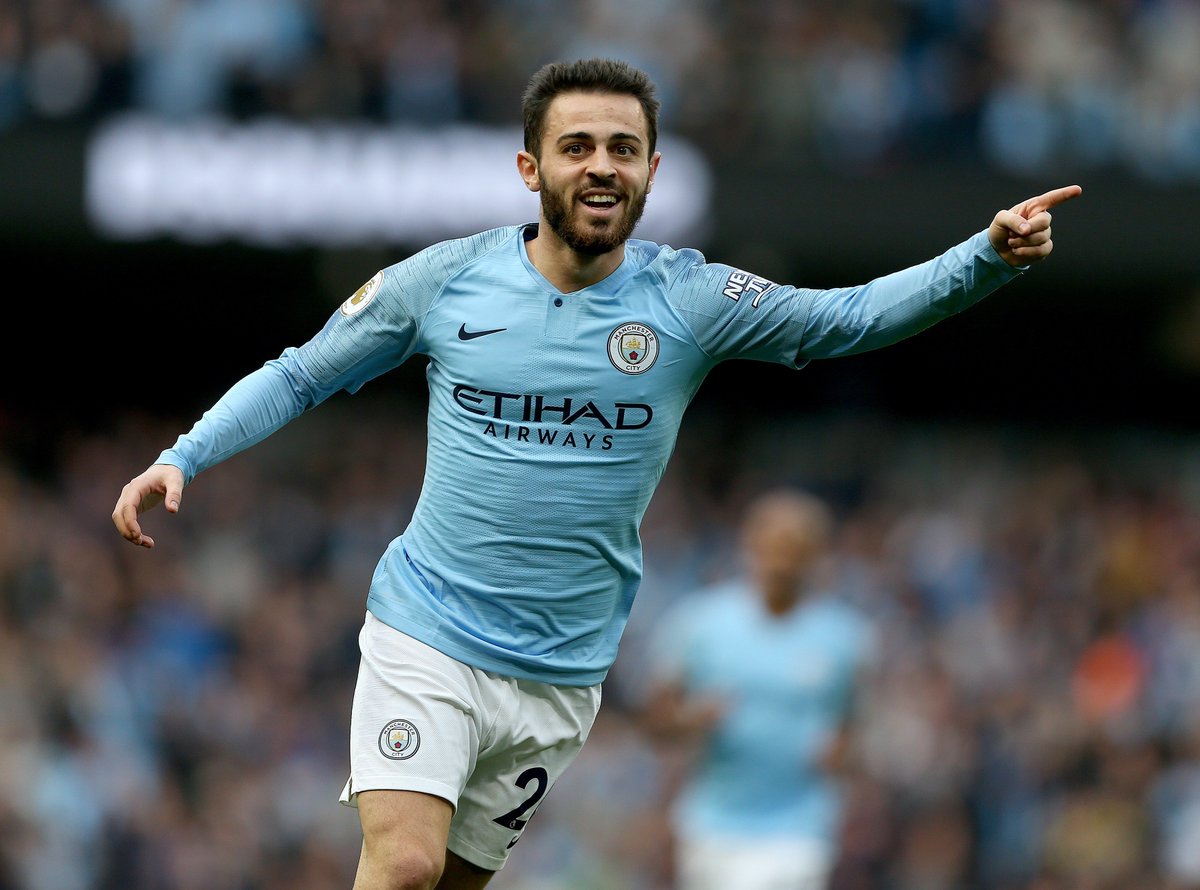 Bernardo Silva this season vs the 'Top Six' opponents in all competitions:
Vs Chelsea: 🅰️
vs Liverpool: 🅰️
vs Arsenal: ⚽️
vs Man United: ⚽️🅰️🅰️⭐️⭐️
vs Spurs: ⚽️⭐️
His overall tally in all competitions:
13 ⚽️
11 🅰️
No words... 🔥
https://t.co/eaAlwznP5s
Just look at his goal in the Manchester derby. The pressure was building, United were actually playing pretty well, it was going to take something special to break the deadlock in a close game. Up steps Silva, who turns Shaw inside-out before firing early to leave David de Gea flat-footed in the Red Devils goal. It sent the City fans into mayhem, from that point forward the game became yet another routine victory for Guardiola at Old Trafford.
Silva stepped up when his team needed him the most. He's done that on several occasions during games against the big-boys. That's what makes him such a trustworthy player. He doesn't wilt under pressure, instead, he thrives and performs even better.
It's fitting that his namesake, David Silva, now 33, is slowly being used more sparingly with each passing campaign. Don't get me wrong, the Spaniard is still a world-class individual who can single-handedly influence a football match, but Guardiola already has his like-for-like replacement at the club. Dare I say it, Bernardo has the potential to become an ever greater City legend, although it is early days...
He's not just about goals, either. It's the insane vision followed by the sheer talent to execute an inch-perfect pass. Silva is also an excellent reader of the game. Defensively he works hard, and although Guardiola won't be best pleased with me saying it, but Bernardo is another master of the fouling dark arts. He's willing to take a yellow card for the team in order to stop an opposing counter-attack. He'll also throw his weight around in a physical one-on-one battle, too.
Sterling, Sergio Aguero and Kevin de Bruyne will always steal the headlines, but make no mistake about it, Bernardo Silva is just as important to this City team as those three. It's time to put massive respect on his name.