Billericay Town: A rising force or just a celebrity toy?
The signing of Jamie O'Hara has brought Billericay Town to national attention recently. Owner Glenn Tamplin's statement of intent regarding his investment in the club has given them what promises to be fleeting fame.
Non-league club owners stating that they think they can be a Football League club in the future is nothing new and many may guffaw at Tamplin's ambition. However, put aside the marquee signings of ex-Premiership players Jamie O'Hara and Paul Konchesky and they have the squad to at least go some way to delivering on Tamplin's promises.
This is not to paint Billericay Town as the next Fleetwood, not by any means and to be fair any derision is showed towards the club can be considered deserved when a reality television actor is heavily rumoured to be investing in the club and becoming a club director. However, if you give the cold-shoulder to the media profile this seventh tier club are building for themselves, they have built a squad of good quality.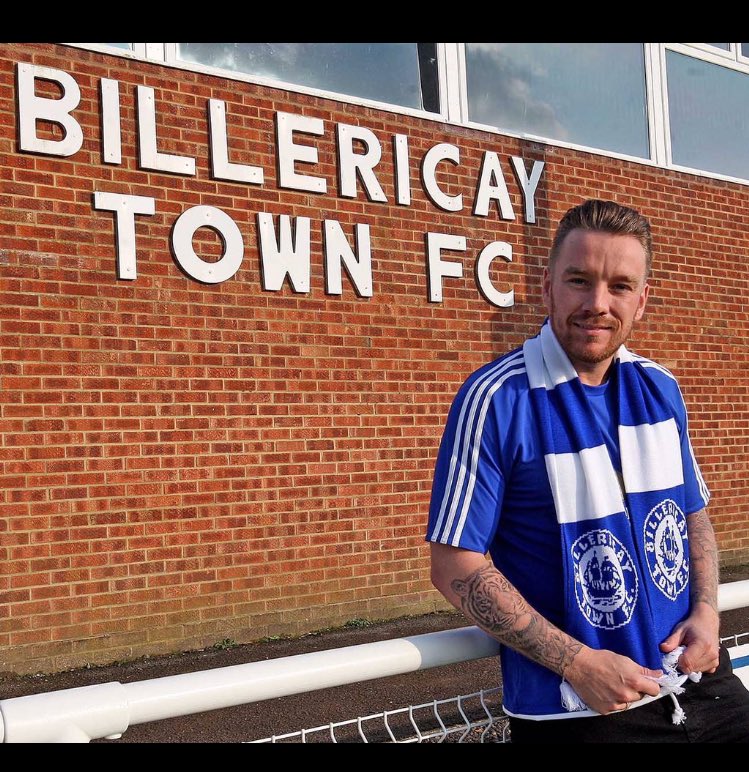 New Signings


Although it's only in the past few weeks that Billericay Town has gained some column inches, they have been making good signings in the past few weeks. Eyebrows among Non-League circles were raised when they captured Bromley Captain Rob Swaine. He was one of the best players in the Conference South until he led to Bromley to promotion in 2015 and since then he has helped them consolidate themselves in the fifth tier of English football.

In addition, they have recruited two players who I used to watch regularly as a supporter in Adam Cunnington and Billy Bricknell. Adam Cunnington is perhaps the more familiar name to you; he is the archetypal number 9. Not blessed with great pace but bullish in the air and strong enough to make the centre-halves entrusted with marking him resent seeing his name on a teamsheet. Another player that was previously plying his trade higher before joining the club, he was an addition that, once again, intrigued the football pundits that pay close attention to the lower echelons of English football. He was also captured from mid-table National League side Bromley.

Billy Bricknell, as good a coup as he was, is too much of a journeyman to be able to provoke any surprise with the moves he makes and indeed he dropped to the Isthmian Premier a couple of years ago when he joined Maidstone United. A player that has always maintained an impressive goal-scoring record, he could be best described as a poacher who's best quality is finishing. The David Nugent of Non-league one may say; not given much of an opportunity at a higher level, but guarantees 15-20 goals a season at the Conference South & Isthmian Premier levels.

Matt Johnson also played for my club and although never spectacular, he could play anywhere across the midfield and even filled in at full-back. A brawny midfielder with a long throw, Matt Johnson came to attention within Non-League for his performances with Bishop Stortford during the 2013/14 season and is a player that can do a solid job in a team and clearly has decent leadership qualities having been Captain at two of his last three clubs.

The experience of Alan Julian between the sticks, again recruited from Bromley adds good experience to the team, both in the Football League and more recently with a series of Non-League teams. In addition, Billericay Town brought in one of the Conference South's most prolific players, Jake Robinson. 25 league goals for Hemel Hempstead this season, he is another that is a key coup.

Joe Ellul, who put in a series of impressive performances for recently promoted Conference South side East Thurrock United earlier in the season, is another promising addition and one who is familiar with the club having played for them before choosing to sign for John Coventry's East Thurrock side. Lewis Taafe impressed with Concord Rangers before joining Billericay Town from Hemel Hempstead. Another player that has impressed in the sixth tier of football and made the decision to drop a division.

Glenn Tamplin, who has admitted to not knowing a lot about Non-League football, is listed as joint-manager on the club website alongside ex-Aveley manager Justin Gardener. One would say that it is the latter that is in charge of the more low-key additions to the Ryman Premier League team. If you take out the lucrative additions of O'Hara and Konchesky, they are building not so much of a dream team, but certainly a side that, on paper, could give many teams in Non-League football a run for their money.


The Future


Indeed, Billericay are creeping closer to the playoff places and most recently beat Dulwich Hamlet, who have built up a decent profile for themselves for their hipster-esque image, 3-0. There is no doubt that they have built themselves a squad capable of achieving success, whether or not that starts this season.

Although, it seems somewhat churlish to be dissecting the individual qualities of this club, for, as it always is in football, it will be their performances as a team that will decide whether Tamplin's ambitions can be matched in reality. Perhaps the fact that many of these additions have played together before at the likes of Bromley and Ebbsfleet will aid the cohesion of the squad. Indeed the Essex-based side have won four of their last five league games, keeping clean sheets in all of those victories, so their prudent recruiting appears to be paying off already.

Unless Tamplin brings in any other marquee signings, it is likely that 'Ricay's 15 minutes of fame may have come to an end. Although whether or not they earn a playoff place this season, their form suggests that probably will be involved in the promotion shake-up. Billericay Town have the potential to be a Non-League force. Probably not with the same fervour Fleetwood did as they ploughed through the pyramid, but certainly match the comparatively modest exploits of the Bromley's or the Dover's that have been steadfast in the lower leagues and now compete in the highest tier of Non-League football and have rubbed shoulders with clubs of Football League pedigree.