Why Billy Gilmour has probably heard Gerry Rafferty
While barely out of his teens, the young Scot understands what it's like to be stuck in the middle.
There's a saying: Big money equals big problems. Anyone with a capitalist bent will laugh at that but it's true. Think about all the grief UEFA's top clubs faced when they attempted to do as they wished with their assets. The European Super League's lifespan barely exceeded that of a mayfly after the dozen billionaires involved in its inception were immediately knocked back into line immediately by a surge of supporters' outrage.
Similarly, big clubs tend to have big problems when it comes to expectations in the transfer market.
Manchester United just spent several months negotiating with Borussia Dortmund over Jadon Sancho's £73 million transfer and before they do it all again next season with Erling Haaland, the Stretford End expects them to land Raphael Varane and Declan Rice before this window closes.
Meanwhile, Barcelona are in penny-pinching mode. Newly elected Blaugrana president Joan Laporta cannot raise funds to re-sign Lionel Messi under La Liga Financial Fair Play regulations because no buyers are even interested in kicking the tyres of the 'clunkers' on which his predecessors overpaid in nine-figure terms, namely Philippe Coutinho and Ousmane Dembele at £121.5 million each and Antoine Griezmann at £108 million. The Catalans did manage to sign Sergio Aguero and Memphis Depay on free transfers but lost out on Georginio Wijnaldum who clearly preferred how Paris Saint-Germain ran their operation.
The fact is that having more money than the deity of your choice can be equally stressful [in its own fashion] as living from pay packet to pay packet. You might think you'd rather have all that dosh but there are moments in every day when the likes of the Glazers, Stan Kroenke and Roman Abramovich wish their problems were just making the rent, beating traffic and not finding a long line at the curry takeout after eight hours spent inside a cramped cubicle staring at a flickering monitor. That life seems so much easier to them. Believe it or not, the grass is always greener for both sides and no signing is ever enough.
The Scottish singer Gerry Rafferty put it so well back in the day when he sang Stuck in the Middle with You. At the same time, he missed the point a bit. Stuck in the middle might just be the place to be.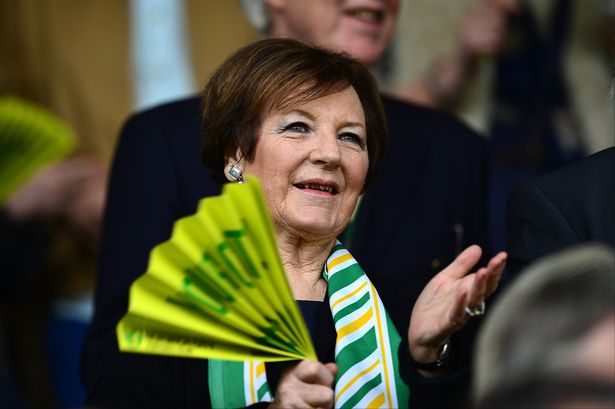 Love seeing that Delia Smith had dinner with Billy Gilmour to welcome him and tell him more about the club, you won't see many other owners doing that👏 #
ncfc
https://t.co/O1IR66h4Q0
Look at how Norwich and Leicester City go about their business.
In the case of the Canaries, another ditty from that era applies. Whether you prefer the Beatles' version or Joe Cocker's, Norwich owner Delia Smith and manager Daniel Farke need a little help from their friends to fare better in the top flight. In that regard, being good mates with Chelsea boss Thomas Tuchel paid off for the German, enabling him to procure young midfielder Billy Gilmour on loan for the coming Premier League season. In that Euro group stage clash with England before he discovered he'd come down with the 'Rona, the diminutive Scot proved he'll only suffer from sitting behind Jorginho and N'Golo Kante any longer at Stamford Bridge. Chelsea want him to develop further while Norwich hope to give a better showing in their Premier League return. Thus the 20-year-old with the bushy eyebrows and peach fuzz around the chin will play regularly at Carrow Road in 2021/22.
Leicester's Thai owners can afford a few more niceties than Delia and partner Michael Wynne-Jones although they fall short of the Mansours and FSGs of the world. With that in mind, they make astute investments such as Kante whom they sold onto Chelsea and Wilfred Ndidi whom they kept. As well, they took Kelechi Iheanacho off Manchester City's hands and patiently waited a season or three for him to come good. Now, Brendan Rodgers has acquired holding mid Boubakary Samare from surprise Ligue 1 champions Lille LOSC and centre forward Patson Daka from Bundesliga runners-up RB Leipzig for a combined £45 million. After faltering at the final hurdle in two Premier League seasons running, the Northern Irishman will have another go with a slightly stronger squad.
Huh. Maybe having more money than you know what to do with isn't such a compliment after all.
[note: all transfer figures obtained from Transfermarkt.co.uk]