Birmingham City Football Club: St Andrew's' thick fog of gloom
A thick fog of gloom shrouds St. Andrew's. It's not clear when, if ever, it will clear. It began to form when Gary Rowett was fired as manager and Gianfranco Zola was hired as their new boss.

This quick free-fall has also coincided with Rowett's astonishing sacking – and the bewildering appointment of Zola. Less than 24 hours after Rowett guided The Blues to their sixth league home win of the season, he was suddenly fired which obviously raised some questions.

Confusion reigned. Mystery developed. The fog formed. Zola hosted Brighton in his first match. Blues lost – after Glenn Murray's last-gasp goal.
A new boss can be forgiven an opening defeat to an in-form side, especially after a last-minute winner. However Rowett had gone, more than 15,000 fans left St Andrews with faces tempered like steel. The worst was feared.

The worst arrived. A 1-0 loss at Derby County, another in-form side, saw City sink further away from the playoffs. Zola took his side to Barnsley days later – and narrowly avoided a third loss. His team scrambled back from two goals down to rescue something.

Birmingham lost 3-1 at home to Brentford, and the fog thickened. So much so that only a mere 8,000 home fans grimaced through the thick mask of despair to see the 1-1 draw against Newcastle in the FA Cup. A replay and a long trip to the North-East are the last things City need.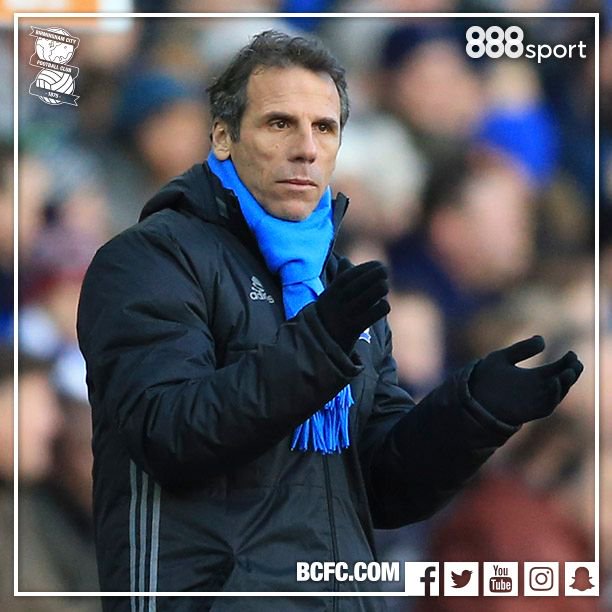 The league table doesn't lie. Birmingham is seven points off sixth-placed Sheffield Wednesday, a team City beat 2-1 under Rowett earlier this topsy-turvy campaign.

City has leaked 35 league goals this season. It's the third worst defensive record in the top 13 and significantly worse than the four teams proudly occupying playoff spots. Under Zola, the side has shipped eight goals in four league games. Conceding two goals in every match will not propel Zola's boys into a top-six spot. It may, in fact, relegate them.

But boyhood Birmingham City fan Craig Gardner has "returned home". He is a legend in those parts. He was part of the side's 2011 Carling Cup-winning side. The 30-year-old midfielder scored nine teams during his previous spell with the side.
City cannot live in the past, but it's a step forward. He's the kind of player who'll show the winning mentality and passion that may help end the St Andrew's slide. Zola needs to now focus on strengthening his defence, which has only kept six league clean sheets all season. He needs to focus on consistency.

Most of all, the supporters need to return to St Andrew's. They need to back the new boss. He isn't going anywhere. Rowett's gone. As much as the fans loved the former Birmingham player, he is not coming back.

Birmingham can still make the playoffs. But the fog remains over St Andrew's. It may well be quite some time until it lifts.