Book Review: Per Mertesacker - Big Friendly German
It's hard to stick a label on Per Mertesacker. A World Cup winner who captained Arsenal to an FA Cup win, the self-described beanpole was a highly regarded centre-back at the very top of the game, but never came to be regarded as a truly world-class defender.
Title: Big Friendly German: My Autobiography
Written with: Raphael Honigstein
Publisher: deCoubertin Books
Published: 2019

Price: £14.00 hardcover - available on Amazon
In his new autobiography, Big Friendly German, Mertesacker, assisted by Raphael Honigstein, lifts the lid on a career he never dreamed of. As outlined in the early chapters, Mertesacker struggled with excruciating knee pain, a lack of pace and awkward growth spurts in his mid-teens - putting him on the football scrapheap with no hopes of a career in the beautiful game. This is a story often repeated whenever Mertesacker's name comes up, but I can't shake the feeling it's played up for narrative purposes. We're led to believe that this kid who was hopeless at football somehow made it to the top of the game. The fact he was on the books at Hannover 96 from the age of 12 is largely glossed over.
Aside from Mertesacker's alleged rise from the gutter, the beginning of this book is fairly standard. Youngster progresses through the academy, joins his hometown team, makes his senior debut, same old same old. At the point, Mertesacker says, "my favourite drink is water" I wasn't convinced this book hadn't been ghostwritten by Boring James Milner.
Things soon heat up though. The interesting stuff starts 100 pages in, with Mertesacker's move to Arsenal. It wasn't the transition to the Premier League that grabbed my attention, rather Mertesacker's in-depth description of his personal training regime. This wasn't limited to the standard ice baths and massages; Mertesacker employed everything from yoga to eye training techniques, going to every conceivable length to improve his game. He spent hours on end training with specialists, working hard to stay free from injury and improve his fitness during his own time. Even more impressive was his decision to spend 10% of his net salary on personal support staff, available to him 24/7.
Perhaps it's naïve, but I'd assumed professional footballers normally put in the maximum amount of effort to keep themselves in peak condition. Not so. The way Mertesacker tells it, there are many players who punch the clock in training before slipping off to play FIFA or spend a small fortune on a pair of headphones, while a handful of dedicated professionals go the extra mile.
It's nice to get that behind the scenes look at the life of a footballer, and to hear about someone succeeding in sport not just through talent, but after putting in a huge amount of effort and extra thought into how to improve his game.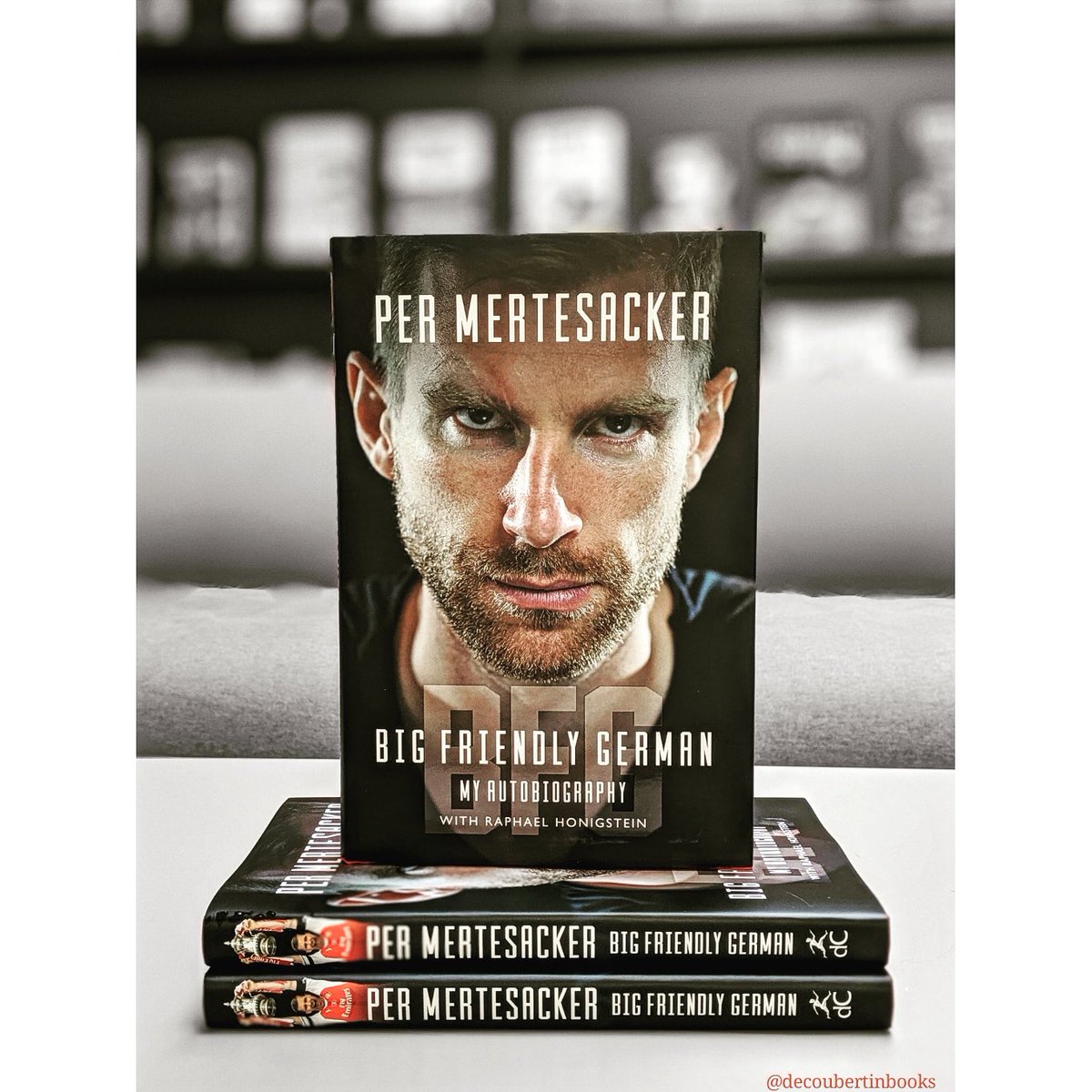 Football career aside, there's something inherently likable about Mertesacker. He's a genuinely wholesome guy. Okay, every footballer gets stuck into charity work and other photo opportunities. It's sort of expected. But the German is like a wise old uncle, dispensing advice to talented yet headstrong youngsters. "At Arsenal, I am trying to create an environment which not only supports these kids but challenges them, both on and off the pitch. I want them to be confronted with normality, to learn life lessons alongside game play and formations", he says of his approach to managing Arsenal's academy. Football coaches throughout the world would do well to adopt such a far-sighted and considerate approach.
That sense of fairness and decency is a strong theme in Mertesacker's personal life. No tales of drunken debauchery or wild affairs here. Instead, we hear about Mertesacker's wife, German handball international Ulrike Stange, and their two young children. They seem to enjoy a strong relationship based on trust, shared values and respect. It's a refreshing attitude.
I have one big issue with this book, namely Raphael Honigstein's structural choice. The book is divided into two sections, the first detailing Mertesacker's club career and personal life, the second focusing entirely on his international career.
The club section wraps up rather neatly and emotionally and for the book to then lurch back 14 years to a friendly in Qatar is a little jarring. Honingstein was likely attempting to give the key event of Mertesacker's career, his World Cup win, the attention and reverence it deserves. But this strange split felt emotionless and clinical. The narrative would flow smoother and more organically if both elements of the story were intertwined.
Overall, this is an enjoyable book. For those working in football, it presents a fascinating insight into alternative training methods and life behind the scenes at a top training ground. For the layman, Mertesacker's words of wisdom, presented well for the most part by Raphael Honigstein, give out a gently entertaining, kindly vibe that it'd be difficult not to warm to.